The Constant Reader's Book Blog
(Reviews, Bookish Stuff and all Things literary)


23rd July, 2021


Review: The Bookshop of Second Chances by Jackie Fraser (Ballantine Books)


Thea Mottram is having a bad month. Her husband of nearly twenty years has just left her for one of her friends, and she is let go from her office job--on Valentine's Day, of all days. Bewildered and completely lost, Thea doesn't know what to do. But when she learns that a distant great uncle in Scotland has passed away, leaving her his home and a hefty antique book collection, she decides to leave Sussex for a few weeks. Escaping to a small coastal town where no one knows her seems to be exactly what she needs.
I was immediately hooked by the plot of this novel. Scotland, a bookshop - of course Jackie Fraser would pick exactly those things that I can't resist. Needless to say I ordered this book right away.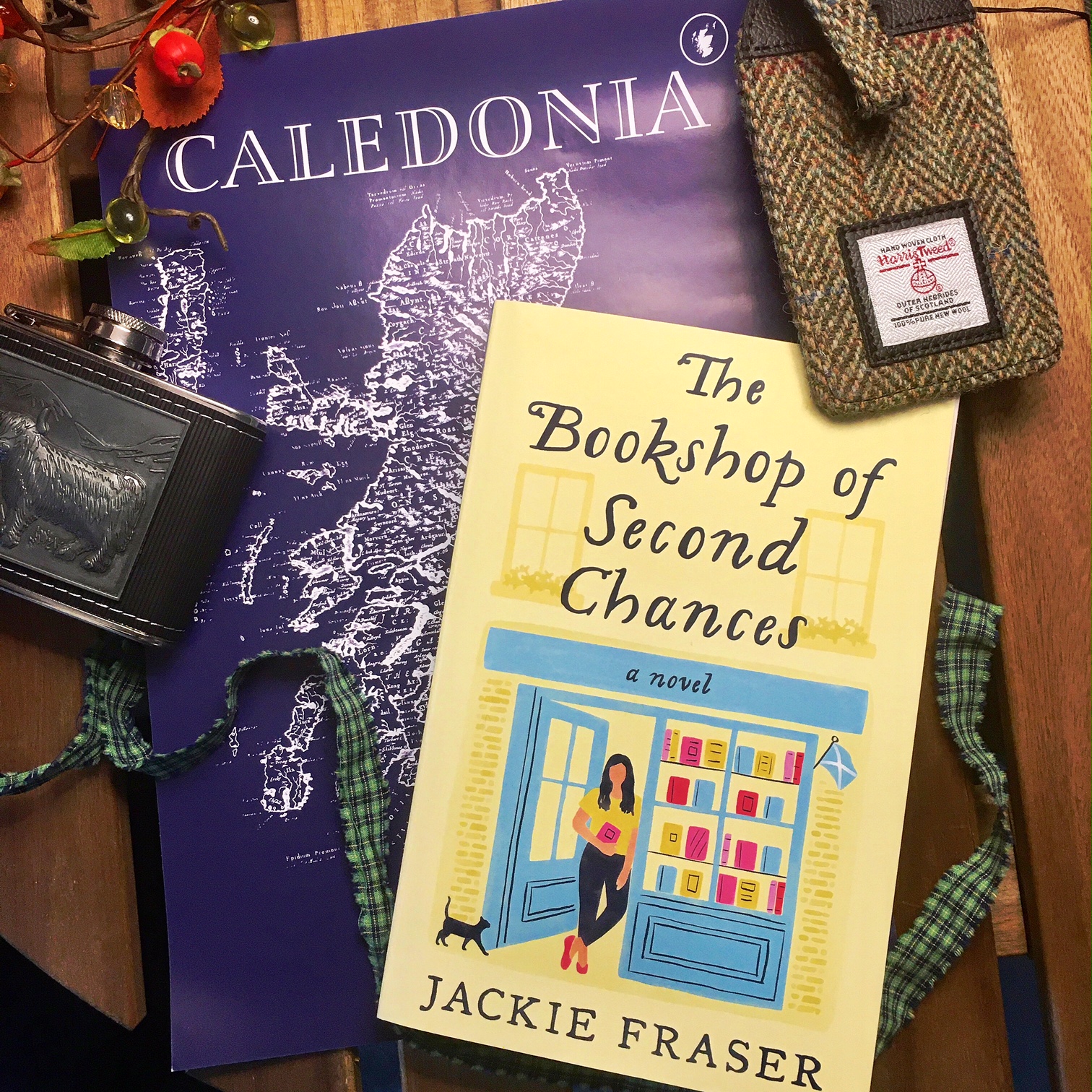 And maybe this is where my main problem lies: I believe I may have had too many expectations. Yes, I suppose I was looking for a certain kind of story that - alas - didn't exactly happen. Don't get me wrong. I really really enjoyed this book and liked particularly the main protagonist a lot. There is also a lot of beautiful Scotland in here as well as idiosyncratic, bookish characters and lots of bookish chat, etc. So I can't really explain why I only very much liked but did not love this book. I sure wanted to, but somehow that final spark didn't catch.
Maybe it was that the book was a bit cliché: a woman has the sudden opportunity to run away from all of her problems, there are two handsome strangers whom she, of course, would never ever consider getting together with and all that jazz. This was definitely an aspect that I would have liked to see handled differently maybe. Still, The Bookshop of Second Chances is a lovely read and a book that makes a good comfort read. If you can look beyond all the "somehow it's fate and everything is going to be fine in the end" elements, it is a very cute story.
Rating: 3.5/5 stars
11th July, 2021


Wild by Kristin Hannah (PanMacmillan)

Family dynamics are something we can find in almost any Kristin Hannah novel. And sisterhood seems to be particularly close to the author's heart: She has written several books that focus on the complex feelings that drive sisters apart, that keep them separate and that - sometimes - reunite them.
Wild, which is a republication of Hannah's 2016 novel Magic Hour, centres on two sisters who are brought back together by rather unusual circumstances.
Julia is a successful, well-known child psychiatrist. When one of her patients runs amok killing several children, the press and the bereaved parents blame Julia for not recognizing the danger. With her career in shatters and at an emotional low point, Julia answers the phone and hears her sister's voice. Although the two women haven't spoken in years, Ellie, chief of police for an isolated rural community, needs her big-city sister's help. Now.

A little girl has wandered out of the Olympic peninsula rain forest and into Ellie's town. She's like an animal, unable to communicate in any normal human way. While Ellie searches for the girl's identity, she enlists Julia to help with the "wild child's" damaged psyche. Together, the two sisters will work to bring the nameless soul back to normalcy. If they can.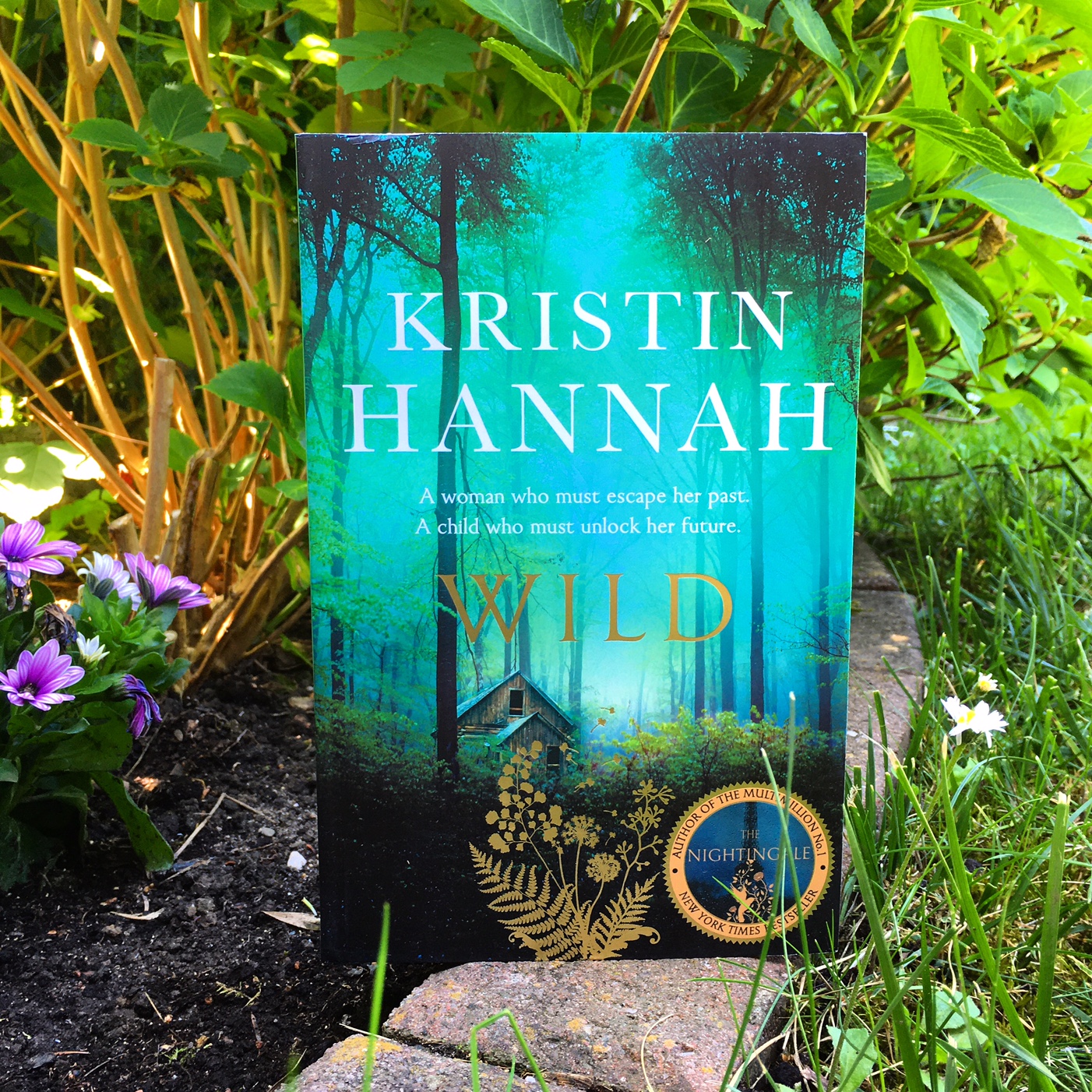 Once more, Kristin Hannah writes wonderfully about how the family dynamics of our childhood are carried over into adulthood, and about how these patterns might be overcome. Wild has multiple storylines: Plot one dwells on Julia, and the ways she regains her professional confidence while working with the traumatised child. Plot two centers on the old family patterns that resurface when Julia and Ellie begin living together in their late parents' house. The two women, now in their late thirties, are fundamentally different. Ellie, the eldest, was prom queen material in her youth. Two marriages (to prom king material) have failed. Lanky and slightly awkward Julia was the brainy sister. She always thought their father loved Ellie the best, while Ellie always thought their mother preferred Julia. As the story progresses, we see clearly how their upbringing damaged both women's abilities to forge enduring relationships with men.
All this sisterhood byplay, however, is pushed into the background as first Julia and then Ellie grow increasingly attached to the "wild child", the mute little girl they name Alice. Alice isn't autistic as everyone initially believed, but a victim of a hideous crime. Someone has kept her tied up, somewhere in the wilderness of the Olympic peninsula. When the girl's biological father shows up to claim her, things become really complicated.
Hannah has a real knack for creating intuitive characters who grow and mature through the course of a story. This one is particularly shrewd, both for its sisterhood connections and for its psychiatric perceptions of childhood development. Wild is emotionally gripping, but it's also clever, one of those novels that keep you up at night, one of those novels not easily forgotten.
Rating: 4.5/5 stars
30th June, 2021


Bookish Stuff: Books and Pets


Books and pets have always gone well together. Our local indie has a bookshop dog. Many writers had canine or feline companions, there are rather famous library cats, and many books have been written about this special relationship between readers/writers and their pets.
I used to have a reading buddy called Chester who lived with me (and eventually with us as a couple and eventually a family) for thirteen years before he passed away. We spent several years without a pet, but last Saturday we finally got a puppy again. Her name is Ivy, she's a ten-week-old Havanese (the same breed as my first dog), and she's the fluffiest reading buddy you can imagine. :-) Needless to say she already introduced herself at the bookshop earlier this week.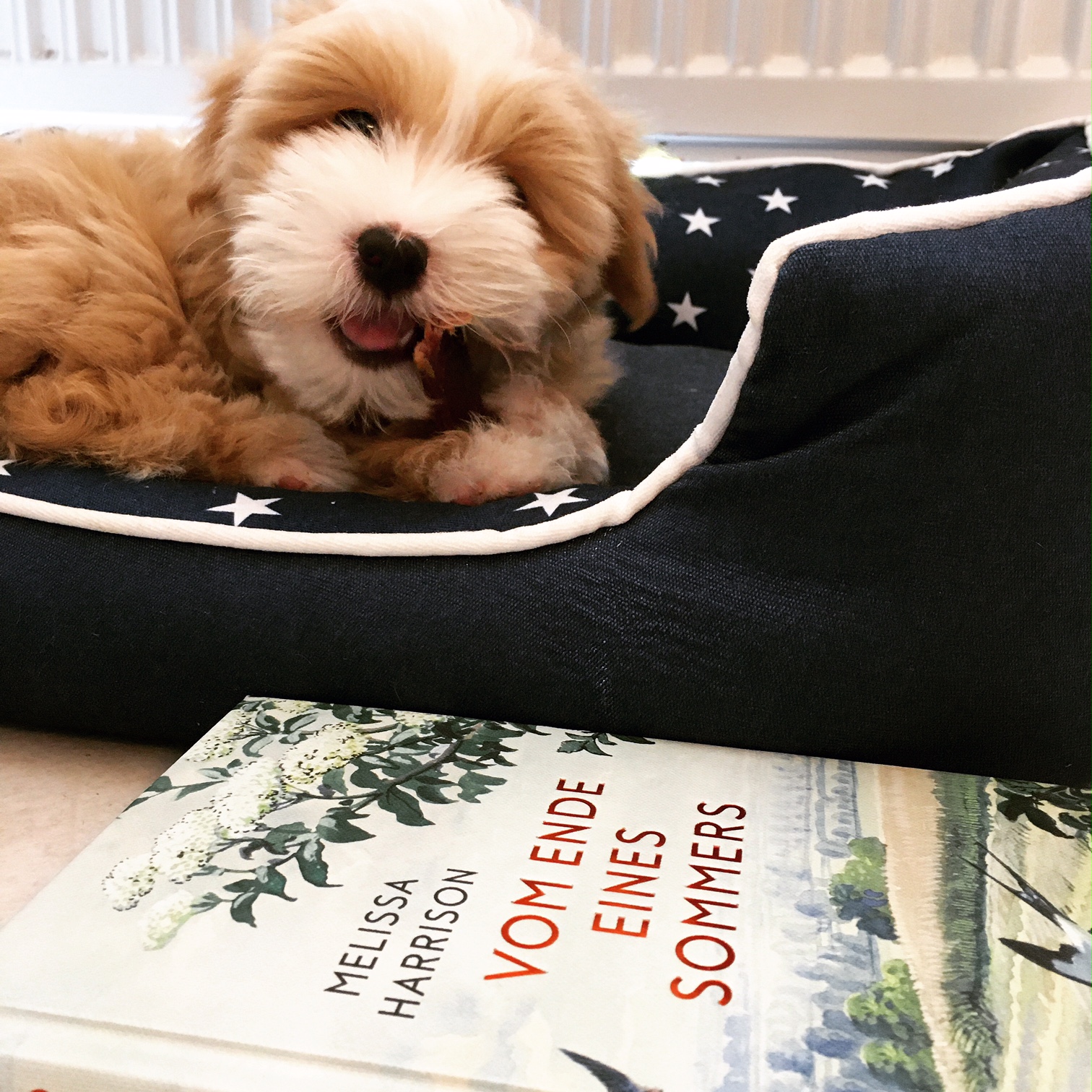 But it doesn't really matter whether you have a dog, cat, guinea pig, budgie or iguana for a reading companion. Everyone obviously has their own preferences when it comes to animals and a lot of people don't want a pet at all. And that's perfectly fine. However, I've found that having a dog or cat nearby relaxes me and that also goes for the times I'm reading. While books are comforting or soothing in themselves, the sound of a sleeping animal peacefully breathing next to you is like the patter of light rain on the roof while you lying in bed on a Sunday morning. I didn't know how much I had actually missed it until Ivy moved in.
Do you have any animal companions who keep you company while you're travelling through fictional worlds in your head? I'd love to hear about them so please feel free to share in the comments.
22nd June, 2021


Review: Monster, She Wrote - The Women Who Pioneered Horror & Speculative Fiction by Lisa Kröger and Melanie R. Anderson (Quirk Books)

It's only the beginning of summer but maybe you're like me: already looking forward to autumn and mentally compiling your gothic/spooky Halloween season reading list. :-) Do you crave more horror by women authors in a genre that is mostly dominated by male authors? If that's the case, Monster, She Wrote is the perfect starting point for you. Trust me, your TBR will grow quickly.
Meet the women writers who defied convention to craft some of literature's strangest tales, from Frankenstein to The Haunting of Hill House and beyond.

Frankenstein was just the beginning: horror stories and other weird fiction wouldn't exist without the women who created it. From Gothic ghost stories to psychological horror to science fiction, women have been primary architects of speculative literature of all sorts. And their own life stories are as intriguing as their fiction. Everyone knows about Mary Shelley, creator of Frankenstein, who was rumored to keep her late husband's heart in her desk drawer. But have you heard of Margaret "Mad Madge" Cavendish, who wrote a science-fiction epic 150 years earlier (and liked to wear topless gowns to the theater)? If you know the astounding work of Shirley Jackson, whose novel The Haunting of Hill House was reinvented as a Netflix series, then try the psychological hauntings of Violet Paget, who was openly involved in long-term romantic relationships with women in the Victorian era. You'll meet celebrated icons (Ann Radcliffe, V. C. Andrews), forgotten wordsmiths (Eli Colter, Ruby Jean Jensen), and today's vanguard (Helen Oyeyemi). Curated reading lists point you to their most spine-chilling tales.

Part biography, part reader's guide, the engaging write-ups and detailed reading lists will introduce you to more than a hundred authors and over two hundred of their mysterious and spooky novels, novellas, and stories.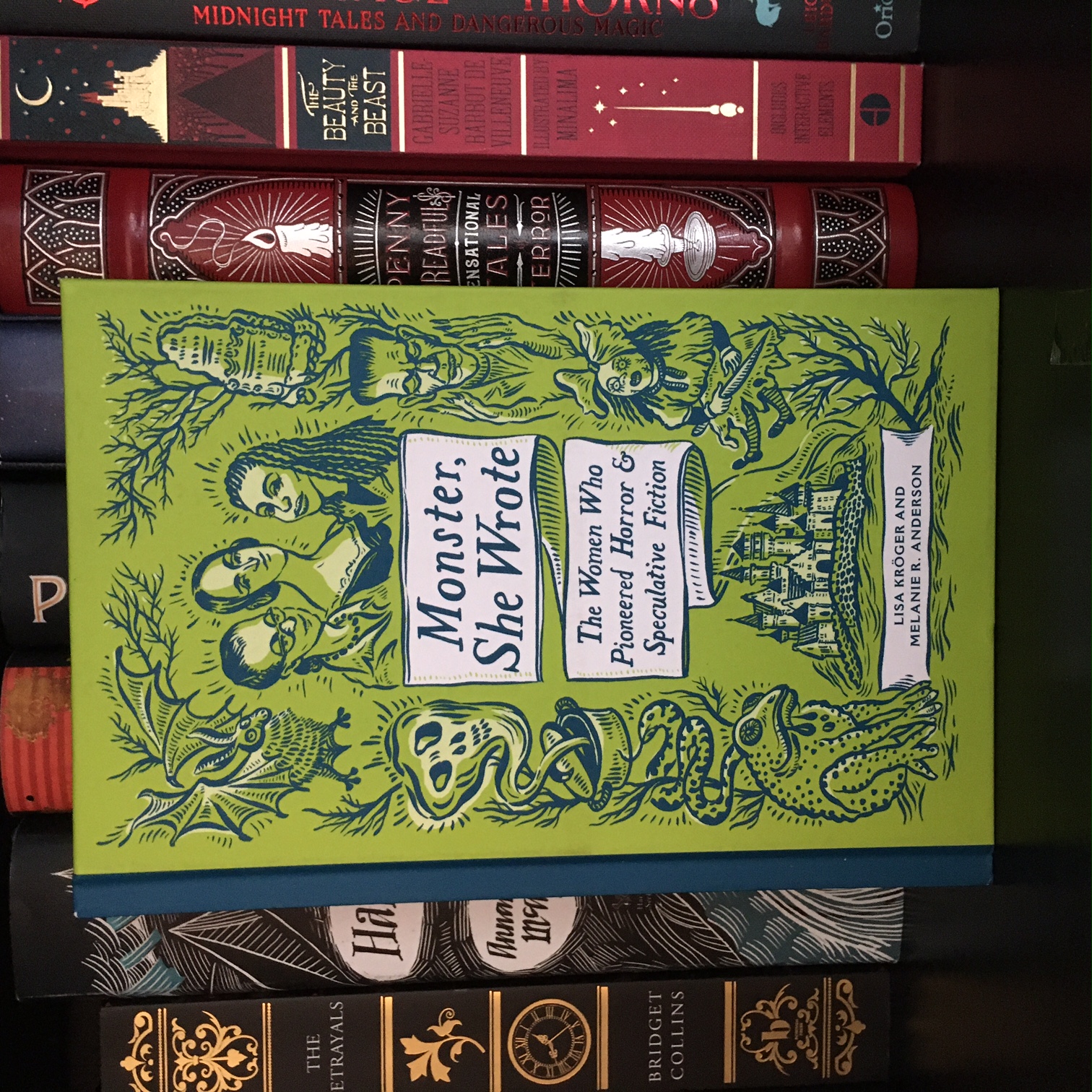 This book is in some ways a tribute to the "Founding Mothers" of horror and speculative fiction but also an introduction to the works of lesser known or obscure writers. We meet the usual trailblazers like Mary Shelley and Ann Radcliffe but also learn about Regina Maria Roche. We read about Angela Carter, Sarah Waters and Shirley Jackson, but also about women authors like Eli Colter or Jewelle Gomez.
I loved the diversity of different women voices in this book. As a literary scholar and avid reader of gothic and horror fiction, I was familiar with many of the names but definitely not all of them. Let me just say: my reading list has grown significantly since I've read this little gem of a book - I'm doomed! :-)
Monster She Wrote is broken up into eight sections that group authors together based on when or what kind of stories they wrote. Each of the sections comes with a short introduction detailing the importance of these women's contributions to literature, while also addressing the political and social climates in which they wrote, as well as their literary-historical impact as writers. There are sections on the pioneers of Gothic fiction, the women who published typical paperback horror, the women who wrote "the pulps", etc. Each of these provides recommended readings at the end that include both books written by the discussed authors but also by those writers who were influenced by her.

Highly recommend this fascinating introduction!
Rating: 5/5 stars
12th June, 2021


Review: The Wolf and the Woodsman by Ava Reid (DelRey)


If you enjoyed the novels of Katherine Arden and Naomi Novik, you will lap up Ava Reid's new novel The Wolf and the Woodsman like water on a hot day. Steeped deep in Jewish mythology as well as Hungarian lore and history, this is a book you won't easily forget:
In her forest-veiled pagan village, Évike is the only woman without power, making her an outcast clearly abandoned by the gods. The villagers blame her corrupted bloodline—her father was a Yehuli man, one of the much-loathed servants of the fanatical king. When soldiers arrive from the Holy Order of Woodsmen to claim a pagan girl for the king's blood sacrifice, Évike is betrayed by her fellow villagers and surrendered.

But when monsters attack the Woodsmen and their captive en route, slaughtering everyone but Évike and the cold, one-eyed captain, they have no choice but to rely on each other. Except he's no ordinary Woodsman—he's the disgraced prince, Gáspár Bárány, whose father needs pagan magic to consolidate his power. Gáspár fears that his cruelly zealous brother plans to seize the throne and instigate a violent reign that would damn the pagans and the Yehuli alike. As the son of a reviled foreign queen, Gáspár understands what it's like to be an outcast, and he and Évike make a tenuous pact to stop his brother.

As their mission takes them from the bitter northern tundra to the smog-choked capital, their mutual loathing slowly turns to affection, bound by a shared history of alienation and oppression. However, trust can easily turn to betrayal, and as Évike reconnects with her estranged father and discovers her own hidden magic, she and Gáspár need to decide whose side they're on, and what they're willing to give up for a nation that never cared for them at all.
The Wolf and the Woodsman is the kind of story that will stay in your thoughts for days after you've finished reading. It's a book that has everything really: A tortured and imperfect prince, a feisty main character, adventure... but also a bit of steam and nuanced views of political violence. Reid's novel has a strong focus on cultural identities and it's definitely not for the faint of heart. There are a lot of brutal elements in here with some rather gory passages, but at the same time it's a beautiful and magical story. I love how the author managed to combine these elements and weave them into such a compelling book. Everything just fits together perfectly and the horrible scenes are just as important as the romantic and whimsical ones.
This isn't a book full of beautiful, perfect characters – instead, the people in this book are real, they have faults, they may be disfigured, but they are fierce and loveable and honest. They make the story believable and engaging and they give it the right level of spice. (This is maybe the moment for me to point out that this is a novel for adults and not really YA. ;-))
I thoroughly enjoyed The Wolf and the Woodsman and look forward to seeing what the author will do in the future. She is definitely a writer to keep on your radar.
Rating: 5/5 stars
7th June, 2021


Bookish Stuff: Hit by the reading slump


The weather here has been weird. First it was cold and rainy, then hot and humid, now it's kind of unpredictable - the perfect time to just curl up on the couch and read or watch Netflix. In my case the last few days it has always come down to the latter, because the hubs and I kind of got stuck on a new series. That perfectly normal and fine of course, but why didn't I use more of that time to read?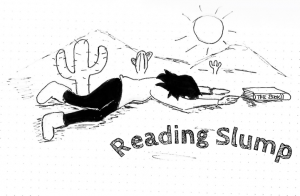 The last month I've felt myself slowly drifting into a serious reading slump. No book could really satisfy me and the ones on my TBR only made me think "Meh!" I started a few novels this weekend, but none of them felt right so I bailed on a few, planning to come back to them sometime later when I'm not such a book grinch. It is so weird how several months can go so well, reading is relaxing and fun and I can't wait to start the next book. And then - all of a sudden and out of the blue - the slump hits. Hard! No book speaks to me - buying new ones doesn't help either. Trust me, I have tested this and oftentimes I stand in the bookshop at a complete loss and leave without buying a book. Unheard of, I know! The same happens in front of my own bookshelves. My TBR offers a lot of choices from the most varied of genres, but nothing appeals to me and that is so frustrating because I usually need my reading time to make me "whole" if that makes any sense. Sometimes rereading a favourite helps or a light rom com that you can simply enjoy without thinking to much. Sometimes even that doesn't work and I just have to sit it out.
Thankfully, I've already read the book I'll be posting about next Saturday as part of a book tour. :) So be prepared for something more exciting than my reading slump ramblings then. :-)
I'm wishing you all a good start into the new week!
31st May, 2021



The Maidens is a book that in parts reminded me a little of Donna Tartt's The Secret History. We have a beautiful university setting, "inner circles", and idiosyncratic professors:
Cambridge, UK - A serial killer is stalking a group of beautiful women students, the protegés of enigmatic professor Edward Fosca, who call themselves The Maidens. When Mariana Andros receives a frantic phone call from her niece Zoe, a student at Cambridge, she immediately heads to her former alma mater to console the young woman. Once at college, Mariana finds herself drawn into the mystery and decides to use her intuitive skills as a group psychotherapist to help in the investigation.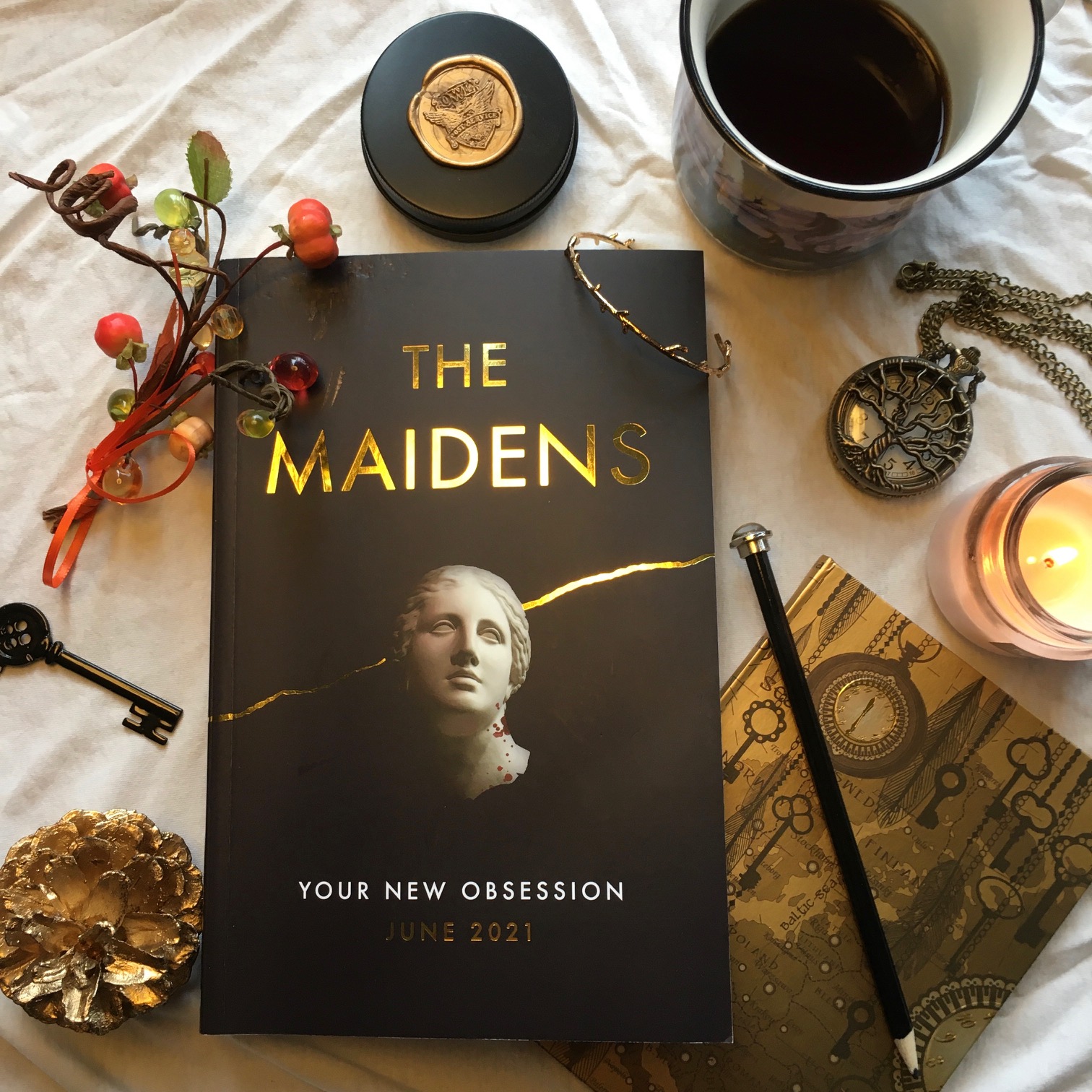 So far so good. When the publisher reached out to me, asking if I'd like to review the book, I was immediately captivated by the plot. A campus novel with Greek mythology vibes and a mystery, all rolled into one? Oh yes, please!
I did enjoy the story a lot. While reading I frequently found myself guessing about who could possibly be the killer, and I don't mind saying that I had some the wildest ideas (most of which seemed utterly ridiculous in the end - haha). The plot is fast-paced once you get past the slightly boring beginning and the relatively short chapters make for quick reading. I loved how the author builds tension: Mariana becomes obsessed with the investigation and at times seems almost a little unhinged, which further makes the reader question what is actually going on. Essentially, it's all about the question: Who can you trust?
But... and yes, there is a but... towards the end the plot became somewhat tedious and predictable so that it simply stopped working for me. Despite the author's diversions aimed at keeping your attention away from the pretty obvious explanation, I had a strong hunch about the killer about 100 pages before the end of the book. While the atmosphere was still eerie and foreboding, the supposed surprise twist just didn't work, because it was too cliché, too predictable and too stilted for my taste. All in all, this then unfortunately turned a promising premise into a rather average story.
While The Maidens eventually felt a bit underwhelming to me, it is still a good book. It just didn't blow my mind. I have seen lots and lots of very positive reviews though, so it might simply be a matter of personal taste. I will definitely check out the author's first book because he IS a very good writer andI haven't read that one yet. And I look forward to seeing what he comes up with next.
Rating: 3.5/5 stars
26th May, 2021



Mrs Death Misses Death is Salena Godden's first prose publication which I awaited impatiently, because - I mean - just look at the wonderful title. The novel is told both in poetry and prose, following Mrs Death who is a Black woman tired of doing the "job" she's been working in since the beginning of time. Here is the rest of the synopsis:


Mrs Death has had enough. She is exhausted from spending eternity doing her job and now she seeks someone to unburden her conscience to. Wolf Willeford, a troubled young writer, is well acquainted with death, but until now hadn't met Death in person – a black, working-class woman who shape-shifts and does her work unseen.

Enthralled by her stories, Wolf becomes Mrs Death's scribe, and begins to write her memoirs. Using their desk as a vessel and conduit, Wolf travels across time and place with Mrs Death to witness deaths of past and present and discuss what the future holds for humanity. As the two reflect on the losses they have experienced – or, in the case of Mrs Death, facilitated – their friendship grows into a surprising affirmation of hope, resilience and love. All the while, despite her world-weariness, Death must continue to hold humans' fates in her hands, appearing in our lives when we least expect her . . .
When I first came across this title on Canongate's blogger newsletter I thought "Wow, this sounds extraordinary!" Godden's novel is original, brimming with powerful imagination and lots and lots of feelings. It's a tour-de-force through time touching on individual destinies as well as political issues (e.g. there is a strong parallel to the Grenfell Tower fire in Wolf's past). I loved how the author weaves in these political and social statements effortlessly so that they are clearly there and make you think, but they don't seem forced. Mrs Death as the "invisible, old, Black woman" is but one example for this.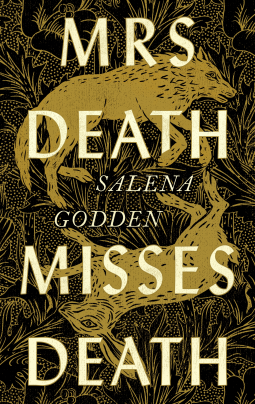 I extremely enjoyed the first half of the book, even though the subject matter was tough at times. This is not a book for the faint-hearted as it has references to children dying, massacres, racist attacks, traffic accidents, terrorism and all kinds of other more or less violent forms of death. Even though these were hard to stomach, I found that the book helps to make you appreciate the little things in life. We all know that the only thing certain is death, but we tend to push these thoughts away because they are uncomfortable or downright scary. Here, the character of Mrs Death makes you wonder about whether life would actually be as enjoyable if there was no end to it. I liked this philosophical aspect at lot and find that I'm still contemplating some passages of the book.

Salena Godden is an amazing writer, and therefore it's a pity that in the second half of the book the disjointed narrative style somehow stopped working for me and suddenly became somewhat annoying instead. I can't fully explain what actually happened there and only assume that at this point I eventually craved a more cohesive plot, which the novel couldn't provide. That, however, was just my personal experience because I know a lot of readers who adored this novel from start to finish. So if you are looking for a very creative, beautifully written, unique book about the fundamental questions of life (and death), give Mrs Death Misses Death a go.
Rating: 4/5 stars
16th May, 2021


Eighteen months ago, Autumn Divac's husband went missing. Her desperate search has yielded no answers, and she can't imagine moving forward without him. But for the sake of their two teenage children, she has to try.

Autumn takes her kids home for the summer to the charming beachside town where she was raised. She seeks comfort working alongside her mother and aunt at their bookshop, only to learn that her daughter is facing a huge life change and her mother has been hiding a terrible secret for years. And when she runs into the boy who stole her heart in high school, old feelings start to bubble up again.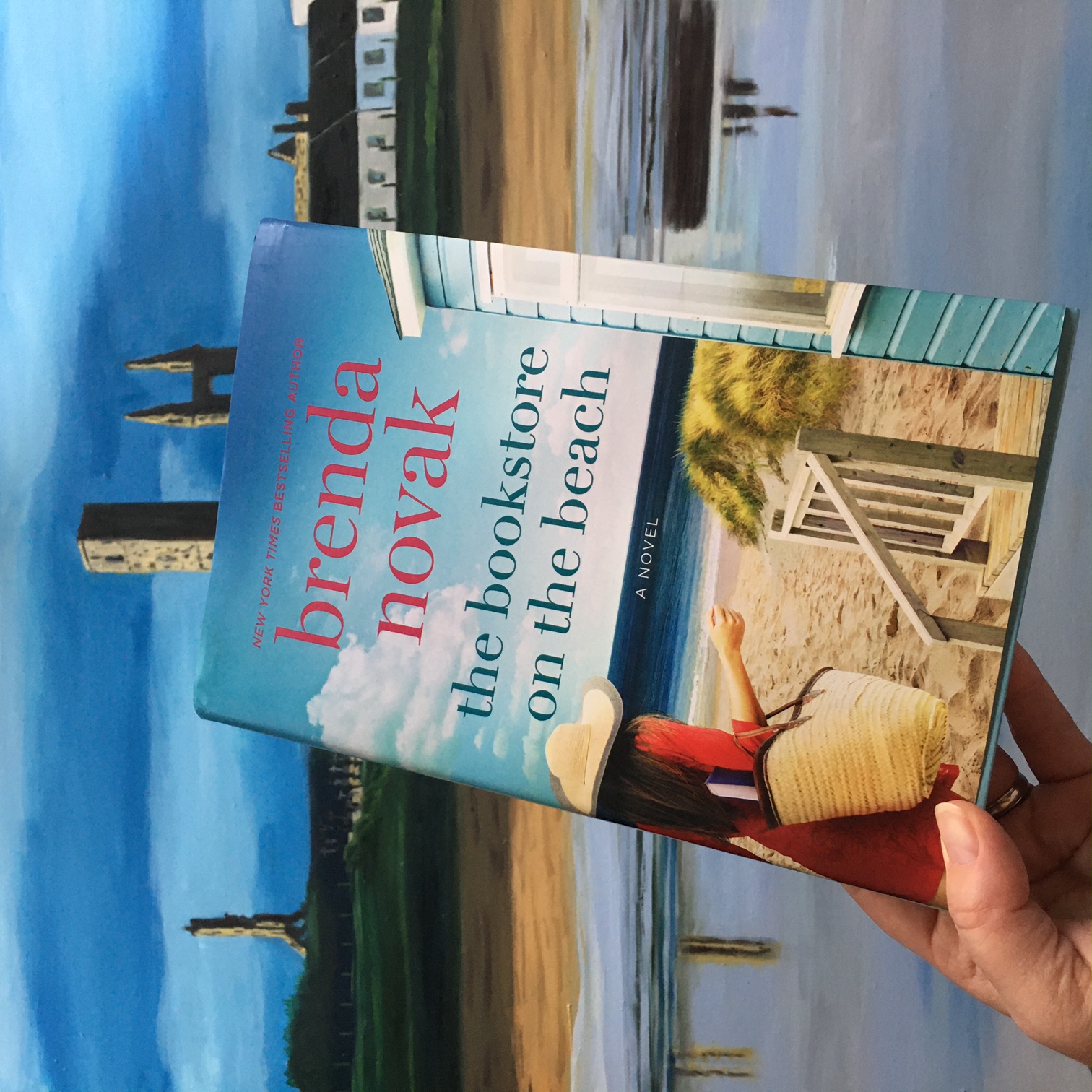 The Bookstore on the Beach is a novel about family, about belonging and about the secrets we keep to protect the ones we love. I instantly fell in love with Mary and Autumn's family. I was rooting for Autumn to find happiness again, suffered with Taylor through her inner turmoil and worried about Mary having to face her past. However, the book tried to pick up so many different topics that it seemed like a lot happening to one single family in such a short period of time. Topics include domestic violence, kidnapping, rape, teen pregnancy, LGBTQ+ issues, terminal illness, reconnecting with your highschool love, international politics and possible espionage. Oof!!! While many of these plot strands were very interesting, I found that overall it was a bit much for a book of roughly 400 pages. Towards the end this aspect made me anxious about whether all the issues raised would be resolved satisfactorily. And spoiler alert: they unfortunately weren't.
The biggest problem I had, however, was the discrepancy between what readers expect from the title and what they get. I picked up this book mainly because I thought there'd be a strong focus on the bookshop part (maybe something along the lines of The Printed Letter Bookshop or The Storied Life of A.J. Fikry). However, the bookshop and/or books are only a backdrop for the rest of the story. The shop is always only mentioned in passing, for example as in the characters discussing the above mentioned issues while unboxing new deliveries, somebody having to close up, etc. This is something that hugely disappointed me, and I will be honest: if the characters hadn't been so likeable I might have bailed. Because I did care for them and because I did want to learn how especially Marys and Autumn's stories turned out, I continued reading.
It's a pity that this book is a bit of a "hot mess" because the story did have so much potential. It IS a good enoughbook and I'd definitely recommend it with a little warning not to expect too much bookshop content. So if you're looking for a lovely family story and don't mind the overload of meaningful topics, you should definitely give The Bookstore on the Beach a go.
Rating: 3/5 stars
7th May, 2021


When Mrs Wilkins finds an advertisement in the Times she begins to dream. The advertisement is for renting a castle in Italy for the month of April. Quickly, Mrs Wilkings gets pious Mrs Arbuthnot on board and both find two other women - Mrs Fisher and Lady Caroline - to join them in this little escape from their daily lives.

The Enchanted April uses beautiful language that is reminiscent of Virginia Woolf and Katherine Mansfield. No wonder really as this book was first published in 1922. In one of my previous blog posts I wrote about wanting to read the novel during the month of April to fully give credit to the title and this year I finally managed it. And what can I say: I really enjoyed this book.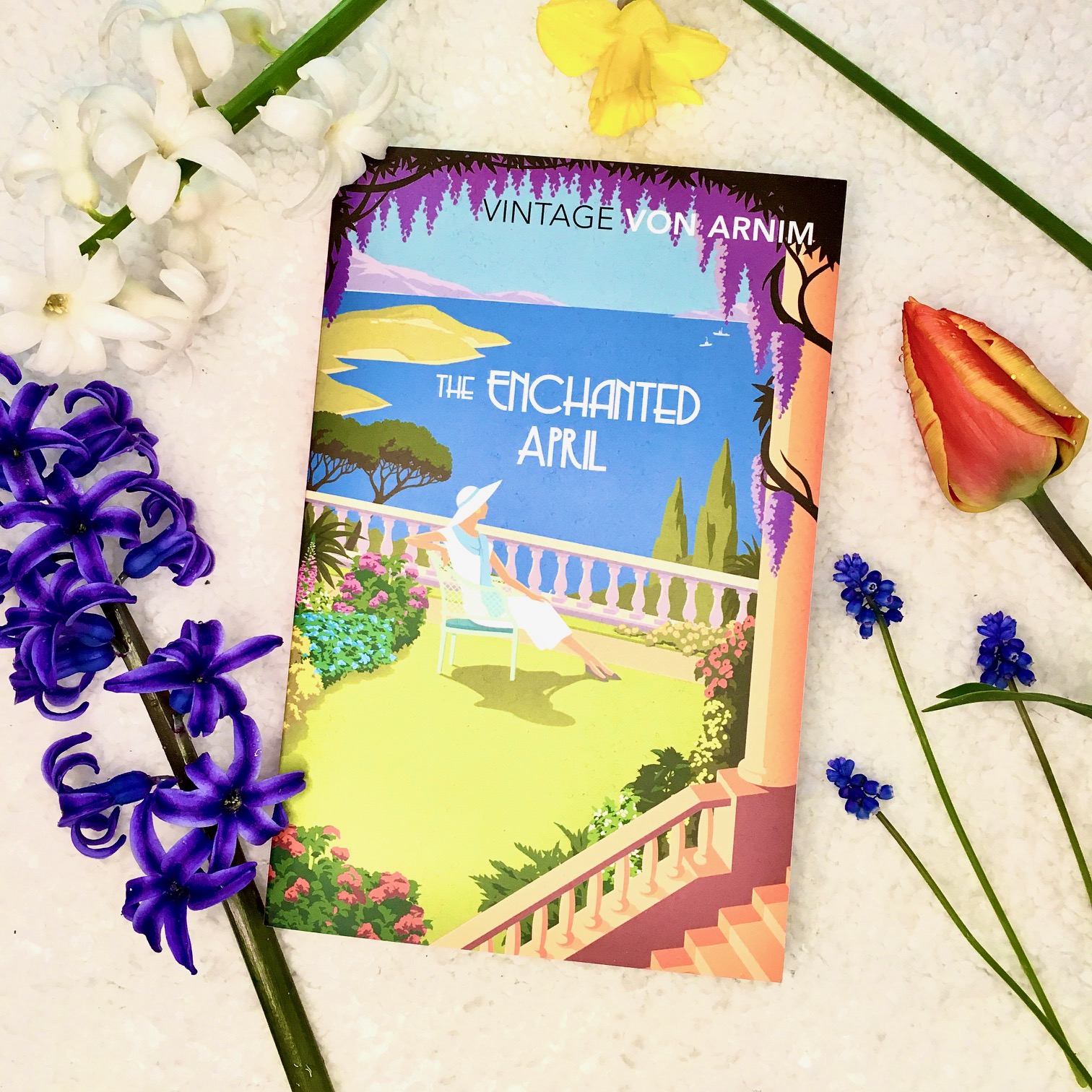 I was rooting for these women when they followed their dream of having not a room but a whole 'castle of their own' for some time, breaking out of their day-to-day trot and at least trying to emancipate themselves. However, four women - and strangers at that - living together also proves a bit difficult at first. Conflicts about room assignments or food come up quickly but eventually the beautiful surroundings and tranquil peacefulness of San Salvatore bring the characters together and each of them experiences their own personal epiphany.
What I enjoyed most about this book were the lavish descriptions of the gardens with their abundant flowers. Von Arnim transports you right to the Mediterranean coast and a feeling of calm and serenity basically oozes from every single page. The book is also full of wit and humour: For example, when Mrs Wilkins and Mrs Arbuthnot make their way to the castle in the middle of the night because their train was delayed, the typical language barrier problems are simply hilarious.
Towards the end I wasn't fully convinced by the "coincidences" in which different plot strands came together. These seemed a bit stilted but this is to do with the style and narrative techniques of the time the book was written in. Overall, this is a very enjoyable read and a beautifully written classic.
Rating: 4/5 stars
30th April, 2021


What the heck did I just read there? This book is so weird that it feels like you're watching a mix of The Rocky Horror Picture Show and The Wicker Man after having drunk two bottles of wine on an empty stomach.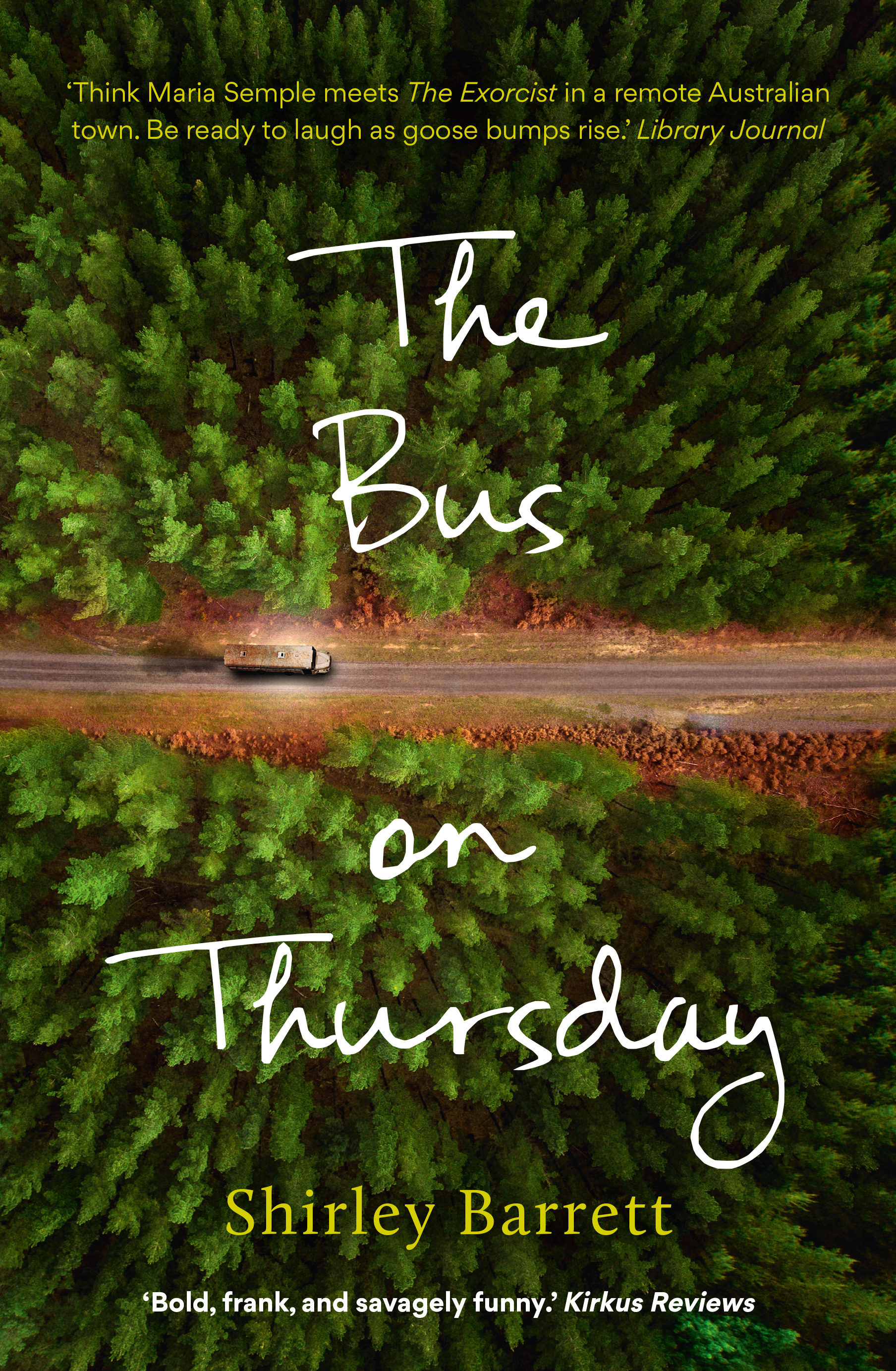 So what's the story about in a nutshell: The protagonist of The Bus on Thursday moves to a remote Australian village after a battle with breast cancer. What seems like the perfect escape from her old life, however, turns out to become her worst nightmare.
I've heard this book being described as a humour horror novel, though I'm not really sure why as there is no real horror. It is totally whacky though and all over the place so that it becomes increasingly hard to figure out what is real and what is only happening in the protagonist's head. She, who us also the narrator telling the story in blog-like chapters, is in fact a truly horrible person which was interesting because it is extremely hard to identify with and feel sorry for her. The other characters seem like they've just jumped out of a surreal drug-induced nightmare and I kept wondering what the hell is going on in this story.
All in all, the weirdness of the book was a bit off-putting (and this is coming from someone who is used to REALLY strange stories) but it is a quick read and still has a certain appeal.
Rating: 3/5 stars.
24th April, 2021



This is a question that has popped up in my mind again and again over the past few years: Is there really a right place or right time for everything? And does this apply to reading books as well?
I am a mood reader so planning my reading ahead of time is always a bit difficult. I'm a member of two reading groups/book clubs and I manage okay when it comes to reading a specific book within a particular timeframe (maybe because that is also part of my job), but normally I can't outline a full reading list for a specific month or, to put it differently, I could but I would never be able to check these books off the list one by one. A new publication I haven't heard about might get in the way or a spontaneous book haul or... whatever.
At the same time, I find myself drawn to certain genres at certain times, one example being the months of October and November when I tend to drift towards horror even more than usual. And that's alright, because it fits with my mood. These are books I feel like reading at this particular time. On the other hand, there are books that have a specific season or even month in the title. I can't explain it (and probably it's a common phenomenon that everybody knows) but these always make me feel like I need to read them at the time that is indicated in the title. Which sometimes stresses me out. Am I weird, or this really a feeling all readers are familiar with?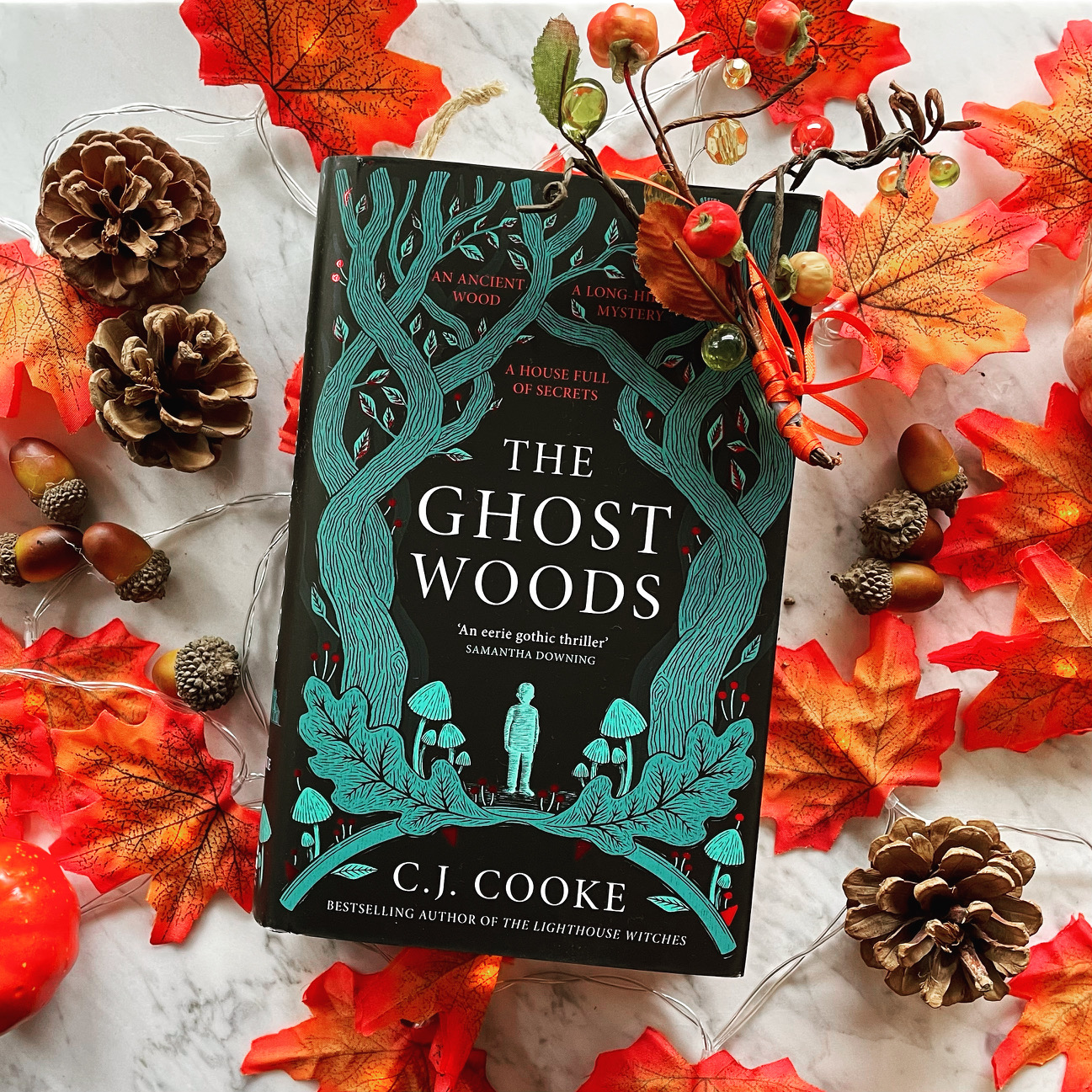 Let me give you an example: I have had Elizabeth von Arnim's The Enchanted April on my TBR cart for at least five years, and I always felt like I should read this novel in... you guessed it ... April. Now, the last few years I've stood in front of this book several times, mostly in spring but by then it had already been May and for whatever reason I thought "Oh no, too late again!!! I'll read this next year then." Okay, this DOES sound bonkers but it's just the way I felt. So I was very proud when, this year, I finally managed to start the book "in time". And I'm loving it, metaphorically hitting myself for not having read it earlier.
Another example is Emily Henry's Beach Read. Somehow I feel like I should read this particular novel ... on a beach holiday. It's definitely not a book I'd ever read, say, during Christmas time. So in case we can travel as planned again this summer, I'm going to take this book to Ibiza with me.
So the question remains, why do we(?) sometimes think that there is a right place and time for a particular book? I assume it might be connected to actually being a mood reader, meaning that we may look for literature that fits our current environment and mindset. But what about those books that are very consciously targeting the reader to read them at a specific time? Just take Christmas novels as an example or Allie Esiri's current book series of seasonal poetry. Are these not taking some sort of economic advantage of the reader's above mentioned desires? What about you? Do you have books that you read at a specific point in time or in a particular place? I'm curious so please feel free to share in the comments!
17th April, 2021



A mystery set by the sea? And even on a lighthouse? These two aspects of The Lamplighters piqued my curiosity quickly and I knew this was a novel I definitely needed to read as quickly as possible after it was published.
Cornwall, 1972. Three keepers vanish from a remote lighthouse, miles from the shore. The entrance door is locked from the inside. The clocks have stopped. The Principal Keeper's weather log describes a mighty storm, but the skies have been clear all week. What happened to those three men, out on the tower? The heavy sea whispers their names. The tide shifts beneath the swell, drowning ghosts. Can their secrets ever be recovered from the waves?

Twenty years later, the women they left behind are still struggling to move on. Helen, Jenny and Michelle should have been united by the tragedy, but instead it drove them apart. And then a writer approaches them. He wants to give them a chance to tell their side of the story. But only in confronting their darkest fears can the truth begin to surface . . .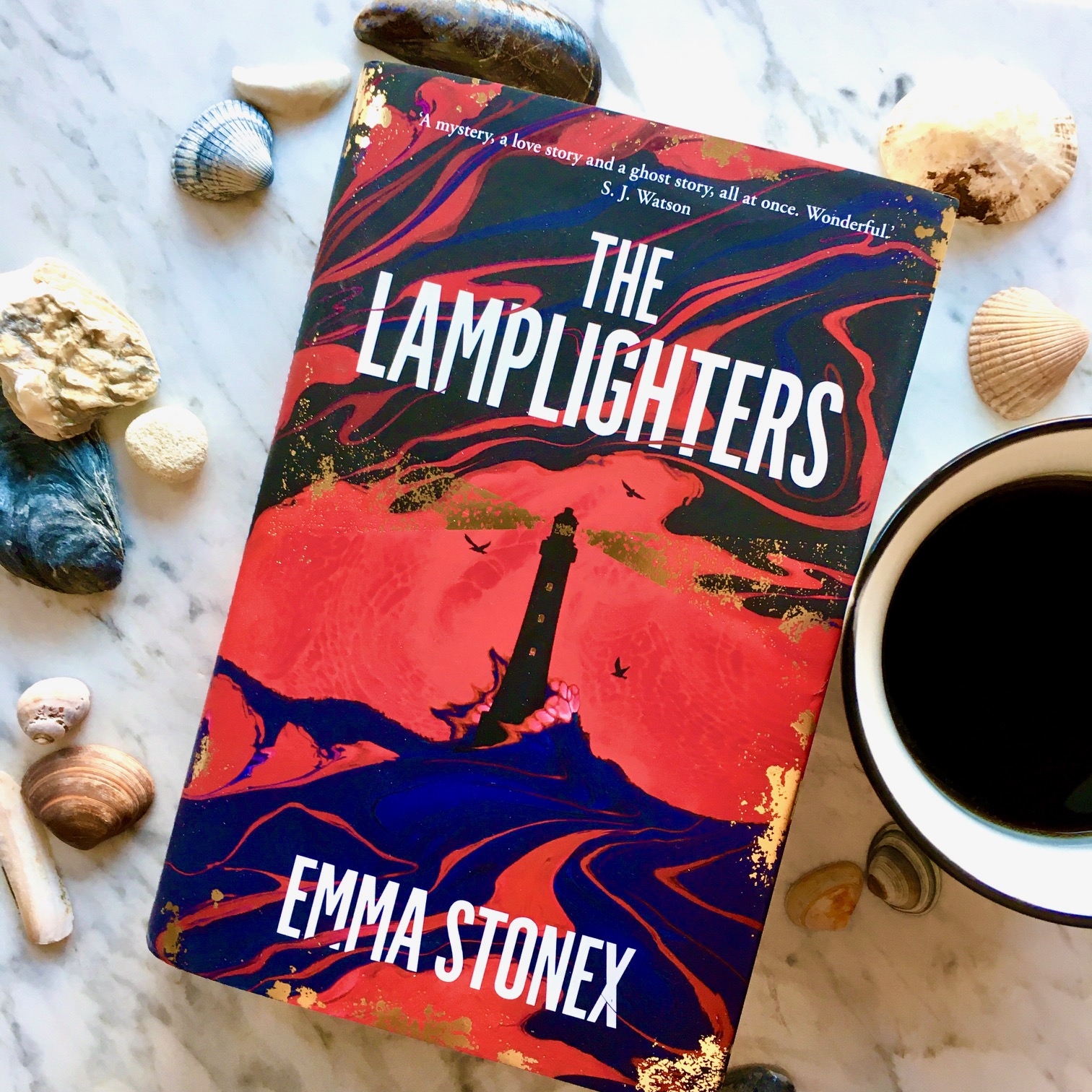 The Lamplighters was a novel that I savoured slowly. Even though the mystery surrounding the lighthouse keepers vanishing into thin air made me extremely curious as to what the heck had actually happened and even though the author tends to throw in little tidbits of information that keep you guessing (or drive you insane because you just want to KNOW), I tried to make the book last as long as possible. Why? It's simple. I simply loved how Stonex manages to contrast the tight and almost claustrophic inside of the lighthouse with the power and sublimity of the sea. For me, the setting of this novel is exactly what makes it so intriguing. By and by we learn about the lighthouse keepers' pasts, about their struggles, their trauma and their dreams. We also follow the women in their lives as they, twenty years later, still try to make sense of what has actually happened. And yet, the ocean and the Maiden Rock lighthouse are the true protagonists of Stonex's story.
Compared to the magnificent and simultanously terrifying beauty of the sea, the human characters remain a bit colourless. Little misunderstandings, lies and animosities appear almost ridiculous to the reader compared to some of the greater but a little stereotypical traumas the characters have experienced. Interestingly enough, there is actually more going on in their minds than is actually happening which nicely ties in with the metaphor of an enclosed lighthouse space. In that respect we also find nods to Virginia Woolf's famous novel To the Lighthouse. The Lamplighters portrays a time and profession that has long gone but it does away with the common romantic notions and instead draws attention to the downsides of this job. The characters' mental struggles are also skilfully shown through the mostly monologic narrative that focuses on a different point of view in the individual chapters. Even if there is a conversation happening between two people, we often only get one voice while the other's speech remains a gap which has to be filled in by the reader. The self-centredness of the characters is perfectly illustrated through this technique, which howevers takes some getting used to.
Despite some of the clichés mentioned above, this was a fabulous read which I enjoyed a lot. Highly recommended!
Rating: 4.5/5 stars
8th April, 2021


The only words to perfectly describe this novel are "deliciously creepy and beautifully written". And I mean, just look at this gorgeous cover. Whoever designed this deserves an award themselves because they perfectly captured the tone and direction of the story. When I was asked to participate in a Bookstagram tour for this title, I thought that the plot sounded quite interesting and basically expected a somewhat eerie tale about belonging and sisterhood and family in general. What I got was a fantastic ride through the lifes of Grey, Vivi and Iris which kept me engaged from beginning to finish. Can somebody please turn this into a movie as well?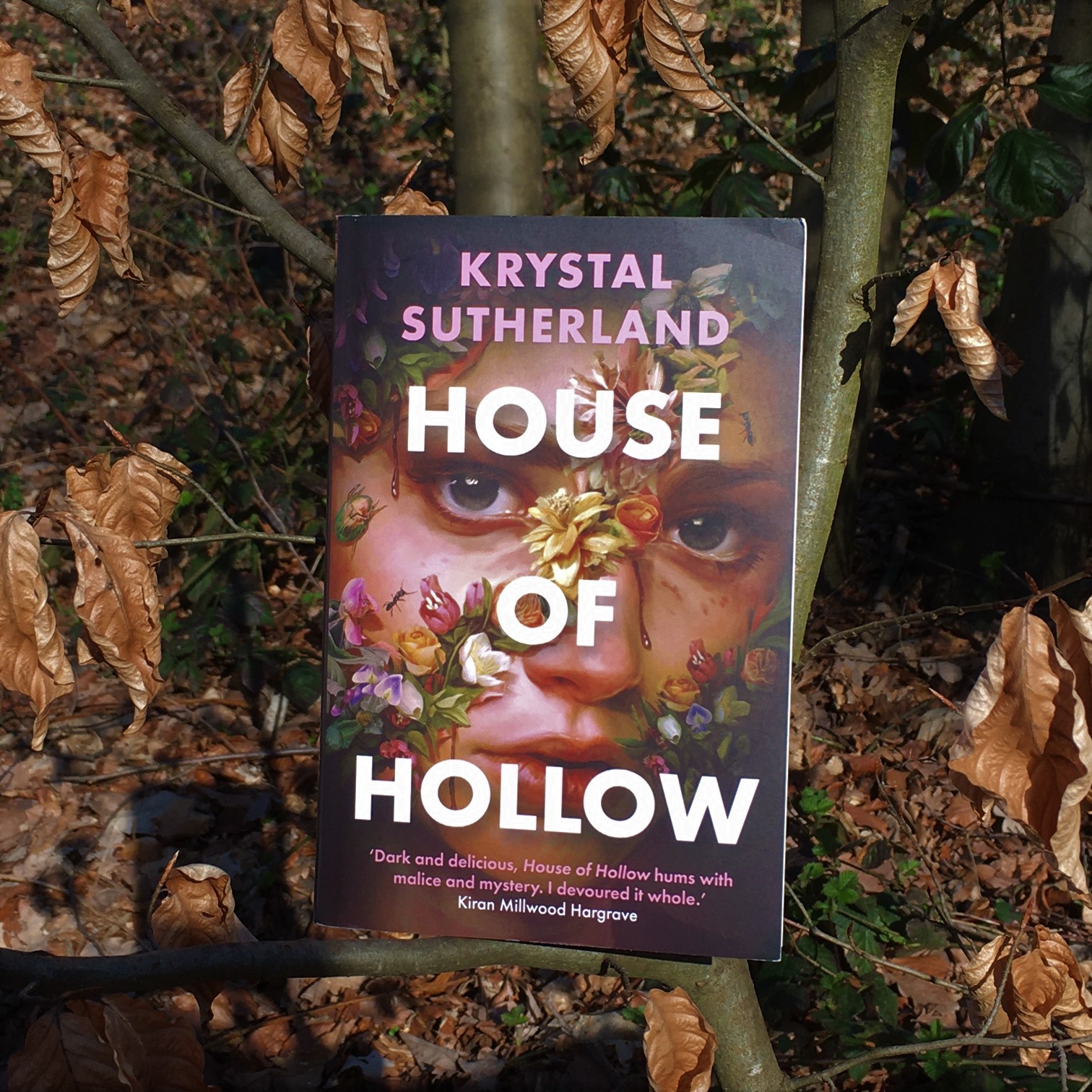 But what is House of Hollow actually about?
Three sisters mysteriously disappeared as young children only to turn up four weeks later, naked and with no recollection of what had happened to them. As they became older, they went their separate ways: Grey is now a famous model/designer, Vivi plays in a punk band while Iris stayed in high school and tried her best to fit in. After Grey suddenly disappears again, the younger sisters set out to find their sister, even if this means that they have to face their terrifying past - a past which may reveal an uncomfortable truth.

If you're looking for a dark book - this is it. If you want to be utterly weirded out - this is it. This tale is darker than the deepest pits of hell. It made me queasy and it made me willingly dispend all disbelief. House of Hollow is a bewitching tale of what it means to want to live. It's chilling, and appalling, and sinister. It's everything you're looking for in the genre.
Sutherland has a wonderful way with words. Every single one fits perfectly, draws you right in and deeper and deeper into the story. And while some characters remain extremely unlikeable, they still carry a certain fascination . Other characters may just about break your heart. This is a story about love and family, the instinct to survive and the desire to protect the ones we love. Be ready to be both mesmerised and surprised, and trust me: you'll love it.
Rating: 5/5 stars
For older entries, please refer to the ARCHIVE. Thank you!
check out Some of
our READERS' FAVOURITE blog entries:
20th March, 2019
I know I've let drop comments about this shop before, both here and on Instagram and Litsy, but today I think it's time that this wonderful place gets its own "Bookshop Spotlight".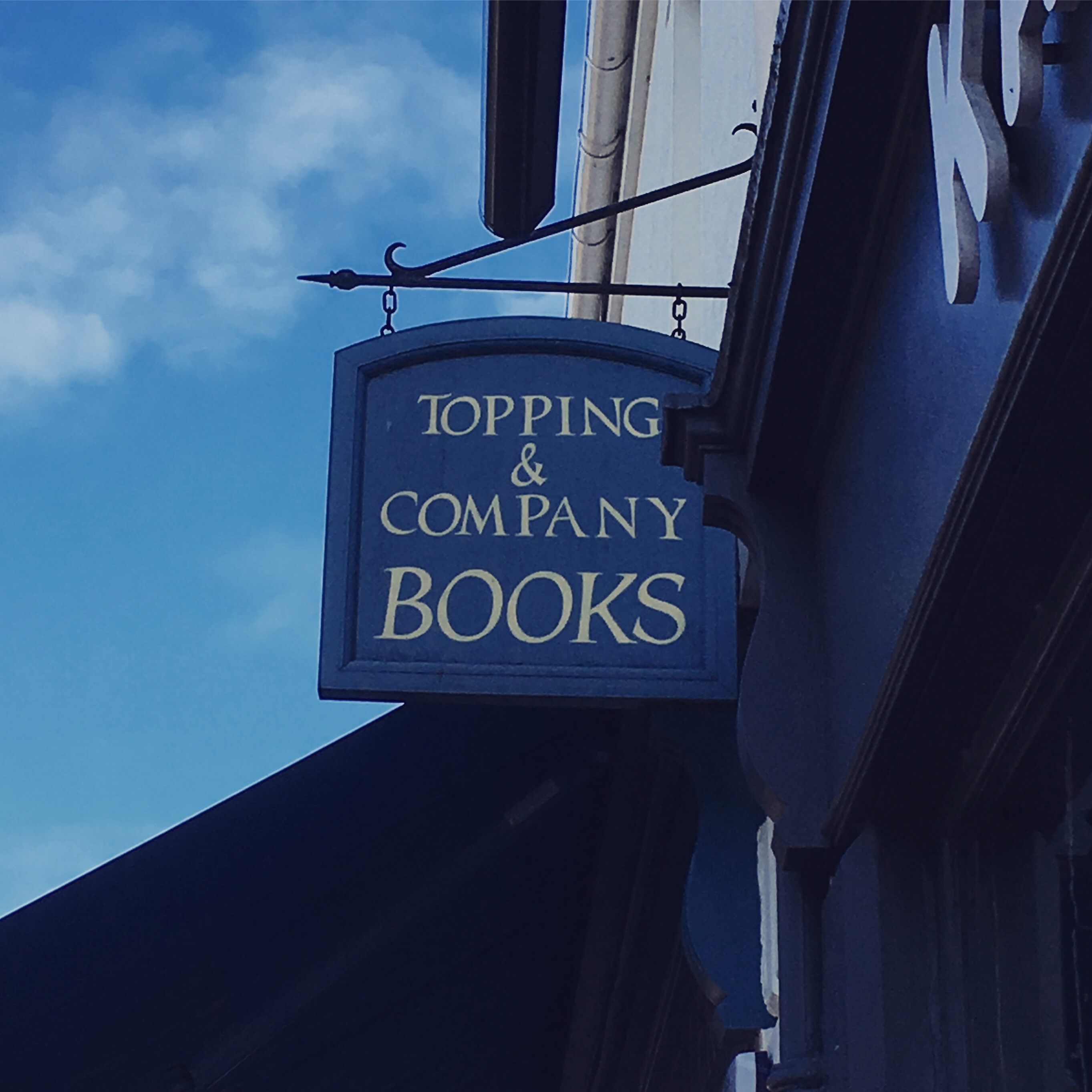 The independent bookshop Topping & Co. in St Andrews opened in 2015 after branches in Bath and Ely had already been highly successful. The first shop (in Ely) was founded by Robert and Louise Topping in 2003. A fourth branch is going to open its doors in Edinburgh in the summer/early autumn. And who knows what more is to come in the future?
What makes me love Topping & Co. so much is its atmosphere: It's a bibliophile's heaven with honey-coloured bookshelves from floor to ceiling and sliding library ladders that help you reach the upper shelves. Also, it's clear quite quickly that the people who work here love books and I mean: LOVE books - in capital letters and with an exclamation mark. Almost every time I visit, I find myself having a wee chat with one of them. They are not just employees but true booksellers who know their wares and are passionate about their job.
Another quirky benefit is that you are offered free tea or coffee while you are browsing the more than 50,000 titles. And I mean: what goes better together than a good brew and literature? Exactly! Nothing. Well, maybe chocolate, but that always poses the danger of nasty stains on the pages. The horror, the horror! So yes, better have a cuppa instead while you're perusing the shelves for your next read. And if you are looking for people to talk books with, the shop offers several book groups, such as "The Literary Odyssey Book Group" or the "Galley Book Club" (the latter of which is geared towards children between 7 and 11). There are also numerous literary events throughout the year. Just a few names that are lined up for the next few months: Ian McEwan, Ali Smith, Shaun Bythell, John Connolly, Mary Beard, etc.
What you will find a lot of at Topping & Co. is signed editions. There is a "Signed Editions" subscription service but while that is of course great for people who live further away, it's even more fun to hunt for treasures on the shelves directly. I've amassed quite a number of signed books this way without exactly meaning to, but hey - if I have the choice between a signed first edition and the regular one, the decision isn't such a tough one.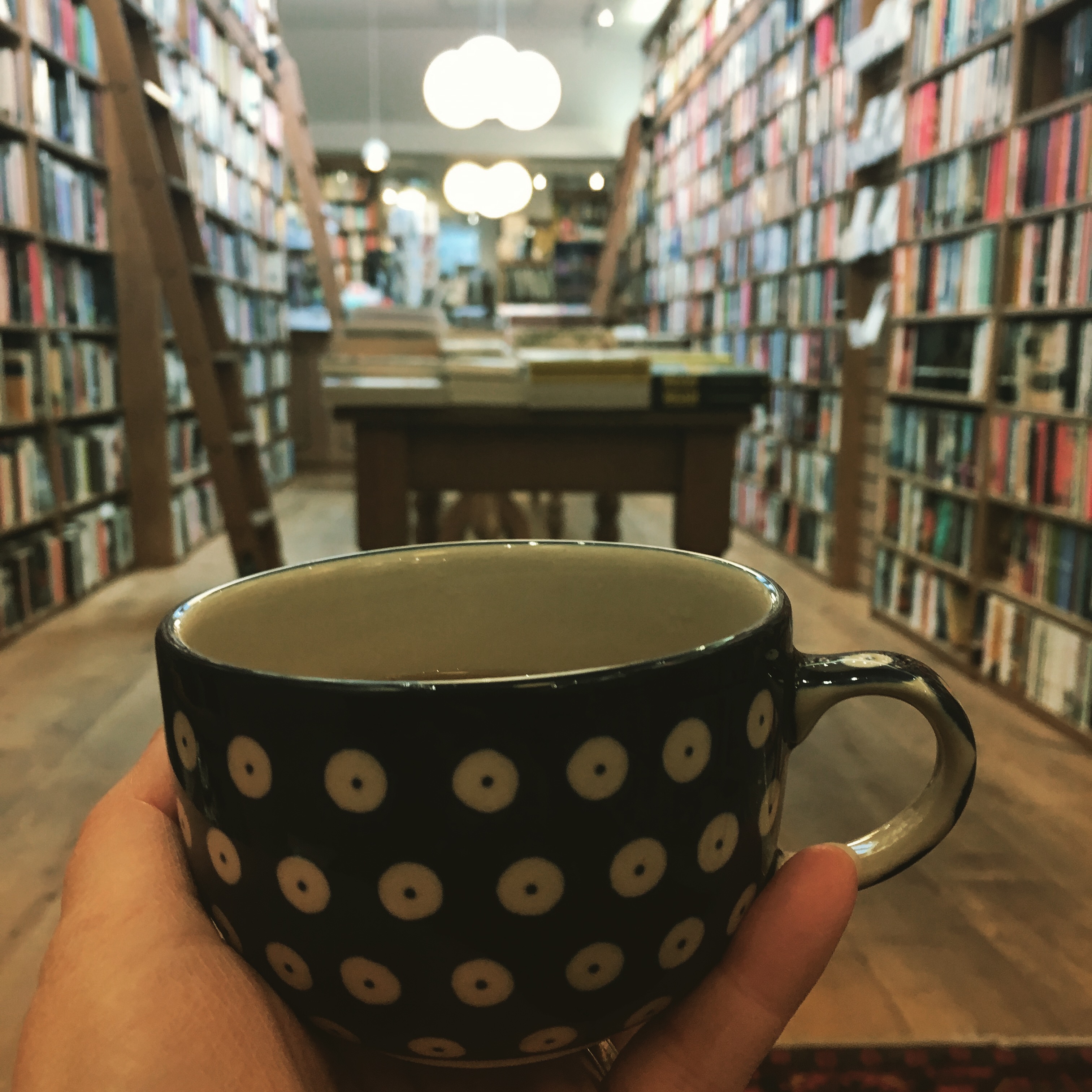 And in general, I have found that Toppings seems to have pretty much everything in stock. I don't remember ever having to order in a title as one of the booksellers has always managed to somehow conjure up what I was looking for.
One more aspect that I adore about the shop is its "Blind Date with a Book" shelf. I'm a total sucker for these kinds of things so, lo and behold, I find myself buying at least one of these wrapped mystery packages every time I visit. So far, I have never been disappointed. There was one book last year that wasn't really my cup of tea but this time I was very lucky and scored an edition of Jeannette Winterson's wonderfully atmospheric Lighthousekeeping and one of Vladimir Nabokov's ingenious Pale Fire. Sure, I already owned the latter but while I could have easily exchanged the book for something else, I'm just going to give it away as a present.
This is a bookshop that any true bookworm will immediately want to move into. Especially in the colder months the mix of books, tea or coffee and a cosy wood fire will make you want to while away an hour... or two or three. It makes me extremely happy to see that independent bookshops seem to be thriving again and Topping & Co. is definitely one of places that make people fall in love with bookshops over and over again.
9th April, 2019

So, imagine you could simply step through a mirror or wardrobe (or insert any other mysterious portal of your choice) and you are in a stunningly beautiful library full of impressive leather-bound tomes. And now imagine someone telling you that you can actually live there for a while. Sounds like a dream come true, doesn't it? Well, no need for magic as this place is only a good thirty-minute bus ride away from the city of Chester, situated in the wonderfully quaint village of Hawarden in North Wales (UK).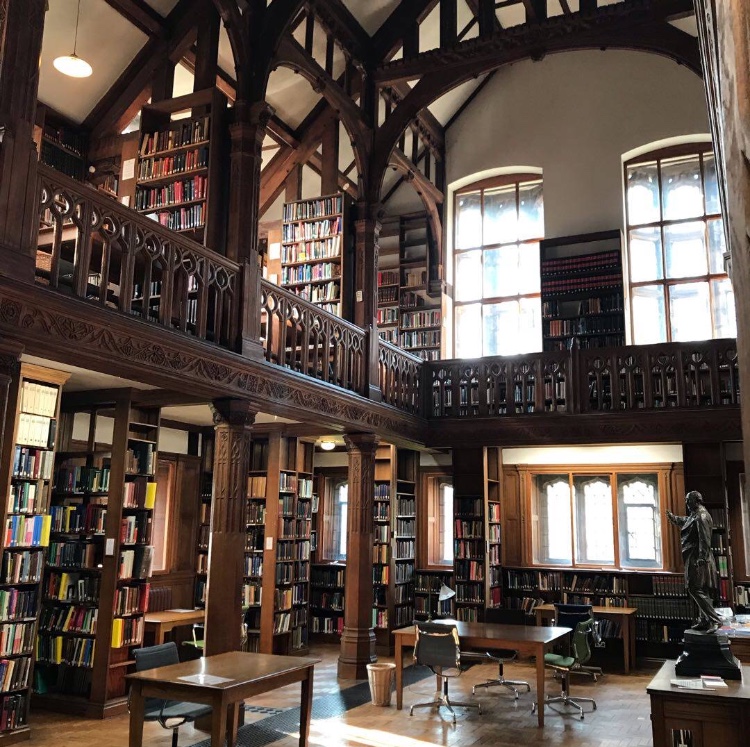 Gladstone's Library is a magnificent grade 1 listed building which pays tribute to William Gladstone, a four-time prime minister of Great Britain in the later half of the 19th century, who founded the library himself. After his death in 1898 it became a memorial to his life and work. Gladstone's is a residential library, a place for study and contemplation and a meeting place for bibliophiles from around the world. So when a friend who I had met through Litsy (a social media platform for bookworms) asked if anyone was up for a weekend reading retreat in this marvellous locationI didn't think twice and booked my room and flight within minutes.
When we arrived at the library we were all kind of giddy with excitement, on the one hand because of meeting a bunch of people you'd only so far talked to online and, on the other hand, because of the sheer beauty of the place. The reading rooms themselves are absolutely magnificent - think Disney's Beauty and the Beast and you'll get an understanding of what I mean. They are indeed a place of silence with absolutely no talking allowed. I felt that merely sitting in one of the comfortable leather armchairs with my book and enjoying the tranquility had an amazing soul-cleansing and centreing effect, because it is so far removed from the stress of our everyday lives.
The rest of the building is certainly just as attractive as the library proper. Many of the rooms come with beautiful book wallpaper and all of them have old-timey Roberts radios and mullioned windows. Something they explicitly do not have are TVs because of Gladstone's Library seeing itself as a place for research, study and debate. And this is precisely what I appreciate about it: Three days of peaceful tranquility, hours of reading, good food and bookish conversations in the lounge or over meals left me so incredibly refreshed and regrounded that it actually surprised me how relaxed I felt afterwards. It is the perfect sanctuary in a time where distraction is everywhere, and I found myself thinking that this must surely be what the characters in Thomas Mann's famous novel The Magic Mountain must have felt.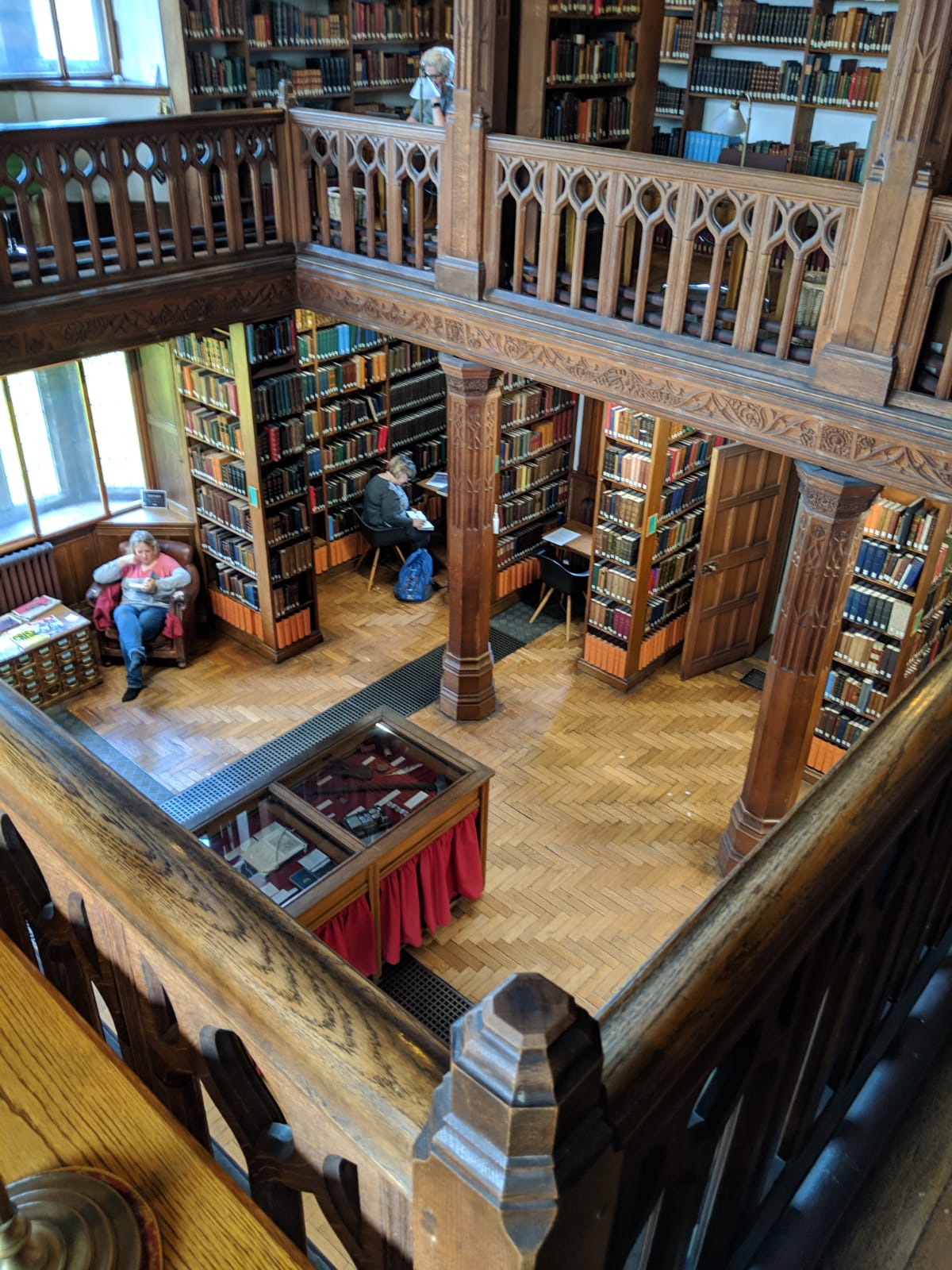 We started our first day of the retreat with a scrumptious Afternoon Tea in the library cafe and food somehow became a constant entity, either in the form of lovely pub lunches and dinners or as nibbles, cake and candy as reading accompaniment in front of the fire place in the cosy guest lounge. (Thank goodness, we walked some of it off on a brisk country walk on day two - haha.) And of course it was also the wonderful people who were with me on this retreat that made it such a success. It felt good to be surrounded by book people, people who are comfortable with sitting together in silence with their nose in a book but who also love to have inspiring conversations in-between.
Gladstone's Library is a truly stunning place and I didn't want to leave. The next retreat is already planned so I'm looking forward to coming back and staying a bit longer next time around. If you'd like more information, you'll find it all on their webpage: https://www.gladstoneslibrary.org/
© Copyright The Constant Reader
All texts and photographs are mine, unless indicated otherwise.
Header Background Picture Credit: Janko Felic