The Constant Reader's Book Blog
(Reviews, Bookish Stuff and all Things literary)


21st May, 2019


After their daughter Maribel suffers a near-fatal accident, the Riveras leave México and come to America. But upon settling in a two-story cinderblock complex just off a highway in a somewhat derelict area in Delaware, they discover that Maribel's recovery - the piece of the American Dream on which they've pinned all their hopes - will not be easy. Every task seems to confront them with racial and cultural obstacles as well as language problems.

Mayor Toro, a high school sophomore whose family arrived from Panamá fifteen years ago lives in the same apartment block. Mayor sees in Maribel something others do not: that beyond her lovely face, and beneath the damage she's sustained, is a gentle, funny, and wise spirit. But as the two grow closer, violence casts a shadow over all their futures in America.
The Book of Unknown Americans mostly follows the lives of two families but the narrative is interspersed with testimonials from the other immigrant residents of the Riveras' and Toro's block of flats, all of whom have come to the US to seek a better way of life. Even though they may not always have gained or achieved what they originally were looking for, most of the people in this novel seem happy to be in "the land of freedom".
And this is exactly what struck me as odd! In a story that deals with the marginalised, the poor, the suppressed I found it a bit surprising that nobody is bitter or disillusioned. Yes, the characters all seem to realise at some point that if they had stayed home they probably would have been worse off, but the whole "oh well, now we're here and we'll take what life gives us" attitude seemed a bit unbelievable to me.
The book brims with a cast of interesting and sympathetic characters: a line cook, a photographer, a small business owner, an army vet, parents seeking better lives for themselves but particularly their children. The development in the younger residents is lovely and touching. Over the course of the story even handicapped Maribel gets better in both her school work and her outlook on life. Alma aquires a rudimentary grasp of the English language with the help of Celia Rivera .
It is clear that Henriquez here draws the US as still being a country of opportunity for legal immigrants. What I would have liked, however, would have been a bit more critical complexity (see my comment above). Still, The Book of Unknown Americans is a moving but unsentimental story of young love, full of unflagging honesty and undaunted humanity.

Rating: 3/5 stars
17th May, 2018



Phew, this was epic! This book is a real chunkster coming in at 849 pages but if you are into sprawling fantasy, this will probably end up as one of your favourite reads of 2019.
But what is the book actually about? Here is a synopsis:
"A world divided.
A queendom without an heir.
An ancient enemy awakens.

The House of Berethnet has ruled Inys for a thousand years. Still unwed, Queen Sabran the Ninth must conceive a daughter to protect her realm from destruction—but assassins are getting closer to her door. Ead Duryan is an outsider at court. Though she has risen to the position of lady-in-waiting, she is loyal to a hidden society of mages. Ead keeps a watchful eye on Sabran, secretly protecting her with forbidden magic.

Across the dark sea, Tané has trained all her life to be a dragonrider, but is forced to make a choice that could see her life unravel.

Meanwhile, the divided East and West refuse to parley, and forces of chaos are rising from their sleep."
The scope of Shannon's novel is truly impressive: The Priory of the Orange Tree is teeming with wonderful details and full of characters you will immediately root for. It makes use of ancient folklore, a variety of myths, different languages and cultural perspectives. It felt good to read a standalone novel again (after all, especially in the genre of fantasy series have become the thing and I'm always loath of the commitment) but this book is so dense that it feels like a whole canon of texts channeled into a single volume. And I mean that in a good way. The author manages to keep tabs on all her plotstrands and her overwhelmingly sprawling web of characters, trailing storylines are always picked up again and it's particularly the shifting perspectives that make this book so mesmerising. Shannon uses different narrative voices in order to cover what is going on in the various regions of her fictional world and even though the cast is huge (thank you SO much for the list of characters at the end of the book and the map at the beginning, Ms Shannon, those truly helped a lot) it never seems out of control.
Even though Shannon obviously uses established tropes (dragons, queens in danger, fierce warriors, etc.), she twists them into something of her own. Some reviewers have said that the story begins as a bit of a slow burn but I felt that the reader gets drawn in quickly, simply because the characters are so intriguing. What I adored about the story was the way gender and sexual relationships are depicted. Men love men, women love women, men love women and women love men - it is all the same and never explicitly addressed, so exactly how it should be. Women here are shown as strong and powerful: they are pirates, queens, smugglers, and warrior priestesses, and they are all utterly convincingly drawn throughout the story.

And then the best thing: the dragons!!!! This is something I would have loved a bit more of, to be honest. The author's depiction of human relationships and power struggles is wonderful but the passages that truly took my breath away were those in which dragons, wyverns or other draconic creatures appeared. That first scene with Fyredel? Mind-blowing! The water dragons? Stunning! Here is a quotation that shows what I mean: "An enormous head towered over the fence of Orisima. It belonged to a creature born of jewel and sea. Cloud steamed from its scales-scales of moonstone, so bright they seemed to glow from within. A crust of gemlike droplets glistened on each one. Each eye was a burning star, and each horn was quicksilver, agleam under the pallid moon. The creature flowed with the grace of a ribbon past the bridge and took to the skies, light and quiet as a paper kite. A dragon. Even as it rose over Cape Hisan, others were ascending from the water, leaving a chill mist in their wake." Isn't it just wonderful? For me, Shannon is now the true mother of dragons. Can I call her Khaleesi*, please??

This is also why I found the ending to be a bit lagging in comparison to the first three quarters of the book. It was a bit like the first seven seasons of Game of Thrones versus the eighth, if you get my drift (sorry for making another GOT reference ;-)). It was not as drastic as there. However, it is just that in the beginning everything seemed so intricately and carefully developed that the comparatively quick solution seemed a tad swift. But this might be only my opinion.

If you are looking for an epic, sprawling fantasy with strong characters, take courage and dive into this admittedly very long but amazing story.
Rating: 4.5/5 stars
*Yes, I am aware that the title has nothing to do with dragons but obviously she is the ultimate dragon mother as well.
15th May, 2019
Just a quick message

Hiya! I just wanted to let you all know that May has turned to be a bit more hectic and stressful than initially expected. The classes I'm teaching this semester need a lot more preparation than I thought and admin has also gotten the better of me. Therefore, I might end up posting fewer entries this month. Sorry about that! I just didn't want you to think I had fallen off the face of the earth or something. But don't worry: It will only be this month and I plan to be back in full swing in June! Also,I'll be posting a review of The Priory of the Orange Tree later this week, so stay tuned for that! I'll announce new entries on both Insta and Twitter, but of course you can also subscribe to this blog, so that you won't miss anything.
Thanks for all of your support and I'll read ya later!! :-*
13th May, 2019

Ghost Wall was my first read by Sarah Moss and I was immediately in love with her beautiful writing. We follow teenager Silvie who is living in remote Northumberland with her parents as an archaelogical/ anthropological experiment. Her abusive father is obsessed with the idea of reenacting the living conditions of the Iron Age and insists on everyone experiencing the same discomforts and harshness of the past. Things soon go awry and the camp turns into a psychological battlefield. Next to Silvie's narrative we have the story of a so-called bog girl, an Iron Age sacrificial victim. As conflicts arise with Silvie's father, her and the bog girl's histories become increasingly entwined.
Moss' use of language is poetic and maybe even a bit demanding as the story is written in sometimes very long, atmospheric sentences. The landscape described is stunning and simultaneously evokes an historic era of darkness. While Silvie is a character the reader can easily identify with, her father is just despicable while her mother drove me insane with her passivity.
What drew me right into the story was the wonderfully crafted prologue. The rather slow-paced, almost pastoral main tale then illustrates how very much this novel deals with the dark sides of humanity. A lot of readers have addressed the book as a predominantly feminist story about domestic abuse. However, my feeling was that this is only part of what this novel is really about. Yes, it is about downtrodden wives and men who don't treat their family well, but it is also very much about identity and misguided notions of racial purity. Something that is obviously impossible, has never really existed and is therefore the downfall of some of the characters in this story.

Ghost Wall is a haunting little book that, despite its shortness, sticks with you for its brutal depiction of human frailty. I highly recommend it.
Rating: 4.5/5 stars
8th May, 2019



Have you heard of Litsy? If not, you'd better check it out. It's now available as a website as well. :)
I first joined Litsy in June of 2016, back when it was still somewhat mew, and I was immediately amazed by this wonderful and supportive bookish community. Someone back then said that Litsy is a bit as if Goodreads and Instagram had a baby and I think that description fits perfectly.
What makes Litsy special is that it is solely about books. Every post needs to be tagged with a book title and even though people branch out a little here and there, this overall bookish focus has remained ever since I joined. By now, what started out as a small group of readers discussing their current novels has evolved into a plethora of all things related to books: There are swaps, giveaways, organised or spontaneous meet-ups, reading retreats, postal book clubs and dedicated letter writers have found new pen pals. A lot of people send each other birthday or Christmas cards and gifts, and real life friendships have developed. Of course, as with all social media sites there is occasional drama, but what I admire is how such problems only occur very rarely and are resolved quickly. Almost all the people I've met through Litsy have been extremely nice and supportive. It simply feels great to chat with "people who get you", people who don't think you're crazy when you gush about your favourite author or your fifth edition of the same novel which you bought because "it was just so pretty".
Most of the swaps that happen on Litsy have specific themes, such as the by now almost legendary "Secret Santa Book Swap" or the "Summer Solstice Book Exchange", both hosted by one of the most dedicated Litsy members. The postal book clubs are wide-ranging with themes such a horror or crime and participants from all over the worlds. Recently, a few members met up at a residential library in Wales to spend a weekend together reading, chatting and - well - eating lots of cake. Through all of this Litsy has enabled readers from all corners of the planet to come together and celebrate books. Different viewpoints are not just accepted but welcome. It's essentially like a huge virtual bookclub where opinions come together and are discussed.
In the past year or two, Litsy has undergone a few exciting changes. It has become part of LibraryThing and now is also available as a website. You can check it out here and if you're looking for a lovely bookish community to become a part of you may want to give Litsy a try: www.litsy.com (And if you want to get in touch over there, my user name is scripturient but there is also a link on the Contact page of this blog. :))
4th May, 2019


Jenny Colgan has done it once again: I am in love with her book and didn't want it to end. The Bookshop on the Shore isn't a sequel to The Bookshop on the Corner (or The Little Shop of Happy Ever After as it is called in the UK) but it is losely tied with Colgan's other Scottish book mobile story: certain characters make a reappearance, plotlines are overlapping, etc.
Zoe is a single mother and a professional child care worker, and she is desperate. It's becoming increasingly difficult for her to pay the ridiculously high rent for her tiny London flat. The father of her son is too busy enjoying the wild bohemian life all over the globe to think about supporting his family, but his sister might just have an idea. Things are arranged for Zoe to become the new nanny at a mysterious but musty manor on the shores of Loch Ness. During the day she is supposed to help the heavily pregnant Nina with her book mobile. What sounds like the perfect solution becomes anything but as Zoe hasn't anticipated to be faced with three sullen children who are running wild around the estate while their father, widower and antiquarian bookseller Ramsay Urquart, seems to be stuck in memories of the past battling his own demons. Zoe needs to find a way to make things work and hopes that her quiet son Hari might just find the motivation to finally speak.
The Bookshop on the Shore is the perfect summer companion for anyone with an interest in Scotland, books and a dash of romance. It is a heart-warming read that will make you feel all fuzzy inside. It is also incredibly funny and addictive. I, for one, finished it in pretty much a single sitting on a balmy spring evening.
Colgan manages to draw her readers in right from the start. She makes you fall in love with Scotland (either for the first time or all over again) through her gorgeous and quirky descriptions of local idiosyncrasies and the stunning scenery. Her protagonists are versatile and never boring, while the mixture of known and new characters is just perfect. The Bookshop on the Shore is everything you'd want from a Jenny Colgan novel: friendship, cosiness, romantic complications, comfort, and lots and lots of bookish references. It is a brilliant and gratifying read, and even though the ending is predictable (as it typically is with romance novels) it is not cheesy but thoroughly lovely. The Bookshop on the Shore is a story written by someone who clearly loves books for people who also love books while being about people who love books. Sounds fab? It is!
This book will be out on 13th June, so if you are looking for a bookish all-the-feels summer read you might want to stack this on your TBR list.
Rating: 5/5 stars
30th April, 2019


It is pretty much exactly half a year until we celebrate Halloween again, so I read this little book as part of the Bookstagram #halfoween readalong, and it was a fabulously creepy experience. Here is a plot synopsis:
At a first and superficial glance Strang may appear to be your typical quaint little town. However, living here is a horror in itself. Every night the town is haunted by a creature that the townsfolk refer to as Halloween. As soon as the sun sets, Halloween shows up to collect its treats: a small, live offering from each household. The residents comply as no one wishes to be the target of Halloween's menace. After all, people who antagonize the creature tend to get brutally dragged away from their homes. But this everyday nightmare of living in Strang is nothing compared to the yearly ritual Halloween demands of the citizens on All Hallows' Eve.
C.V. Hunt's Halloween Fiend is the sort of book you wish to have on your bedside table on Halloween. I read it on a sunny spring afternoon but I kind of wished that I had saved it for a crisp autumn evening. The book perfectly captures everything that makes the time around Halloween special and you can almost smell the rotting leaves while reading the story. I particularly like how Hunt has gone beyond simple creepy ambiguity and manages to give us a downright scary story. The book cleverly plays with traditions and conventions and with typical Halloween tropes.

What the author catches extremely well is the dreariness and drabness of the town as well as the unique voice of Halloween, the monster, who is here depicted as the quintessential boogeyman. Hunt throws everything we know about the holiday of Halloween into this story, then takes out a giant ladle to stir it all around till it becomes something new. Something new and terrifying.
There are echoes of other texts - some readers have mentioned a clear nod to Jackson's "The Lottery" or quite a few Lovecraftian elements and influences - but the author skilfully weaves together old traditions and her own twist on what is going on in Strang, so that this is a new and modern version of an established topos. The reader feels with the characters - which in itself is an achievement as they are all quite unlikeable - and is kept on the edge of their seat until the end. Yes, the ending is a tad predictable but for me it still had that satisfying "we are still doomed" feel to it. For me personally, it is the perfect non-solution/open ending that we love so much in the genre of horror.
This was my first C.V. Hunt story, but it will definitely not be my last. I highly recommend this book to anyone who loves Halloween or anyone looking for a bit of a scare. Halloween Fiend is a very short book so it's readable in one sitting - perfect for that stormy autumn night mentioned above.
Rating: 5/5 stars
27th April, 2019


As our daily lives are growing increasingly hectic, a lot of people are deeply afraid of being alone. However, there is scientific evidence that solitude can be both rewarding and soul centreing, especially when we are travelling. In her travelogue journalist Rosenbloom considers how being alone as a traveller helps us become genuinely aware of the beautiful details of the world. The reader follows Rosenbloom through four cities, the last of which being the author's home, and experiences the sounds, smells and sights of these places through the lens of the solitary traveller.


Alone Time consists of four sections, each set in a different city, a different season. The locations - Paris, Istanbul, Florence, New York - are all "walkable", turning the solitary traveller into a flaneur. Rosenbloom includes scientific insights on the relationship between hapiness and solitude from experts such as psychologists and sociologists and discusses topics like the joys of going to a restaurant alone, learning to delight in the mundanest of activities, (re)discovering places and interests, and finding silent spaces in busy metropoles. Alone Time is an extremely heart-warming and intimate account of how important it is to savour solitude from time to time, and it will make you want to start your own solitary journey.

What I liked particularly about Rosenbloom's book was the way that individual moments are relished. As someone who tremendously enjoys spending time alone and who has gone on many journeys by herself, I found myself in so many of these pages. Rosenbloom's book is an homage to the feeling of enjoying the solitary moment, and it is truly revelatory in its wonderful talk of the joys of anticipation: "To anticipate is to court joy, to fall in love with a place the way it is in a book or a movie or an Eartha Kitt song. But to stay open to the unexpected is to embrace anticipation - to know that it serves its purpose before the journey begins and must then be set aside for reality, for whatever beautiful, strange, unpredictable thing awaits when we step off the ferry." Perfect!
If you are an introvert and enjoy the blissful state of solitude, you will want to read this book. It is a very calm read and I also recommend it to anyone who's planning on travelling alone or is maybe still struggling to find the courage to go solo.
Rating: 4.5/5 stars
22nd April, 2019


I'd been looking forward so much to this book but, oh my, did it turn out to be a disappointment.
The Silence of the Girls tells (or is supposed to tell - see my later comments) the story of Briseis, once queen of one of Troy's neighbouring kingdoms and now slave and concubine to Achilles. Stuck in the Greek camp, Briseis cannot do much else but wait for the war's outcome while trying to come to terms with her now radically different life. Eventually she finds herself caught between hot-headed Achilles and brutal Agamemnon who demands her for himself.
What the book blurbs and cover text promised was essentially a retelling of the Iliad from a female perspective, and this is what got me interested: I was longing for a woman's point of view on the horrors of war and female opinions on the conquered women's new circumstances. The novel purports to be a feminist retelling of an originally very male-centred text, but this is definitely not what it is.
True, we do have a female narrator but (and this is a BUT in screaming capital letters) this narrator has no character depth whatsoever! Yes, she is but one among thousands of women behind the scenes in the Troyan war but what I wanted was her thoughts, her motivations, her feelings and emotions, her - yes! - identity struggles. I mean, she was dragged away from her home, saw her husband and brothers being killed, witnessed everything being burned down. This does something to a person and I was waiting for rebellious thoughts, plans for revenge or... something. However, while we obviously do have a female perspective here, Briseis' observations are mainly concerned with how muscular Achilles is, how fatherly Patroclus seems to be and how jovially the men interact with each other despite all the tensions in the camp. (Don't even get me started on the language used for this! "Cheers, mates!" - Really???)
And yes, I do get that of course it may be somewhat difficult to rewrite a very male story set in a time when women's lives were very much determined by the men around them from a woman's perspective. I understand that women back then didn't have much of a say in matters, especially not when they were slaves. However, if you're claiming to do just that than you need to deliver. Simple as that. And it has successfully been done before. Just look at Atwood's Penelopiad, for example.
I think this is one of these books that divides readers. I've seen quite a lot of raving reviews that celebrate the "nuanced, complex portraits of characters from Briseis' perspective". But this is exactly my problem with this book!! Barker was obviously so busy with having Briseis study other characters that she completely forgot to give her a character of her own. For a book that says that it's going to tell the story of a woman, it is an awful lot about a man's (Achilles') mummy issues, his flaring temper and his attractive physique.
The ending then is particularly disappointing, especially seen in the light of what I said above. It seems like the author eventually realised that she had focused a lot more on the men in her novel, and so the book ends with Achilles' death and Briseis saying that now her life can begin. Yes, she has to reinvent herself. Yes, it has all been difficult. But wasn't this supposed to be HER story in the first place? So after 300 pages of a book claiming to be about Briseis and actually being about others, we are told that NOW her story will follow? This is simply not okay, and almost made me throw the book at the wall (and it takes A LOT for me to feel like that as my books are precious to me!). So no, just "No!" to The Silence of the Girls.
Rating: 0.5/5 stars
17th April, 2019


Paver's Wakenhyrst was one of my most anticipated new releases of 2019. I was giddy with excitement when I finally got my grubby little hands on a copy but unfortunately the book didn't live up to my expectations. Bummer! But let's start with a plot synopsis:
1906: A large manor house, Wake's End, sits on the edge of a bleak Fen, just outside the town of Wakenhyrst. It is the home of Edmund Stearn and his family – a historian, scholar and land-owner, he's an upstanding member of the local community. But all is not well at Wake's End. Edmund dominates his family tyrannically, in particular daughter Maud. When Maud's mother dies in childbirth and she is left alone with her strict, disciplinarian father, Maud's isolation drives her to her father's study, where she happens upon his diary.

During a walk through the local church yard, Edmund spots an eye in the undergrowth. His terror is only briefly abated when he discovers its actually a painting, a 'doom', taken from the church. It's horrifying in its depiction of hell, and Edmund wants nothing more to do with it despite his historical significance. But the doom keeps returning to his mind. The stench of the Fen permeates the house, even with the windows closed. And when he lies awake at night, he hears a scratching sound – like claws on the wooden floor...
This is what I was expecting - especially after having read and adored Paver's previous work: an creepy ghost story. Alas, what I got was an only slightly eerie tale in which the most disconcerting element was the gothic mansion it is set in. Yes, it does explore questions of the supernatural and its relation to what we perceive as real. It is also a nice twist on the stereotype of the madwoman as we here have a strong female character and a male character who is losing his wits. In a way the story was reminiscent of John Harding's Florence and Giles but it lacked its finesse and playful subtlety. I was also always waiting for really terrifying things to happen but those didn't go beyond devilish figures leering at characters from the painting.
What I did enjoy was the setting. The mansion itself is eerie enough but the surrounding fen with its earthy smells and strange noises was equally unsettling. Some characters were better drawn than others and I liked how Maud's perception of situations differed to that of her father. The story is also an interesting exploration of psychopathic and manipulative behaviour.
So I didn't like this book as much as I had anticipated, but it was a decent read nevertheless. If you read this as a gothic study of turn-of-the-century character relations, you'll probably enjoy it. If you are looking for a full-on horror story full of terrors as in Paver's Dark Matter, you may be disappointed.
Rating: 2/5 stars

13th April, 2019



I finished this little book within one day on a recent reading retreat. And what a strange little book it was. Lanny is a chimerical and slightly twisted tale that needs some getting used to but then it doesn't disappoint.
Lanny is a somewhat special boy. He is sweet, inquisitive, artistic - but not like the other kids. The village he lives in is populated by all kinds of people, the new and the old, and their lives are being watched over by Dead Papa Toothwort, an ancient spirit who is stiring in the ground and who has seen it all. Dead Papa Toothwort he has a plan: lives are disrupted and everyone begins to question everything and everyone else as a race against time begins.
This novel is extremely hard to describe. It is carried by a multitude of voices and it is weird. Yes. It truly is weird. However, that is also what makes it special as it stands out, even though the topic itself is not a new (or very unique) one. At times it feels like you are listening to the chorus of a Greek tragedy, at other times the book is pure emotion. Porter's characters are wonderfully drawn, from Lanny's always slightly distracted mum to his somewhat alienated dad and to Mad Pete and Lanny himself - even though they are not described in extensive detail, we learn so much through their speech. And we feel with them and for them.
The unusual design of the text with sentences flowing all over the page and into each other makes this book an extra bit special. I loved how it digs up the past and presents it next to the present, how light and darkness are shown so close to each other and how current social observations are woven in together with myth and folklore.
You need to experience this book for yourself as no description will be able to give it justice. :-)
Rating: 4/5 stars
9th April, 2019



So, imagine you could simply step through a mirror or wardrobe (or insert any other mysterious portal of your choice) and you are in a stunningly beautiful library full of impressive leather-bound tomes. And now imagine someone telling you that you can actually live there for a while. Sounds like a dream come true, doesn't it? Well, no need for magic as this place is only a good thirty-minute bus ride away from the city of Chester, situated in the wonderfully quaint village of Hawarden in North Wales (UK).
Gladstone's Library is a magnificent grade 1 listed building which pays tribute to William Gladstone, a four-time prime minister of Great Britain in the later half of the 19th century, who founded the library himself. After his death in 1898 it became a memorial to his life and work. Gladstone's is a residential library, a place for study and contemplation and a meeting place for bibliophiles from around the world. So when a friend who I had met through Litsy (a social media platform for bookworms) asked if anyone was up for a weekend reading retreat in this marvellous locationI didn't think twice and booked my room and flight within minutes.
When we arrived at the library we were all kind of giddy with excitement, on the one hand because of meeting a bunch of people you'd only so far talked to online and, on the other hand, because of the sheer beauty of the place. The reading rooms themselves are absolutely magnificent - think Disney's Beauty and the Beast and you'll get an understanding of what I mean. They are indeed a place of silence with absolutely no talking allowed. I felt that merely sitting in one of the comfortable leather armchairs with my book and enjoying the tranquility had an amazing soul-cleansing and centreing effect, because it is so far removed from the stress of our everyday lives.
The rest of the building is certainly just as attractive as the library proper. Many of the rooms come with beautiful book wallpaper and all of them have old-timey Roberts radios and mullioned windows. Something they explicitly do not have are TVs because of Gladstone's Library seeing itself as a place for research, study and debate. And this is precisely what I appreciate about it: Three days of peaceful tranquility, hours of reading, good food and bookish conversations in the lounge or over meals left me so incredibly refreshed and regrounded that it actually surprised me how relaxed I felt afterwards. It is the perfect sanctuary in a time where distraction is everywhere, and I found myself thinking that this must surely be what the characters in Thomas Mann's famous novel The Magic Mountain must have felt.
We started our first day of the retreat with a scrumptious Afternoon Tea in the library cafe and food somehow became a constant entity, either in the form of lovely pub lunches and dinners or as nibbles, cake and candy as reading accompaniment in front of the fire place in the cosy guest lounge. (Thank goodness, we walked some of it off on a brisk country walk on day two - haha.) And of course it was also the wonderful people who were with me on this retreat that made it such a success. It felt good to be surrounded by book people, people who are comfortable with sitting together in silence with their nose in a book but who also love to have inspiring conversations in-between.
Gladstone's Library is a truly stunning place and I didn't want to leave. The next retreat is already planned so I'm looking forward to coming back and staying a bit longer next time around. If you'd like more information, you'll find it all on their webpage: https://www.gladstoneslibrary.org/
7th April, 2019


"Spring will come. The leaves on its trees will open after blossom. Before it arrives, a hundred years of empire-making. The dawn breaks cold and still but, deep in the earth, things are growing."
Ali Smith is simply the goddess of slightly weird and disjointed but deeply meaningful storytelling. I finished this book in a single day on a Reading Retreat at Gladstone's Library in Wales (more on this in my next post!!) and absolutely loved it. Commenting on politics, literature and life's greatest questions, the seasons (and especially spring) carry a special role in this book.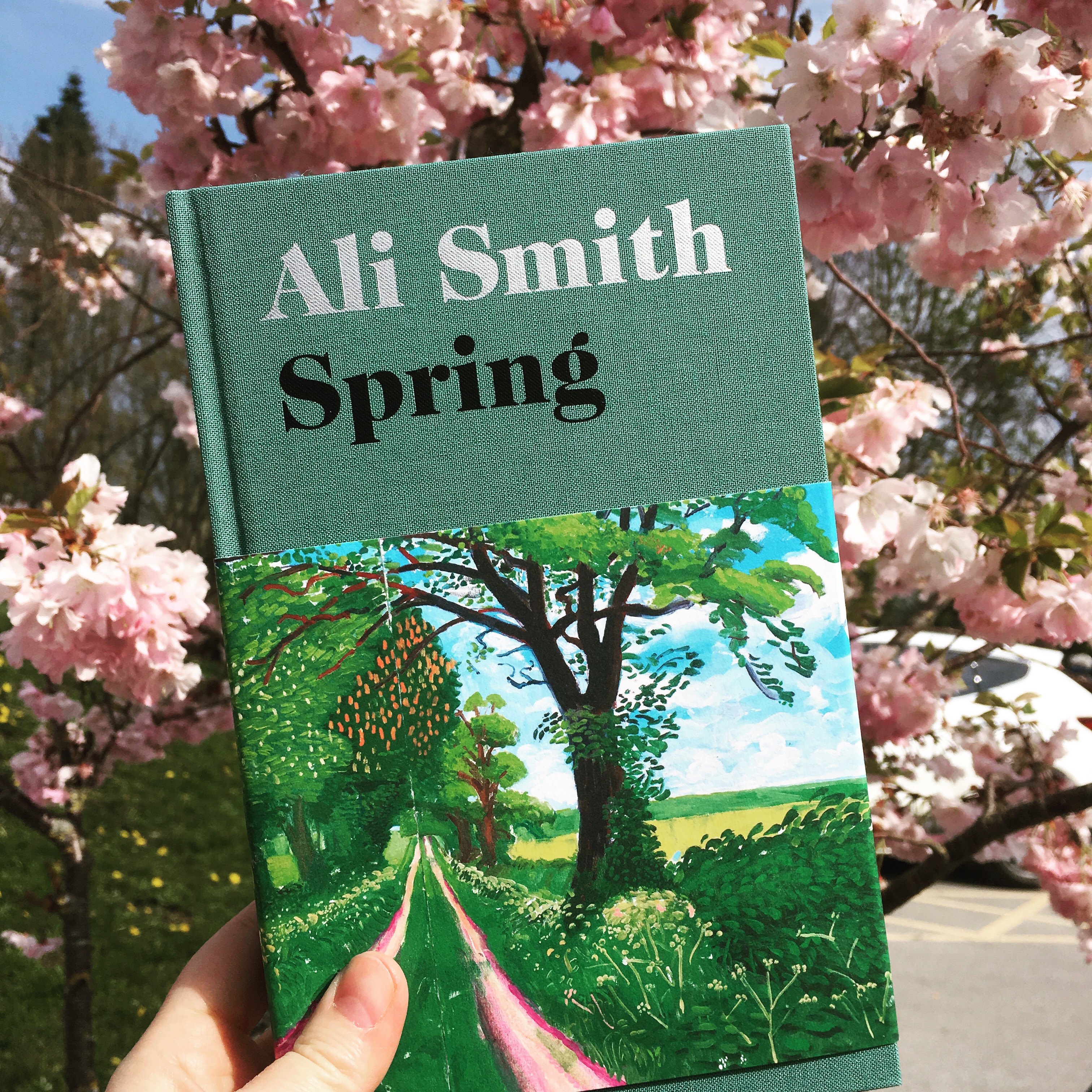 As many of Smith's novels, this story needs some "getting into" due to the many voices that are speaking. Some chapters appear quite fragmented and experimental, but eventually plotlines merge and everything falls into place. I particularly admired how Smith uses wonderfully lyrical language which yet has a very current feel to it. Her take on contemporary politics (Brexit, Trump, migrant detention centres, etc.) is spot-on as are her rather philosophical ponderings on life (How to die? Who to be?) and literature (e.g. on truth vs. the worth of fabricated (auto)biographies).
Spring breaks and plays with linear storytelling: past, present and future are mere entities that don't need to be treated in chronological order, which is indeed what makes this author's writing so unique. Her book is another masterpiece in the Seasonal Quartet and my personal second-favourite so far. Smith cleverly weaves the seasons into her stories without necessarily putting them centre stage. They function more like structuring principles and, as with the plotlines in this novel, they often come together in the story before drifting apart again. A beguiling bunch of characters, some of which are a bit out-of-this-world, hold everything together.
If you're not one to shy away from postmodern narrative techniques, I highly recommend you read this book. It will leave you wondering about life, including its injustices. It's a book that leaves an impression.
Rating: 5/5 stars
For older entries, please refer to the ARCHIVE. Thank you!
© Copyright The Constant Reader
All texts and photographs are mine, unless indicated otherwise.