The Constant Reader's Book Blog
(Reviews, Bookish Stuff and all Things literary)


9th July, 2019



What if a shy introvert lived the gregarious life of an extrovert for one year? If she consciously put herself in uncomfortable social situations that she'd normally stear clear of at all costs? When she found herself jobless and with all of her friends having moved away, Jess couldn't help but imagine what her life could have looked like if she had been just a little more open to new experiences and new people, a little less willing to hide at home instead of going to the pub. Jess made a vow: Despite being a massive "shintrovert" (a shy introvert), she promised to push herself to live the life of an extrovert for a year.


Sorry I'm Late, I Didn't Want to Come is an endearing memoir that follows the author's simultaneously funny and painful 365 days of adventures and mishaps in extroverting. Every introvert will easily find themselves in this book as Pan reports back from the frontline of cringy experiences, such as improv comedy, dining out and traveling solo, or asking intentionally stupid questions of passersby in the streets of London ("Does England have a Queen? What is her name?" - You'll be amazed by the answers she received!).

This book makes for hilarious, compulsive reading, and it's perfect for dipping in and out of. Being an introvert myself I found some of the things Pan pushed herself to quite a long stretch out of my own comfort zone, but I also identified patterns that I have obviously learned to overcome. What I found particularly interesting was the author's take on initiating deep and meaningful conversations and on how nowadays a lot of people can no longer commit to these. What makes Pan's view so interesting is that it is indeed that of an introvert and not the perspective of an extrovert who is trying to motivate shy people. She knows how debilitating it can feel when you are thrown "out there" and she decided to try it anyway. And yes, sometimes things backfired but she still persisted.

I recommend this book to any introverts out there who would like to live vicariously through someone else in order to know what extroverting is actually like. I felt that it gave me a new perspective on many things while at the same time being extremely entertaining.
Rating: 4/5 stars
5th July, 2019



Oh my, I really really wanted to love this book. I received it as part of a montly book subscription box and was so excited about the theme and the general plot summary. But was I in for a surprise! So yes, this is an official "unpopular opinion" alert as everyone on social media seems to adore this novel. Therefore, please consider yourself warned that I will not be gentle here because I simply hated it. There. I said it. :-)
But let's start in the beginning. What is Sorcery of Thorns actually about? Here is a short plot synopsis from Goodreads:
All sorcerers are evil. Elisabeth has known that as long as she has known anything. Raised as a foundling in one of Austermeer's Great Libraries, Elisabeth has grown up among the tools of sorcery—magical grimoires that whisper on shelves and rattle beneath iron chains. If provoked, they transform into grotesque monsters of ink and leather. She hopes to become a warden, charged with protecting the kingdom from their power.

Then an act of sabotage releases the library's most dangerous grimoire. Elisabeth's desperate intervention implicates her in the crime, and she is torn from her home to face justice in the capital. With no one to turn to but her sworn enemy, the sorcerer Nathaniel Thorn, and his mysterious demonic servant, she finds herself entangled in a centuries-old conspiracy. Not only could the Great Libraries go up in flames, but the world along with them.

As her alliance with Nathaniel grows stronger, Elisabeth starts to question everything she's been taught—about sorcerers, about the libraries she loves, even about herself. For Elisabeth has a power she has never guessed, and a future she could never have imagined.
Can you understand why this description made me so excited? The book is about books, about libraries, about bookish independent girls,... all of these should be winners. Then there was this amazing epigraph: "For all the girls who found themselves in books." I felt like shouting a big, loud "Hell, yes!".
However, then followed the cruel drop of horrible disappointment. The first 100 pages had me constantly lose track of the story because they were just so tedious. Yes, things happen and it's actually quite suspenseful stuff, but I found myself not caring enough. I can't even put my finger on it exactly but it all seemed so predictable.
Then there are the characters. I pretty much loathed all of them, except for Silas whose charisma was the only thing that kept me reading on at all. Elisabeth is supposed to be a feisty and independent protagonist but in fact she doesn't do much. Things just seem to happen TO her. She is constantly thrown into action but this action is hardly self-motivated. And honestly, it is quite obvious from the start that she is being manipulated. Also, for a girl who has spent her entire childhood surrounded by and reading books, Elisabeth is definitely a bit of a bimbo and incapable of making reasonable decisions. On the other hand, Nathaniel is described as the sarcastic bad boy and supposed to be enigmatic, fascinating and secretly sensitive, but he only made me yawn throughout. Oh, and then there is Ashcroft who is the villain because, well... obviously, you need one. *snore*
All of these characters are so freaking one-dimensional and shallow that it's hardly funny anymore. I felt like Rogerson had recently read Vladimir Propp's study Morphology of the Folktale and immediately decided to follow all available schematic character constellations. Without giving away spoilers, things - again - just suddenly happen without any build-up. I was constantly wondering "Alright, where did that come from?" while simultaneously thinking that all of it is so generic and predictable.
The novel then tries to be deep by raising questions of the nature of Good and Evil. Maybe sorcerers are only misunderstood and not bad after all. However, Elisabeth basically ruins these tender onsets of a minimum of depth because her motif for questioning old conceptions lies with the fact that Nathaniel is a bit of a hunk. *double snore*
I was deeply disappointed in a book that could have been great if it wasn't full of stereotypes and bland characters. I am sorry to anyone who loved the story, but I want to be honest in my reviews so unfortunately this will only get a...
Rating: 0.5/5 stars
1st July, 2019


We all know them - those annoying times when, even though you absolutely love reading, you suddenly are not able to finish a single book, your favourite genre somehow annoys you and even your most treasured writers don't manage to pull you out of the rut. A reading slump is a pain and, while I don't know about you, it definitely tends to make me grumpy. Extremely so. Reading is my 'outlet', so to say: it relaxes me. So when I am not able to read... you get the drift. ;-)
On the various bookish social media sites I'm frequenting (Litsy, Instagram/Bookstagram, and one or two book related groups on Facebook) members often ask what they can do to get out of a slump. While everyone obviously has different strategies that work for them, here are five that tend to pull me out of a rut or at least get me somewhat back in the reading mood:
1) Reading guilty pleasure books
It doesn't really matter what your poison is. If your guilty pleasure book is a steamy romance novel - go for it. If it involves the latest slasher horror novel - hey, whatever works, mate. The idea is not to think about "literary merit" or anything like that, but to just enjoy a book - to read for fun and nothing but fun. There was a time in my life when I was in a rocky relationship and all I was able to read were gothic novels (don't psychoanalyse that, please - haha). Another time I was bed-bound while pregnant with our son and all I could concentrate on were chick-lit stories (I reread the entire Shopaholic series during those weeks). What I mean is that noone judges you! Read whatever the heck you want and don't let anyone make you question your book choices.
2) Revisit a favourite
Sometimes going back to a book I really loved helps me get out of a reading slump. Oftentimes these books are ones that I treasured as a child. Little Woman, for example, is one of these: It's a book that I can read in little instalments and that reminds me of what reading felt like when I was a kid. So far, it has always managed to rekindle my love of reading. Any of your favourite books will do - choose whichever makes you feel good.
3) Go browse a bookshop/library and buy/check out a book
If you are like me, browsing a bookshop is probably one of your favourite pastimes anyway, so this won't be too much of a burden, I guess. Seeing all the pristine titles on the bookshop shelves usually makes me want to just throw my paycheck at the bookseller yelling "Yes, pack them all for me, please!" While doing that will probably remain a dream, the general atmosphere of a bookshop or the library is normally enough to get my spirits up in any life situation and it always leaves me with a list of new titles to add to my TBR, i.e. makes me want to read ALL THE BOOKS.
4) Browse your own bookshelves or reorganise them
Sometimes you'll find just the right read for just this particular time on your own shelves. I know that mine are definitely full of books I haven't read yet, so I often find a book I'd been meaning to read for ages and which suddenly looks extra promising in this specific moment. And it definitely is cheaper than a trip to the bookshop. ;-)
5) Take a break
Yes, it is more than okay to just stop reading for a while. If you're in a really bad slump this sometimes is the only way out. Don't feel guilty, don't beat yourself up for not reading and don't worry: it will come back to you! Trust me, it will. I've had periods in my life where I read four books in a week and others where I didn't read a single one for two months. Life just happens and sometimes gets in the way. Feel free to take a break, binge watch your favourite shows on Netflix and wait for the slump to pass. It will eventually and you'll be back to devouring books in no time.
Do you have any specific strategies to overcome a reading rut? Share them in the comments.
25th June, 2019



Wow! What did I just read? This book is one wild ride of utterly mesmerising weirdness but it is also really really good.
Apollo Kagwa is an antiquarian bookseller but he also suffers from strange dreams that have haunted him since his childhood. Abandoned by his own father he is trying to do better, building a life with his wife Emma and their infant son Brian. But then Emma begins to act in strange ways and what initially looks like postnatal depression quickly turns out to be much more. Before Apollo realises what happens, Emma commits a horrible crime - the unthinkable for any parent - and disappears.

As a consequence, Apollo begins an odyssey through the urban landscapes of NYC. He meets an enigmatic stranger who claims he knows where Emma is hiding and Apollo is thrown into a quest that takes him through the different boroughs of New York and to a mysterious island in the East River. Secrets and mysteries abound, folklore and myth come alive, and Apollo's journey lets him travel to the forgotten parts of the city, areas that seem almost invisible to everyone else.
The Changeling is a dizzying story about family and parenthood, about unfathomable secrets and grief. Lavalle does a magnificent job in portraying these dynamics and the reader repeatedly feels like they want to reach out and hug the protagonist as he is going through a tremendous tragedy. Apollo's grief is so palpable throughout the story that it was in fact sometimes hard for me to continue. As a parent, Emma's act is so incomprehensibly horrific that it still gives me goosebumps.

What Lavalle excels at is mashing up parental anxieties with folklore. Throw in thought-provoking contemplations on the problems of people of colour and some discussions on the dangers of the internet and you'll get a good understanding of what this book is about. It starts out as a beautiful love story, then turns into something straight out of Rosemary's Baby and eventually reminds you of a Neil Gaiman or China Miéville novel. The plot is fast-paced and simply sweeps you along while you're still busy wondering what the heck is going on here. The Changeling is a very modern fairy-tale which still has all the lovely aspects of the old-timey stories. It makes you cringe, it makes you cry out in indignation and it makes you grab the edge of your seat, especially when you get to the last third of the book.
I'm usually not one for putting trigger warnings on books, but I think for this one it should be said that it might be a bit of a difficult read for parents as the story involves horrible violence towards children. I also believe, however, that this shouldn't let you miss out on an amazingly clever book so proceed with caution but don't let this one pass you by.
Rating: 5/5 stars
18th June, 2019



As the author herself says on her social media outlets: "The Paper & Hearts Society is the first book in a new series for teenagers (11+) about finding your people, not being afraid to be your true self, and speaking loud and proud about what you're passionate about. It's about being bookish, understanding your mental health, and the effects social media can have on us, and it's the book of my heart."
Needless to say it was the bookish aspect that drew me to this story. I was looking for a whimsical comfort read to tide me over a stressful time and Powrie's synopsis of her novel had me hooked immediately. I was hoping to find my younger self in these pages, hoping to read a story that reminded me of being a nerdy teenager. And I'm happy to say that the story delivered in all of these aspects and that I devoured it within 1.5 days.
Yes, Powrie is a very young writer and yes, the story does have a few weaknesses. For example, it sometimes is extremely annoying when the protagonist doesn't use certain opportunities to clear things up and instead lets everything get even more convoluted and complicated. Maybe it was my motherly self kicking in in these moments when I wanted to shout at Tabby to "just tell them already, damnit!!!" Then again, I reminded myself how as a teenager you're not always able to see the bigger picture yet and tried to explain Tabby's passivity through this. And of course a lot of this has to do with the character's anxiety disorder. This, I believe, could have been stressed a bit more, however, not just through repetitions but by focusing more precisely on the fact that Tabby is just not able to act differently. The big moment of drama was very predictable but was then nicely resolved.
However, these are minor complaints. The Paper & Hearts Society is simply a wonderfully perfect, supergeeky novel for all bookworms. It is somewhat fluffy but still has enough depth through covering serious topics such as bullying and the dangers of social media. The characters are a diverse and relatable group of extreme booknerds. Their friendships are lovely simply because they grow so tenderly and naturally based on their common geekiness.
Another thing I loved about this novel was clearly what initially got me interested in it: the many literary references and basic book fangirling/-boying. I particularly enjoyed the group's literary road trip with its nods to many real life places, such as the Topping & Co bookshop in Bath. As I said above: I was searching for a book that would take me back to my nerdy teenage self and that's exactly what Powrie's novel did. In fact, I wish I had had this book when I was 15 (even though I obviously wouldn't have known back then what that strange internet thing is - 90s kid here - hahaha).
I'm definitely looking forward to reading the next books in the series and to seeing Powrie develop as a writer. She definitely has greattalent and it will be interesting to follow her journey further.
Rating: 4.5/5 stars
14th June, 2019



On the edge of town a beast haunts the woods, trapped in the Gray, its bonds loosening…


Uprooted from the city, Violet Saunders doesn't have much hope of fitting in at her new school in Four Paths, a town almost buried in the woodlands of rural New York. The fact that she's descended from one of the town's founders doesn't help much, either—her new neighbours treat her with distant respect, and something very like fear. When she meets Justin, May, Isaac, and Harper, all children of founder families, and sees the otherworldly destruction they can wreak, she starts to wonder if the townsfolk are right to be afraid.


When bodies start to appear in the woods, the locals become downright hostile. Can the teenagers solve the mystery of Four Paths, and their own part in it, before another calamity strikes?
The premise of this book had me hooked immediately. Monsters, mysterious remote towns and family legacies? Oh yeah! Therefore, when I started reading I had very high expectations. And at first I had the feeling that the story would deliver. The introduction of the setting is brilliant: you can vividly picture the strange little town of Four Paths with its many trees that constantly seem to be invading the (semi)urban space. Herman's descriptions here gave me an eerie feeling of dread that reminded me of what Stephen King does in his novels when he talks about places. The writing is beautifully lyrical. So far, so good.
However... and that is a big however with giant blinking neon exclamation marks... even though we have four diverse main protagonists, I never had the feeling I could actually identify with any of them. The perspective jumps back and forth between characters and while we get to know some things about all of them, none of them reached the level of depth that I would have wished for. Instead they are defined through constant whiny teenage bickering and navel-gazing.
Then there is the monster. I did like the general idea even though the strong influence of narratives such as Stranger Things is blatantly obvious. I feel that the author could have done so much more with this though. The creepy parallel world of Silent Hill - oops, sorry, I meant Four Paths - is an interesting topos but Herman simply leaves too much open to speculation here. I honestly believe that the story would have benefited from a little more detail about, for example, the powers of the founding families. Mystery is fine and, well, desired even but if the true dangers remain too elusive, readers end up not caring anymore, which is exactly what happened to me: I absolutely adored the first third of the book until at some point the story became more and more tedious.
All in all, I did like this dark twisted tale of secrets and dangerous monsters in the forest. The best thing, however, was definitely the world building and I feel that I didn't really connect with the rest of the story. Maybe teenage readers will see this differently, maybe I'm just too old for all the juvenile drama involved in this book. :) Give it a try and let me know what you think.

Rating: 2.5/5 stars

12th June, 2019
If you are looking for a dense and clever Victorian story with an LGBTQ twist, Fingersmith is the book for you:
Orphaned Sue Trinder was left in the care of Mrs. Sucksby when she was but a tiny baby. Mrs. Sucksby is what was called a baby farmer in Victorian times, and her household, with its hosts of babies that are kept quiet with spoonfuls of gin, is home to a fluctuating family of thieves, so-called fingersmiths.
One day, Gentleman arrives, a dandyesque con man, who proposes an enticing deal to Sue: She is supposed to get a job as the maid to Maud Lilly, a young and naive gentlewoman, in order to assist Gentleman in her seduction. As a reward they will share Maud's considerable inheritance. Once the money is secured, the plan is to declare Maud insane and cart her to a lunatic asylum. Sue agrees to the plan. What she didn't expect though is that she quickly begins to pity and care for Maud Lilly in rather unexpected ways. However, things are not what they seem to be...
Waters' novel is full of twists and surprises that you don't see coming until they hit you in the face. Her characters are ambivalent and crazily enigmatic. You find yourself rooting for one character just to find out a few pages later that they are not who they seemed to be. Fingersmith can probably be categorised as a thriller but it's a tender love story as well. It has passion and infatuation, and while it is essentially a LGBTQ narrative, it is also so much more than that.
Another plus is the setting. We're taken along from the grubby streets of poor London to a proper gothic mansion and to a disquieting lunatic asylum. Each of these places has its own mesmerising atmosphere that contributes to the overall haunting tone of the story. Sue's world is full of the rustling skirts, obscure underwear fashions, heaving bossoms and fainting breaths of Victorian England but with a fresh and modern perspective.
Fingersmith is a real treat and I highly recommend it! The author is a true storyteller who weaves a fascinating and captivating tale with beautiful prose. All I can say is: Read this book!
Rating: 5/5 stars
7th June, 2019


The Salt Path is an inspiring memoir about homelessness, grief and hope. Ray and Moth find themselves homeless after a bad investment and when Moth gets a horrible diagnosis on top of that, the couple decide to hike the South West Coast Path. They are on a tight budget and faced with adverse conditions like always having to find a place to pitch up their tent, being faced with strangers' derogatory comments about "tramps", etc. Still, they find strength in each other and continue on their journey.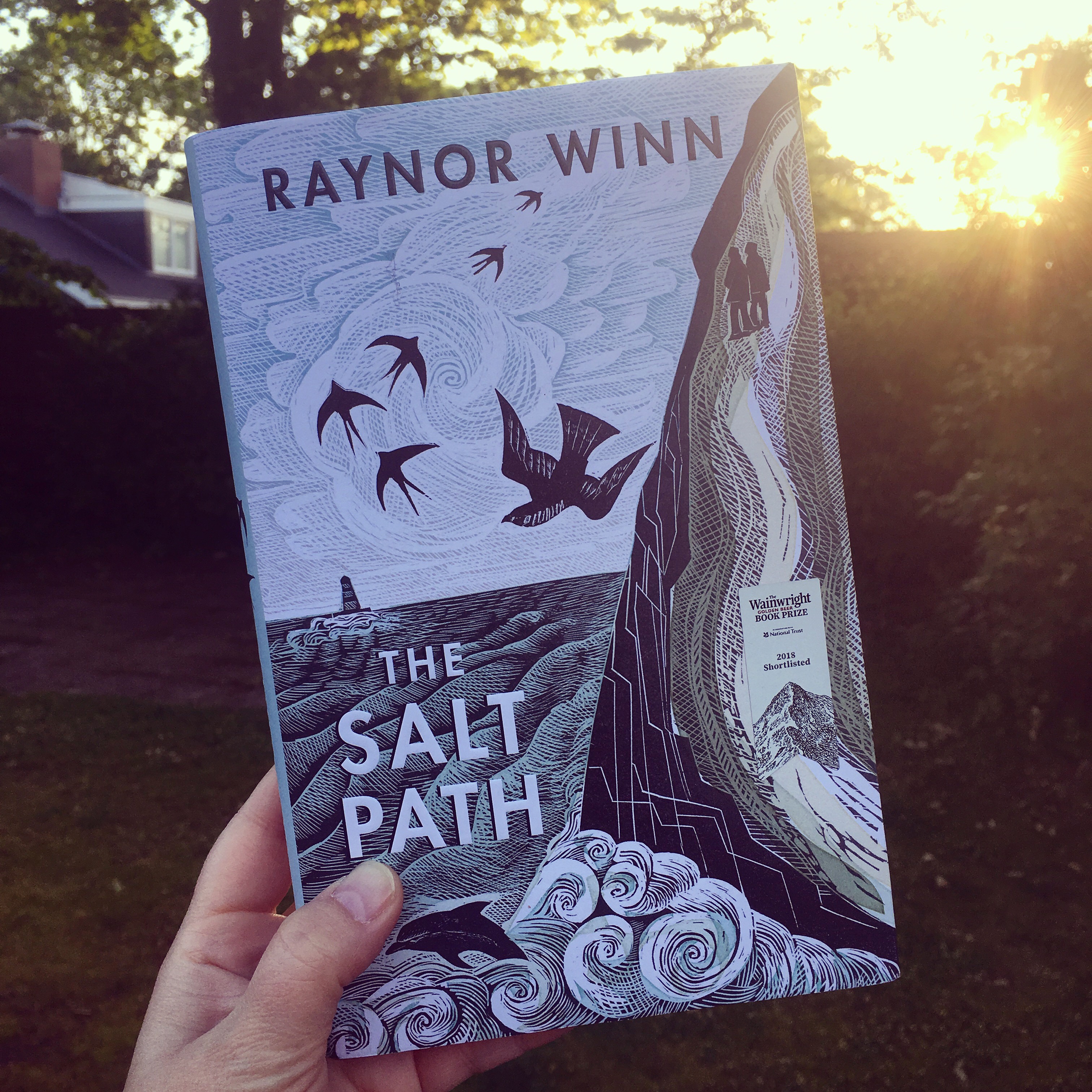 Essentially, this is a story about people triumphing over adversity. Well, they are not exactly triumphing but they are not giving up and that is what counts. It is a tale about the restorative powers of nature (and exercise) and about the beauty you can find in even the simplest of moments. Moth and Ray need to stretch their funds and survive on instant pasta, tinned sardines and the like but their resourcefulness also gives them strength. They are also constantly faced with nosy tourists being fascinated by the "elderly" couple (they are only middle-aged, mind you) with their backpacks but as soon as the two reveal their life story, people become mistrustful.Other travellers are eating elaborate meals and considering the hike a "jolly adventure" but for the protagonists their journey is something more.

What I especially loved about this story was the calm pace and the vivid descriptions of landscapes and those tiny instances of peacefulness in a hectic world. It is a tale of endurance and and love, and even though the journey did not produce a miracle cure for Moth, it did have a positive effect on his health. The Salt Path makes you think about what it means to have and/or rebuild a home and about how rediscovering the purpose of life is possible even in the most detrimental of circumstances.

I switched back and forth between my print copy and the audiobook, depending on where I was, and I loved both. The audiobook narration is amazing, so if you are more into this medium, I can very much recommend it.
Rating: 4.5/5 stars.
3rd June, 2019



22-year-old Eileen goes missing while hiking in the remote Ashlough Forest. Five days later, her camera is discovered washed downriver, containing bizarre photos taken after her disappearance.

Chris wants to believe Eileen is still alive. When the police search is abandoned, he and four of his friends create their own search party to scour the mountain range. As they stray further from the hiking trails and the unsettling discoveries mount, they begin to believe they're not alone in the forest… and that Eileen's disappearance wasn't an accident.

By that point, it's too late to escape.
I read this book as part of a postal horror book club. When I first saw the story's synopsis I wasn't entirely convinced that it would actually qualify as horror as the plot sounded more like a thriller. I still jumped in, leaving any preconceived notions aside, and found that I enjoyed Coates' novel tremendously.
But coming back to my own questioning of the story's genre above I would still argue that Hunted can be read as horror fiction. I only learned later that the author typically writes horror so it is no surprise that she manages to throw in supernatural undertones galore: The moments when the mysterious creature appears in the nightly woods, making a weird scratching noise on the trees that sounds creepily like a scythe... those moments had me on the edge of my seat. I was relatively certain that we were not dealing with some Big Foot like creature here but the ending still managed to surprise me. I honestly didn't see this twist coming and retrospectively asked myself how I didn't figure it out before. The story builds up tension throughout and, if you're like me, you'll find yourself shaking your head, going "Noooooo! Why did you do THAT???" over and over again. Hahahaha.

Some disasters were quite foreseeable but there were also a few instances when I worried for nothing. This was an amazing feat performed by the author as it makes you feel like you're with the characters in the forest because nothing is for certain and anything can or cannot happen at any time. The characters themselves were great, too. I found all of them believable and consistent and the cast presented a good mix of individuals, some of whom had fascinating hidden depths.
What I particularly loved about this book, however, was the brilliant build-up of the setting. The action happens in a forest, but not just any forest, but the ancient primeval woods in which it is easy to get lost within minutes. At times it almost feels like the woods are yet another protagonist in this twisted tale of murder, missing persons and animalistic survival instincts.
Hunted is a wonderfully fast-paced, captivating read. There is quite a lot of blood and gore involved, however, so it's not for the squeamish or the faint of heart. The story is intense and gripping and, trust me, you will not be able to put it down for long. I will definitely check out the author's other titles and can recommend this one whole-heartedly.
Rating: 5/5 stars
28th May, 2019



After the war came the "Sickness" which killed off what was left of the world's population. The last safe cities are destroyed when Monster emerges from a vault in the Arctic circle that has enabled her to survive. When she washes up on the shores of Scotland, all the people she once knew are dead, and she thinks of herself being alone in an empty world.

Monster begins the strenuous walk down to what used to be England, scavenging and learning to stay alive in a once familiar, yet now unfamiliar landscape. By and by, she manages to rebuild a life for herself on a deserted farm. However, when she is roaming the city one day looking for resources, she finds a girl: an almost feral child whom she teaches everything she knows. Renaming herself Mother, Monster passes her own name on to the girl. As young Monster learns from Mother, she also discovers her own desires, realising that she wants very different things to the woman who made but did not create her.
In its "sole survivor who moulds another person in their own image" theme, Hale's story is clearly inspired by works such as Frankenstein or Robinson Crusoe. Strictly speaking, the story isn't anything new: we have a post-apocalyptic Britain like we've seen in other works and people who have to remake their lives. Still, the author deftly makes this trope her own through little peculiarities.
I really liked this story and devoured it in two sittings. What first struck me as odd was the seeming lack of depth in the characters. However, it soon becomes clear that Hale quite conciously leaves a lot of room for speculation. We only learn vague snippets about Mother and Monster's previous lives and while this elusiveness and "not-knowing" causes a bit of frustration it is also a clever way to illustrate the necessity of a new beginning. The past is gone and no longer matters, even the future is uncertain and all that counts is the present. At least for the moment because as the story evolves the future does regain a certain significance and there are even signs of hope and reinvention. Eventually, I found that I appreciated the way in which Mother is depicted as seemingly emotionless because it added perfectly to the bleak atmosphere of the story. Without spoiling any of the plot, I also loved the shift in narration towards the middle of the book as it provided an eluminated change of perspective.
Hale clearly is a wonderfully gifted writer and amazing at describing scenery. Her renderings of the deserted Scottish moors as well as sprawling abandoned urban spaces are stunning and carry lots of atmosphere. As a reader you can easily feel and visualise these haunting landscapes through the author's dexterous writing.
My Name is Monster is a truly satisfying novel about power and about how much social norms are imprinted on us, even when they are no longer applicable. It is also a story about strength, love and creating a purpose in life.
Rating: 4.5/5 stars
(This book will be out with Canongate Books in early June.)
For older entries, please refer to the ARCHIVE. Thank you!
check out Some of
our READERS' FAVOURITE blog entries:
20th March, 2019
I know I've let drop comments about this shop before, both here and on Instagram and Litsy, but today I think it's time that this wonderful place gets its own "Bookshop Spotlight".
The independent bookshop Topping & Co. in St Andrews opened in 2015 after branches in Bath and Ely had already been highly successful. The first shop (in Ely) was founded by Robert and Louise Topping in 2003. A fourth branch is going to open its doors in Edinburgh in the summer/early autumn. And who knows what more is to come in the future?
What makes me love Topping & Co. so much is its atmosphere: It's a bibliophile's heaven with honey-coloured bookshelves from floor to ceiling and sliding library ladders that help you reach the upper shelves. Also, it's clear quite quickly that the people who work here love books and I mean: LOVE books - in capital letters and with an exclamation mark. Almost every time I visit, I find myself having a wee chat with one of them. They are not just employees but true booksellers who know their wares and are passionate about their job.
Another quirky benefit is that you are offered free tea or coffee while you are browsing the more than 50,000 titles. And I mean: what goes better together than a good brew and literature? Exactly! Nothing. Well, maybe chocolate, but that always poses the danger of nasty stains on the pages. The horror, the horror! So yes, better have a cuppa instead while you're perusing the shelves for your next read. And if you are looking for people to talk books with, the shop offers several book groups, such as "The Literary Odyssey Book Group" or the "Galley Book Club" (the latter of which is geared towards children between 7 and 11). There are also numerous literary events throughout the year. Just a few names that are lined up for the next few months: Ian McEwan, Ali Smith, Shaun Bythell, John Connolly, Mary Beard, etc.
What you will find a lot of at Topping & Co. is signed editions. There is a "Signed Editions" subscription service but while that is of course great for people who live further away, it's even more fun to hunt for treasures on the shelves directly. I've amassed quite a number of signed books this way without exactly meaning to, but hey - if I have the choice between a signed first edition and the regular one, the decision isn't such a tough one.
And in general, I have found that Toppings seems to have pretty much everything in stock. I don't remember ever having to order in a title as one of the booksellers has always managed to somehow conjure up what I was looking for.
One more aspect that I adore about the shop is its "Blind Date with a Book" shelf. I'm a total sucker for these kinds of things so, lo and behold, I find myself buying at least one of these wrapped mystery packages every time I visit. So far, I have never been disappointed. There was one book last year that wasn't really my cup of tea but this time I was very lucky and scored an edition of Jeannette Winterson's wonderfully atmospheric Lighthousekeeping and one of Vladimir Nabokov's ingenious Pale Fire. Sure, I already owned the latter but while I could have easily exchanged the book for something else, I'm just going to give it away as a present.
This is a bookshop that any true bookworm will immediately want to move into. Especially in the colder months the mix of books, tea or coffee and a cosy wood fire will make you want to while away an hour... or two or three. It makes me extremely happy to see that independent bookshops seem to be thriving again and Topping & Co. is definitely one of places that make people fall in love with bookshops over and over again.
9th April, 2019

So, imagine you could simply step through a mirror or wardrobe (or insert any other mysterious portal of your choice) and you are in a stunningly beautiful library full of impressive leather-bound tomes. And now imagine someone telling you that you can actually live there for a while. Sounds like a dream come true, doesn't it? Well, no need for magic as this place is only a good thirty-minute bus ride away from the city of Chester, situated in the wonderfully quaint village of Hawarden in North Wales (UK).
Gladstone's Library is a magnificent grade 1 listed building which pays tribute to William Gladstone, a four-time prime minister of Great Britain in the later half of the 19th century, who founded the library himself. After his death in 1898 it became a memorial to his life and work. Gladstone's is a residential library, a place for study and contemplation and a meeting place for bibliophiles from around the world. So when a friend who I had met through Litsy (a social media platform for bookworms) asked if anyone was up for a weekend reading retreat in this marvellous locationI didn't think twice and booked my room and flight within minutes.
When we arrived at the library we were all kind of giddy with excitement, on the one hand because of meeting a bunch of people you'd only so far talked to online and, on the other hand, because of the sheer beauty of the place. The reading rooms themselves are absolutely magnificent - think Disney's Beauty and the Beast and you'll get an understanding of what I mean. They are indeed a place of silence with absolutely no talking allowed. I felt that merely sitting in one of the comfortable leather armchairs with my book and enjoying the tranquility had an amazing soul-cleansing and centreing effect, because it is so far removed from the stress of our everyday lives.
The rest of the building is certainly just as attractive as the library proper. Many of the rooms come with beautiful book wallpaper and all of them have old-timey Roberts radios and mullioned windows. Something they explicitly do not have are TVs because of Gladstone's Library seeing itself as a place for research, study and debate. And this is precisely what I appreciate about it: Three days of peaceful tranquility, hours of reading, good food and bookish conversations in the lounge or over meals left me so incredibly refreshed and regrounded that it actually surprised me how relaxed I felt afterwards. It is the perfect sanctuary in a time where distraction is everywhere, and I found myself thinking that this must surely be what the characters in Thomas Mann's famous novel The Magic Mountain must have felt.
We started our first day of the retreat with a scrumptious Afternoon Tea in the library cafe and food somehow became a constant entity, either in the form of lovely pub lunches and dinners or as nibbles, cake and candy as reading accompaniment in front of the fire place in the cosy guest lounge. (Thank goodness, we walked some of it off on a brisk country walk on day two - haha.) And of course it was also the wonderful people who were with me on this retreat that made it such a success. It felt good to be surrounded by book people, people who are comfortable with sitting together in silence with their nose in a book but who also love to have inspiring conversations in-between.
Gladstone's Library is a truly stunning place and I didn't want to leave. The next retreat is already planned so I'm looking forward to coming back and staying a bit longer next time around. If you'd like more information, you'll find it all on their webpage: https://www.gladstoneslibrary.org/
© Copyright The Constant Reader
All texts and photographs are mine, unless indicated otherwise.