The Constant Reader's Book Blog
(Reviews, Bookish Stuff and all Things literary)


13th December, 2019

I don't review children's books very often, but this one just had to go in here. We bought this novel on a whim last weekend with me thinking "Ah well, we'll see if this isn't too long for a 5yo. If it is, we'll keep it for next year." Little did I know that I could have stuffed those thoughts right where the sun doesn't shine. Four words: The kid ADORED it!
The Christmasaurus is a story about a boy named William Trundle, and a dinosaur, the Christmasaurus. It's about how they meet one Christmas Eve and have a magical adventure. It's about friendship and families, sleigh bells and Santa, singing elves and flying reindeer, music and magic. It's about discovering your heart's true desire, and learning that the impossible might just be possible. (Goodreads)

This is a story that will warm your hearts this winter. It will mesmerise and fascinate you, even if you're what people consider to be an adult (the age recommendation is for 7-99, so I guess everyone will be save -- you can also read it if you're 103 though, I won't tell). ;-) So what is so amazing about Fletcher's book?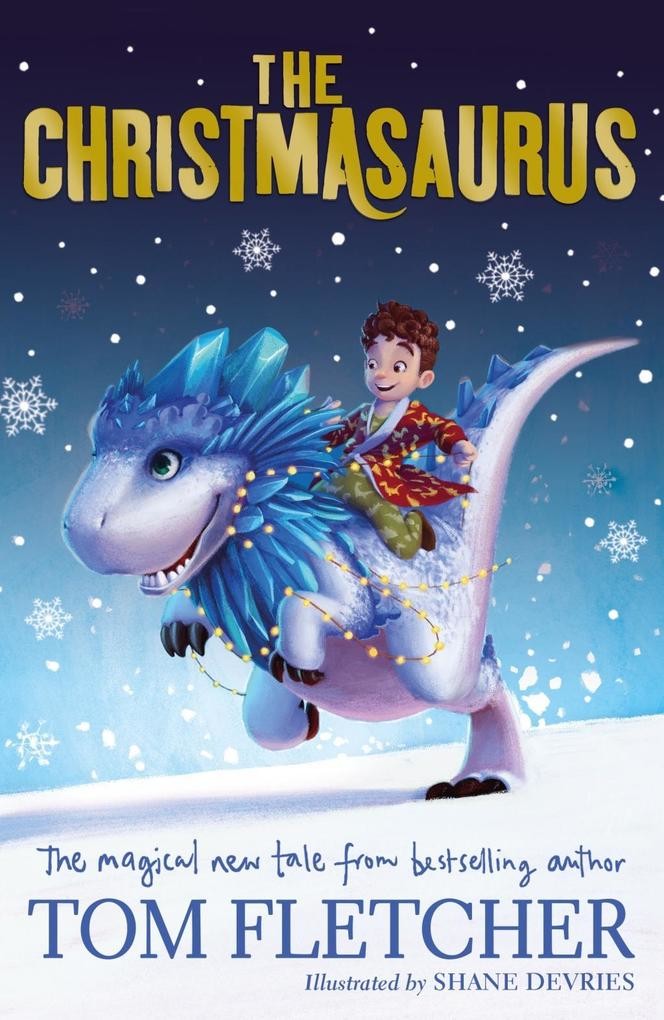 It's diverse without any visible effort. William is in a wheelchair after an accident, a fact that is mentioned about a third into the book with the narrator saying "Oh, sorry, didn't I tell you before? Well, anyway, that's just the way it is." The kid loved this as it introduces disability as something completely normal, and while the story still obviously points out problems that William is facing in everyday situations, such as stairs, it never seems strained. The book has families in which one parent has died, it has families in which parents have split up and it has characters who develop from nasty meanies into better persons. So yes, it does touch on some sad topics but in that way it depicts life like it is, and I think children will appreciate that. Ours surely did.
The imagery and whimsical ideas are just lovely. Fletcher puts his own individual spin on the story of Santa and his elves, so kids will recognize a lot while also finding many new ideas about how Christmas presents are actually created (no spoilers here). The Christmasaurus as a character is too cute, and the relationship between him and William is touching. We also enjoyed the narrator's tone of voice with his questions and little side comments and, of course, the illustrations were a huge hit. They are absolutely stunning and go perfectly with the story.
This is a story about the power of belief. As William's father says, if noone believes then things can't become true. That seems a perfect message for this time of year. The Christmasaurus comes highly recommended by 5yo Noah (and me, of course) with whom I devoured these 400 pages within four days. We'll be picking up the sequel The Christmasaurus and the Winter Witch from our local indie tomorrow.
Rating: 5/5 stars
10th December, 2019


I'm currently participating in a book group on Instagram that is dedicated to reading one Victorian ghost story per week during the month of December. In fact, reading ghost stories at Christmas time is an old tradition that has been almost forgotten:
When we look at all the modern holiday traditions that we either borrowed from pagan winter rituals or that were invented by the English during the 1800s, it's interesting how little Christmas has changed during the past two centuries. We still send Christmas cards to friends and family, we decorate fir trees, and in some parts of the world people go caroling and stuff stockings with candy. All of this is actually - who would have thought - a product of Victorian England.
One of the most interesting Victorian Christmas traditions has been almost lost from memory, however. The practice of sitting together around a fire on Christmas Eve to tell ghost stories was as much a part of Christmas for the Victorian English as Santa Claus is for us. If you look closely you can find traces of this tradition in popular culture such as the line, "There'll be scary ghost stories and tales of the glories of Christmases long, long ago" in the popular song by Andy Williams.
Some historians claim that it was Charles Dickens' A Christmas Carol -with its ghosts of Christmas past, present and future - that prevented the holiday from dying out during the times of the Industrial Revolution. Dickens reintroduced many age-old traditions with his holiday classic. But why were ghosts so popular in the Victorian Age and why at Christmas? Nowadays we would probably say that ghosts belong with Halloween, but in Victorian England Christmas time and ghosts went together like hot chocolate and whipped cream. And this has to do with the country's history:
In the mid-17th century, Puritan leader Oliver Cromwell (the Lord Protector) tried to completely abolish the celebration of Christmas. He claimed that there is no passage in the Bible that asks us to celebrate Jesus' birth at this time of year, and it doesn't even mention any "holy day" other than the Sabbath. In addition, the 24th/25th was a date that was chosen due to its connection with pagan festivals like Yule and Sol Invictus, both of which celebrated the winter solstice or the longest night of the year. These festivals commemorated the death of light and its following rebirth. It was for their obvious symbolic connotations that early Christians adopted dates important to pagan Romans and Northern Europeans.
Winter solstice, however, was not only the longest night of the year, but was also traditionally considered to be the most haunted because of its association with the death of the sun. It was held the one night of the year when the barrier between the worlds of the living and the deceased was thinnest. On Christmas Eve, ghosts could walk the earth and take care of unfinished business, best known through the apparition of Marley in Dickens' Christmas story.
In short, the Victorian Christmas celebration, which drew heavily on pagan symbols like yule logs, holly berries and Father Christmas himself, also embraced the winter holiday's associations with the supernatural to create one of its most popular annual traditions. Unfortunately, of all the traditions and rituals that have survived through the generations, the Victorian custom of recounting blood-curdling ghost stories with friends and family around the fire on Christmas Eve has been almost completely forgotten.
Yet, there are a lot of readers out there who are trying to bring back that wonderful tradition. The hashtag #bringbackchristmasghoststories has been going strong on social media this December. And who knows, maybe people will rediscover the joys of eerie stories during the longest nights of the year.
6th December, 2019



I can't believe how time has flown in the past few months. The nights are still drawing in but we are a mere two weeks away from the solstice, so we've almost made it through the shortest days of the year already. It's funny how I used to hate winter in the past, but ever since our son was born I've been enjoying the season tremendously. Maybe it's the childish wonder that you suddenly experience again when your perspective changes as a parent.
Last night I asked the kid if he also put books on his Christmas list. He's at an age when life is all about Lego and Hot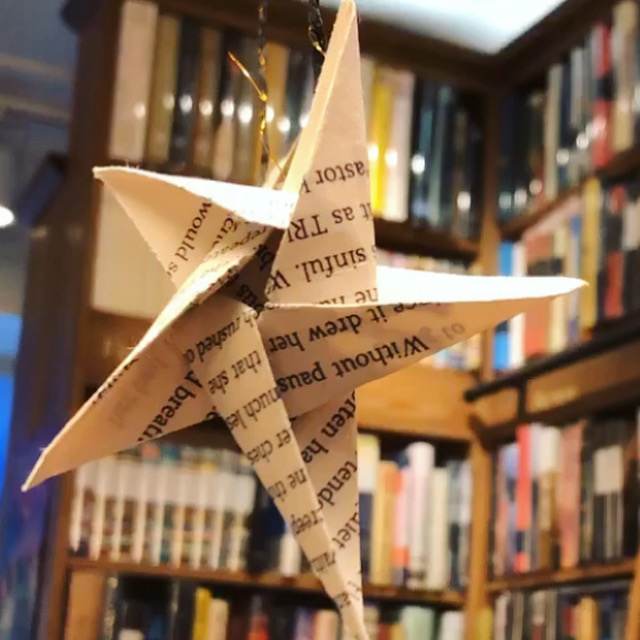 Wheels and Playmobil, so I was touched when his answer was a clear "Of course, mum." In fact he pretty much said it in a way that was questioning my sanity for asking such a stupid question. Hahaha! Looks we've done something right. The little human calls our family "the book people" and fervently declares in preschool every chance he gets that there isn't a room in our house that doesn't have a book (yes, even the loo! ;-)). It's cute and it makes me happy to see that he loves stories as much as we do.
So yes, the kid has books on his wish list and so do we. As I mentioned in a previous post, Christmas Eve at our house always resembles the Icelandic tradition of Jolabókaflod, in which people give each other books and chocolate on the evening of the 24th and then spend the night in bed reading. At our house we sit together in the snug but the rest is pretty much the same. It's just so cosy with all the lights, the Christmas tree, a fire (unfortunately of the Youtube kind as we don't have a fireplace but it still creates a certain atmosphere), soft Christmas music in the background and yummy treats. And honestly, I can't remember a time in my life when books didn't factor in highly on Christmas. I remember being made fun of by kids in school when we told each other what we'd gotten after the holidays and I said "books", I remember snide comments from former colleagues about "Ah, so yet another book." But I don't remember a Christmas without books. And I treasure that, despite what non-readers might say. I mean, I am not judging them for wanting yet another PS4 game or yet another piece of jewelry so I simply expect the same from them. So yes, I know I'll get a pile of books this Christmas and I'm very much looking forward to that as it is what makes me happy.
Happy holidays!!
(Photo Credit: Topping & Co, St Andrews)
4th December, 2019



The Lost Coast is the mesmerising tale of six queer witches forging their own paths, shrouded in the mist, magic, and secrets of the ancient California redwoods.

Danny didn't know what she was looking for when she and her mother spread out a map of the United States and Danny put her finger down on Tempest, California. What she finds are the Grays: a group of friends who throw around terms like queer and witch like they're ordinary and everyday, though they feel like an earthquake to Danny. But Danny didn't just find the Grays. They cast a spell that calls her halfway across the country, because she has something they need: she can bring back Imogen, the most powerful of the Grays, missing since the summer night she wandered into the woods alone. But before Danny can find Imogen, she finds a dead boy with a redwood branch through his heart. Something is very wrong amid the trees and fog of the Lost Coast, and whatever it is, it can kill. Lush, eerie, and imaginative, Amy Rose Capetta's tale overflows with the perils and power of discovery — and what it means to find your home, yourself, and your way forward.
I came across this book after I saw a friend post about it on Instagram. I was immediately drawn to the cover and the synopsis as it came at a time when I was a) a little homesick for California and b) feeling that I should start reading more LGBTQ+ literature. Et voilá, this seemed to be the perfect book to do just that.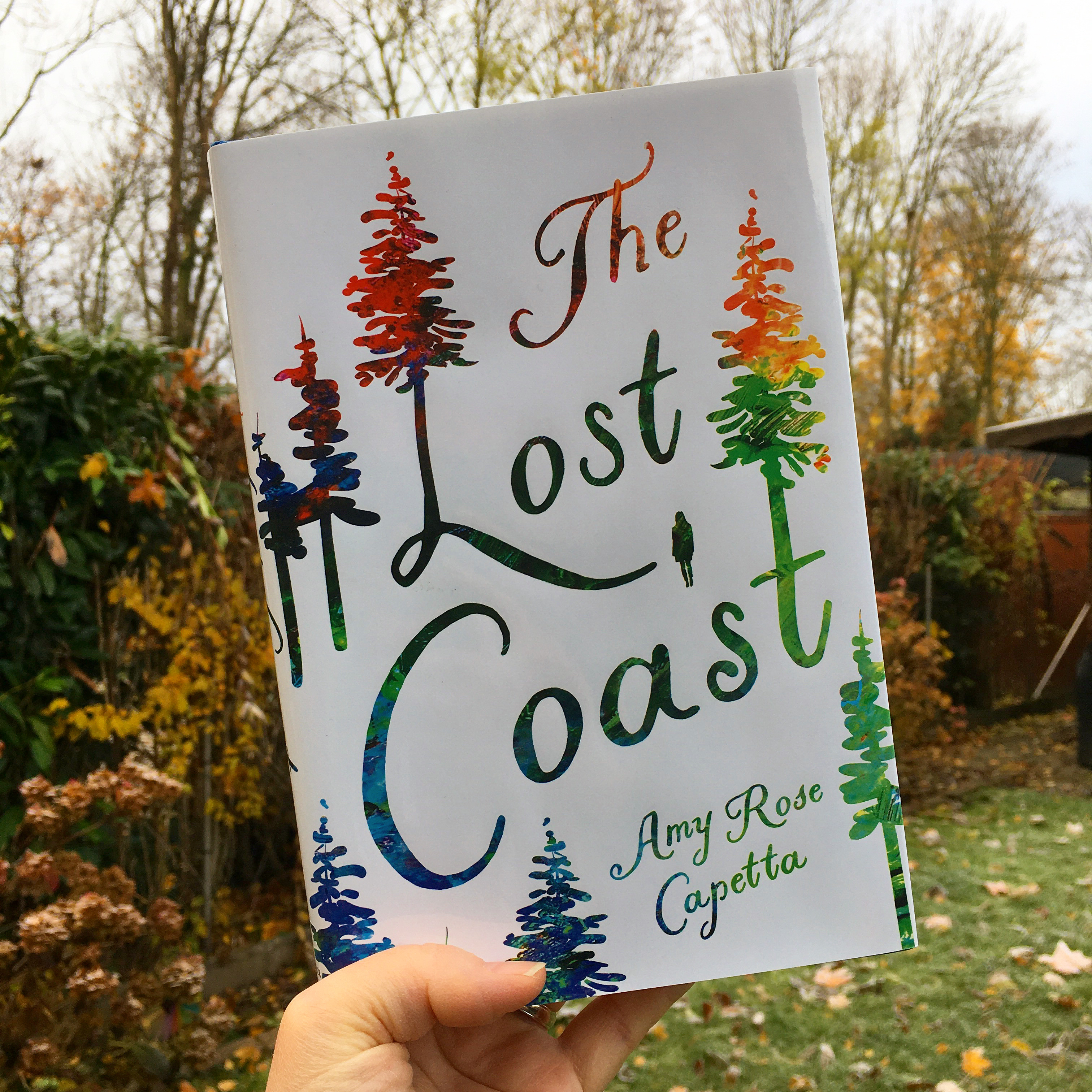 There are many aspects I loved about this novel, number one being the setting and the "vibe" of the redwood forests of Northern California. Capetta's writing is lyrical and spellbinding: some sentences read just like poetry and it's easy to get drawn into the story's atmosphere. The majestic nature of the giant trees just lends itself to a tale about witchcraft.
Number two: the multitude of voices! In this way, The Lost Coast almost resembles a Greek tragedy. We have individual characters speaking in past and present and we have voices that resemble a chorus. Some reviewers complained about this narrative strategy but I really enjoyed it and found that it contributed to the overall feel of the book.
Another thing I really liked was the diversity: we have queer characters, characters of various ethnicities and different social backgrounds. The only thing that irked me a little here was that I sometimes had the feeling that the characters' queerness is mentioned a fraction too often. It's great how Capetta contrasts regional differences in levels of acceptance of people's sexual orientation but I would have found it better if - at least at some point into the story - being queer had been treated as something normal (as that's what it is). Instead I had the impression that the author felt the need to repeatedly put her finger on it again and again and again: Oh, by the way, they are queer. Did we mention that they embrace their queerness? They do as they are witches and they are queer. That is exaggerating a little but it's a factor that ultimately took away a lot of the story for me. Capetta gets so caught up in perfectly describing the atmosphere and landscape and in mentioning the protagonists' sexual orientation that the plot gets burried under all of this. This book could have been amazing but when we look closely at the actual "meat" of the story, there isn't really that much left over once we leave out all the gloss. And that is a pity as there was so much potential. :(
Yet, this is a solidly good read and I still recommend it despite its few flaws.
Rating: 3/5 stars
19th November, 2019


This book will definitely be among my Top 5 reads of the year, and it may even become my number one for 2019. I absolutely adored every single page and tried to make it last as long as possible. It is a masterpiece and if you haven't done so yet, you should read it. Now. :-)
Zachary Ezra Rawlins is a graduate student in Vermont when he discovers a mysterious book hidden in the stacks. As he turns the pages, entranced by tales of lovelorn prisoners, key collectors, and nameless acolytes, he reads something strange: a story from his own childhood. Bewildered by this inexplicable book and desperate to make sense of how his own life came to be recorded, Zachary uncovers a series of clues--a bee, a key, and a sword--that lead him to a masquerade party in New York, to a secret club, and through a doorway to an ancient library, hidden far below the surface of the earth.

What Zachary finds in this curious place is more than just a buried home for books and their guardians--it is a place of lost cities and seas, lovers who pass notes under doors and across time, and of stories whispered by the dead. Zachary learns of those who have sacrificed much to protect this realm, relinquishing their sight and their tongues to preserve this archive, and also those who are intent on its destruction.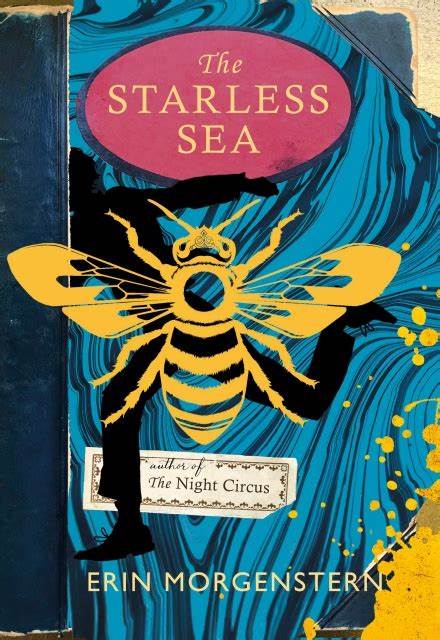 When I first saw the synopsis of this novel I felt like somebody had read my mind and distilled everything I could ever possibly have wanted from a story onto the pages of one book. Still, I was a bit loathe to becoming too excited as I did not really enjoy Morgenstern's first novel. The synopsis of that one was amazing as well but I did have trouble with the author's writing. Needless to say I was simultanously hopeful and anxious for The Starless Sea.
I shouldn't have worried too much though as I was immediately drawn into the story and fell head over heels in love with its lyrical prose. Morgenstern's words are meandering over the pages, dragging you along in their wake and leaving you with a feeling of awe.

The setting itself is already worth five stars and it is everything any bookworm could possibly ever desire. It reminded me a lof of Walter Moers' City of Dreaming Books with its labyrinthine tunnels full of shelves and books. And then there are the interwoven stories which present a multitude of layers, all of which are somehow connected and eventually contribute to the greater whole of the plot. I loved the individual tales and how they were picked up again in the main plotstrand. Time and Fate's love story gave me all the feels, and Zachary is such a wonderful protagonist that you can't but feel and suffer for and with him.
The Starless Sea is about metaphors in various forms whether they be pirates or the Moon, owls or bees, or beginnings and endings. It consists of an abundance of different voices and perspectives, and it will probably need one or two rereadings to fully grasp this gem of a book in all its marvelous complexities. At least I can't wait to read it again. I actually loved it so much that I bought it in different formats: paperback to carry around, hardback to display on my shelf as well as audio so I can listen to it when I'm travelling (yes, I know: I'm weird :-)).
If you are looking for a perfect winter read, this is the book for you. It is extremely clever and wonderfully dreamy.

Rating: 5/5 stars

15th November, 2019


Christmas is one of my favourite times of the year, coming in at a close second after Halloween. What I like about it is that it's not just a time to snuggle up at home but also one when everything looks festive and particularly pretty. The Christmas markets here are world-famous and all the yummy seasonal treats always make me have to be careful not to gain ten pounds within four weeks. Oh my.
Being a bookworm, Christmas also means extra reading time. Especially during the days between Christmas and New Year's but also on Christmas Eve itself, which is when everyone opens their presents here in Germany. Before I ever heard about the Icelandic tradition of jolabokaflod (which basically means giving each other books and chocolate on Christmas Eve and spending the rest of the evening in bed with both), our house has always been one where books are sort of a go-to present. So once the hussle and bussle is over and the kid is eventually tucked in, we adults always sit together browsing our new reads. It's super cosy and always makes me feel all warm and fuzzy inside. With the tree in the background and soft music playing it truly makes Christmas Eve a magical night for me.
But of course it is still more than a month till Christmas itself, which means that I've spruced up my office a bit like I do every year in order to get in the mood. My office book tree seems to be growing with every holiday season and it's lovely to have students and colleagues come in saying that they've been waiting to see this year's tree. :-)
I've also begun to compile a (tentative because it's bound to still change) rest-of-the-year TBR. These are the books I plan to read before the year ends. There will probably be a few more additions on Christmas Eve but all of these books kind of say "festive season" to me for various reasons. It's a rather eclectic selection but that's perfectly fine as I'm a big mood reader.
I am particularly looking forward to Christmas Shopaholic because Kinsella's series has followed me for more than a decade now and I'm dying to know what havoc Becky is going to cause this time. On my shelf I also have a slim volume of holiday themed short stories by Kate Atkinson which will be perfect for those few minutes of reading time between running errands, driving the kid to kindergarten or other chores. I think it's also high time that I finally pick up the Erin Hilderbrand Xmas series. Everyone has been raving about these books for years and I've never gotten to them, so I'll at least have a look at the first one this holiday season. A quite different genre is Kealan Patrick Burke's Dead Winter, a collection of chilling horror short stories. I've read some of Burke's stories before and they were perfect so I'm really looking forward to that book. Also, I have to admit that I've never watched A Nightmare Before Christmas before. Yes, I know, I'm super late to the party. I've read the book but never actually see the movie so I will remedy that this year. And who knows? Watching this film might become a new family Christmas tradition. If I'm not distracted by too many newer books, I might also give Krampus a reread - it's full of eerie myth and perfect for when you've had enough of somewhat cheesy holiday reads.
What about you? Do you have any bookish holiday traditions? Which books are you looking forward to reading this season?
(Photo credit: maxpixel.com)
12th November, 2019



Going Marie Kondo is all the rage, but what if your preferred style of interior decor is miles of overstuffed bookshelves? If you can't bring yourself to declutter your collection, Annie Austen's volume will come to the rescue and validate your life choices. It is a celebration of the humble but worshipped bookshelf: whether Billy case or oak librarywith rolling ladders - Shelf Respect is an endearing defence of towering TBR piles and idiosyncratic shelf organisation.
As any bibliophile would have been, I was delighted when I found this little book. Another collection of readers' anecdotes and book loving geekiness? Oh yes! You can't have enough of these.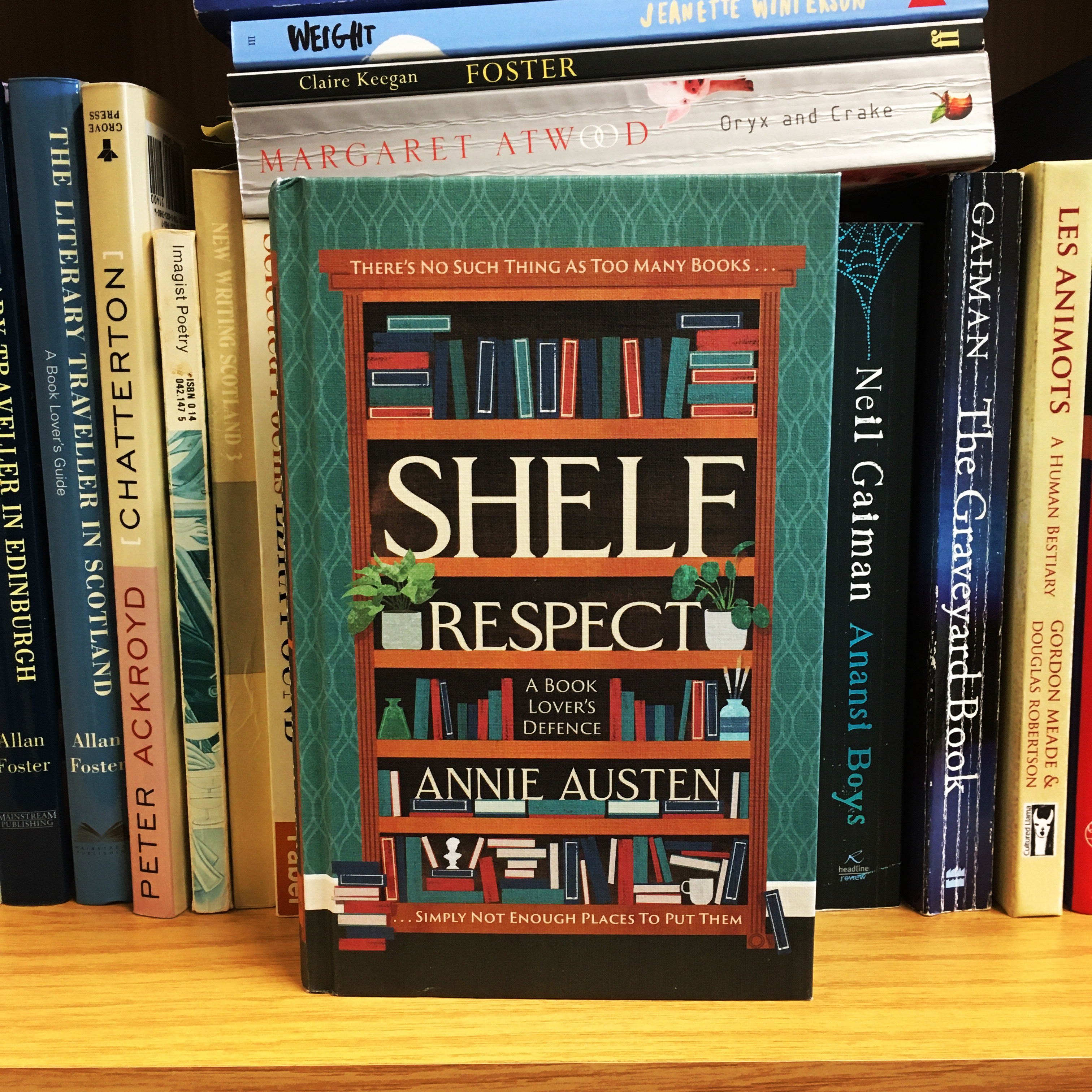 Shelf Respect follows in the fashion of titles such as Bookworm or I'd rather be reading. It is essentially a variety of mini essays and lists (such as "10 books found on Marilyn Monroe's bookshelf") and it's both humorous and entertaining. There are chapters that reveal what your book collection tells others about your character, chapters that talk about fictional books in stories or the slightly more macabre question whether or not 'death by bookcase' is a desirable way to perish (I guess the answer is obvious. Yes! Duh?).
I really enjoyed this book. However, while the included lists are interesting, they unfortunately take up too much space, in my opinion. At times it feels like Austen needed more material to bring her collection up to book length and that's a pity because those chapters that really are about the daily trials of bibliophiles are extremely well-written and entertaining. I would have wished for more of these sections as they make up the true heart of the collection and any book lover will easily find themselves in these.

I still recommend this slim volume on all things "book love". It's a bit like dessert, maybe a warm apple pie with custard: You can finish it quickly or savour it, but in any case it will give you a warm feeling of happiness.
Rating: 3.5/5 stars
For older entries, please refer to the ARCHIVE. Thank you!
check out Some of
our READERS' FAVOURITE blog entries:
20th March, 2019
I know I've let drop comments about this shop before, both here and on Instagram and Litsy, but today I think it's time that this wonderful place gets its own "Bookshop Spotlight".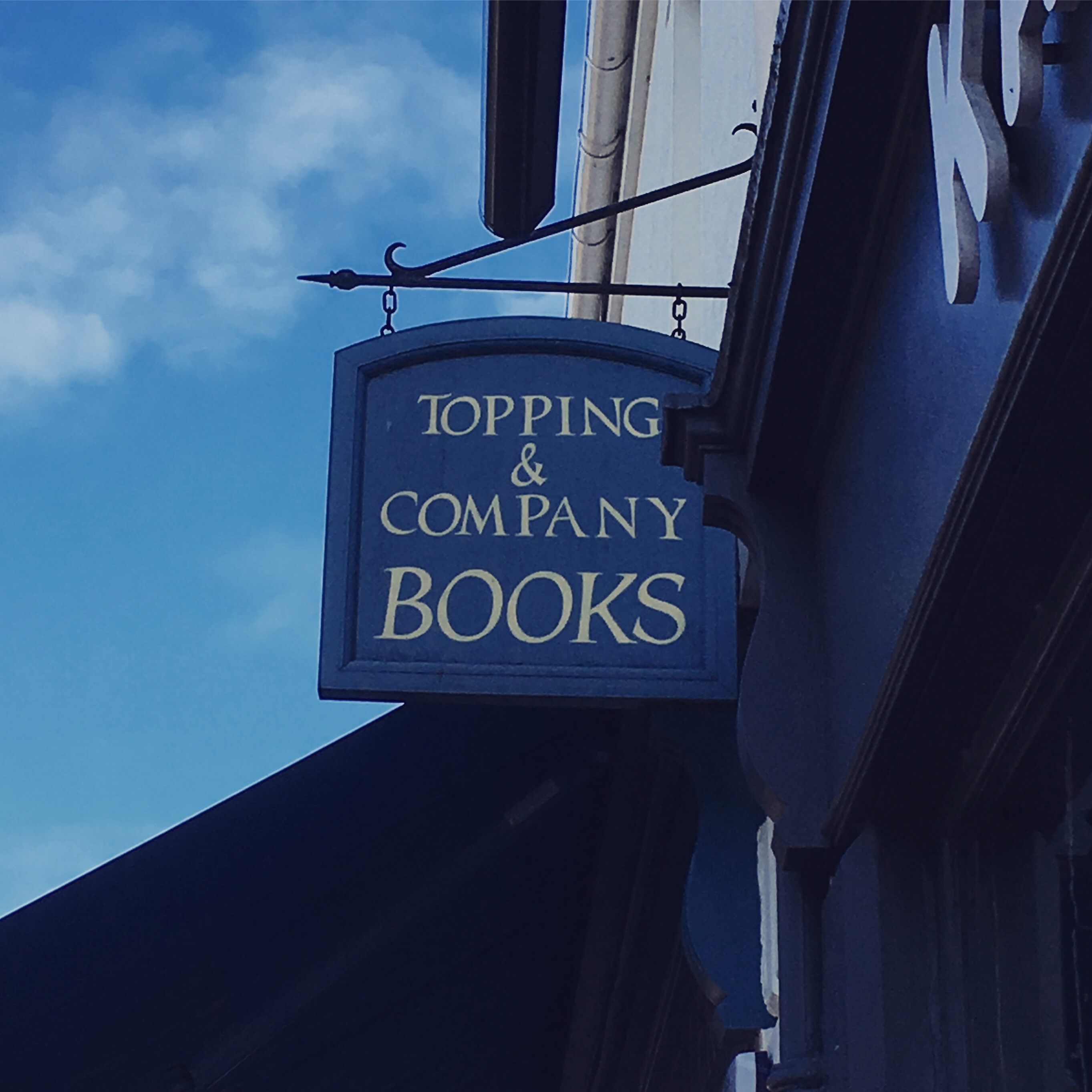 The independent bookshop Topping & Co. in St Andrews opened in 2015 after branches in Bath and Ely had already been highly successful. The first shop (in Ely) was founded by Robert and Louise Topping in 2003. A fourth branch is going to open its doors in Edinburgh in the summer/early autumn. And who knows what more is to come in the future?
What makes me love Topping & Co. so much is its atmosphere: It's a bibliophile's heaven with honey-coloured bookshelves from floor to ceiling and sliding library ladders that help you reach the upper shelves. Also, it's clear quite quickly that the people who work here love books and I mean: LOVE books - in capital letters and with an exclamation mark. Almost every time I visit, I find myself having a wee chat with one of them. They are not just employees but true booksellers who know their wares and are passionate about their job.
Another quirky benefit is that you are offered free tea or coffee while you are browsing the more than 50,000 titles. And I mean: what goes better together than a good brew and literature? Exactly! Nothing. Well, maybe chocolate, but that always poses the danger of nasty stains on the pages. The horror, the horror! So yes, better have a cuppa instead while you're perusing the shelves for your next read. And if you are looking for people to talk books with, the shop offers several book groups, such as "The Literary Odyssey Book Group" or the "Galley Book Club" (the latter of which is geared towards children between 7 and 11). There are also numerous literary events throughout the year. Just a few names that are lined up for the next few months: Ian McEwan, Ali Smith, Shaun Bythell, John Connolly, Mary Beard, etc.
What you will find a lot of at Topping & Co. is signed editions. There is a "Signed Editions" subscription service but while that is of course great for people who live further away, it's even more fun to hunt for treasures on the shelves directly. I've amassed quite a number of signed books this way without exactly meaning to, but hey - if I have the choice between a signed first edition and the regular one, the decision isn't such a tough one.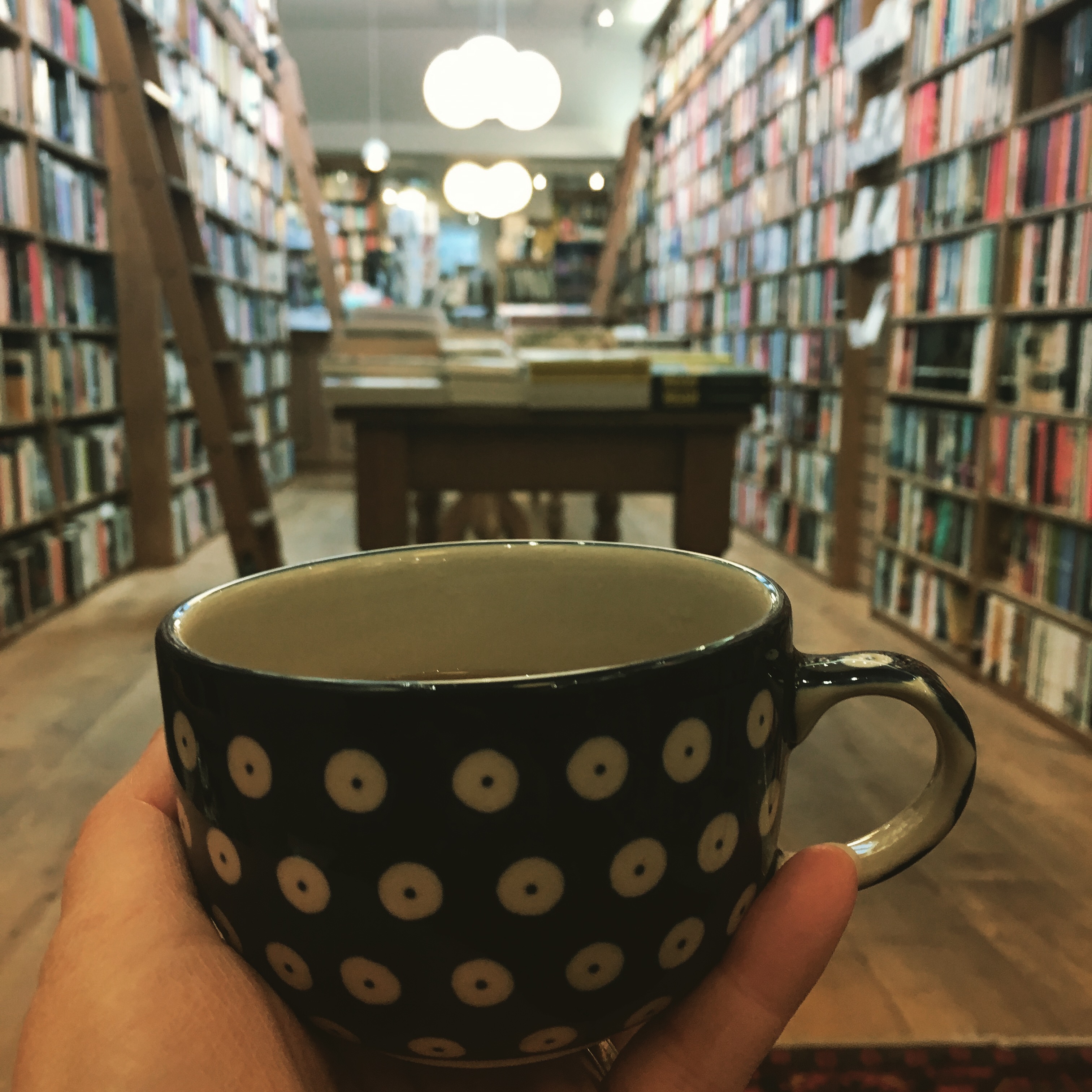 And in general, I have found that Toppings seems to have pretty much everything in stock. I don't remember ever having to order in a title as one of the booksellers has always managed to somehow conjure up what I was looking for.
One more aspect that I adore about the shop is its "Blind Date with a Book" shelf. I'm a total sucker for these kinds of things so, lo and behold, I find myself buying at least one of these wrapped mystery packages every time I visit. So far, I have never been disappointed. There was one book last year that wasn't really my cup of tea but this time I was very lucky and scored an edition of Jeannette Winterson's wonderfully atmospheric Lighthousekeeping and one of Vladimir Nabokov's ingenious Pale Fire. Sure, I already owned the latter but while I could have easily exchanged the book for something else, I'm just going to give it away as a present.
This is a bookshop that any true bookworm will immediately want to move into. Especially in the colder months the mix of books, tea or coffee and a cosy wood fire will make you want to while away an hour... or two or three. It makes me extremely happy to see that independent bookshops seem to be thriving again and Topping & Co. is definitely one of places that make people fall in love with bookshops over and over again.
9th April, 2019

So, imagine you could simply step through a mirror or wardrobe (or insert any other mysterious portal of your choice) and you are in a stunningly beautiful library full of impressive leather-bound tomes. And now imagine someone telling you that you can actually live there for a while. Sounds like a dream come true, doesn't it? Well, no need for magic as this place is only a good thirty-minute bus ride away from the city of Chester, situated in the wonderfully quaint village of Hawarden in North Wales (UK).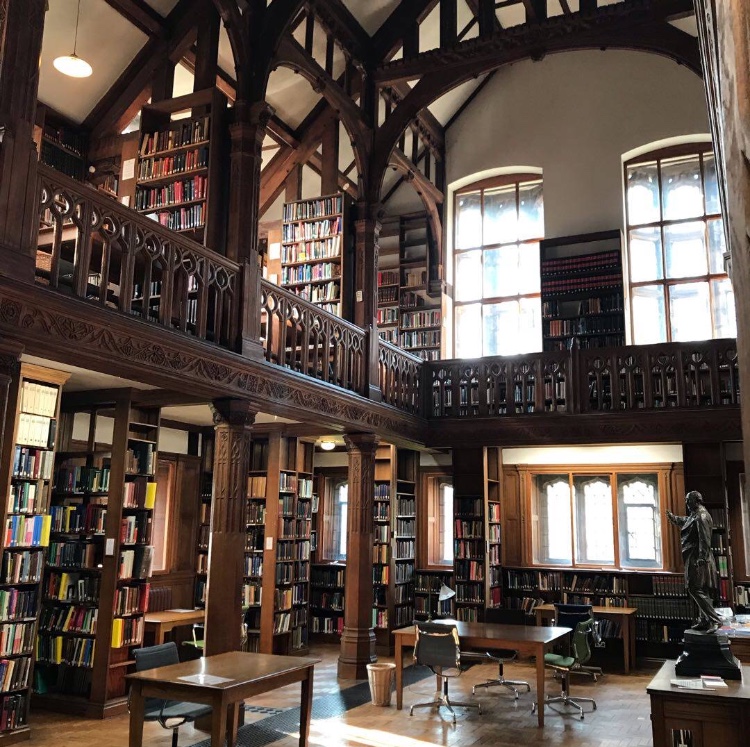 Gladstone's Library is a magnificent grade 1 listed building which pays tribute to William Gladstone, a four-time prime minister of Great Britain in the later half of the 19th century, who founded the library himself. After his death in 1898 it became a memorial to his life and work. Gladstone's is a residential library, a place for study and contemplation and a meeting place for bibliophiles from around the world. So when a friend who I had met through Litsy (a social media platform for bookworms) asked if anyone was up for a weekend reading retreat in this marvellous locationI didn't think twice and booked my room and flight within minutes.
When we arrived at the library we were all kind of giddy with excitement, on the one hand because of meeting a bunch of people you'd only so far talked to online and, on the other hand, because of the sheer beauty of the place. The reading rooms themselves are absolutely magnificent - think Disney's Beauty and the Beast and you'll get an understanding of what I mean. They are indeed a place of silence with absolutely no talking allowed. I felt that merely sitting in one of the comfortable leather armchairs with my book and enjoying the tranquility had an amazing soul-cleansing and centreing effect, because it is so far removed from the stress of our everyday lives.
The rest of the building is certainly just as attractive as the library proper. Many of the rooms come with beautiful book wallpaper and all of them have old-timey Roberts radios and mullioned windows. Something they explicitly do not have are TVs because of Gladstone's Library seeing itself as a place for research, study and debate. And this is precisely what I appreciate about it: Three days of peaceful tranquility, hours of reading, good food and bookish conversations in the lounge or over meals left me so incredibly refreshed and regrounded that it actually surprised me how relaxed I felt afterwards. It is the perfect sanctuary in a time where distraction is everywhere, and I found myself thinking that this must surely be what the characters in Thomas Mann's famous novel The Magic Mountain must have felt.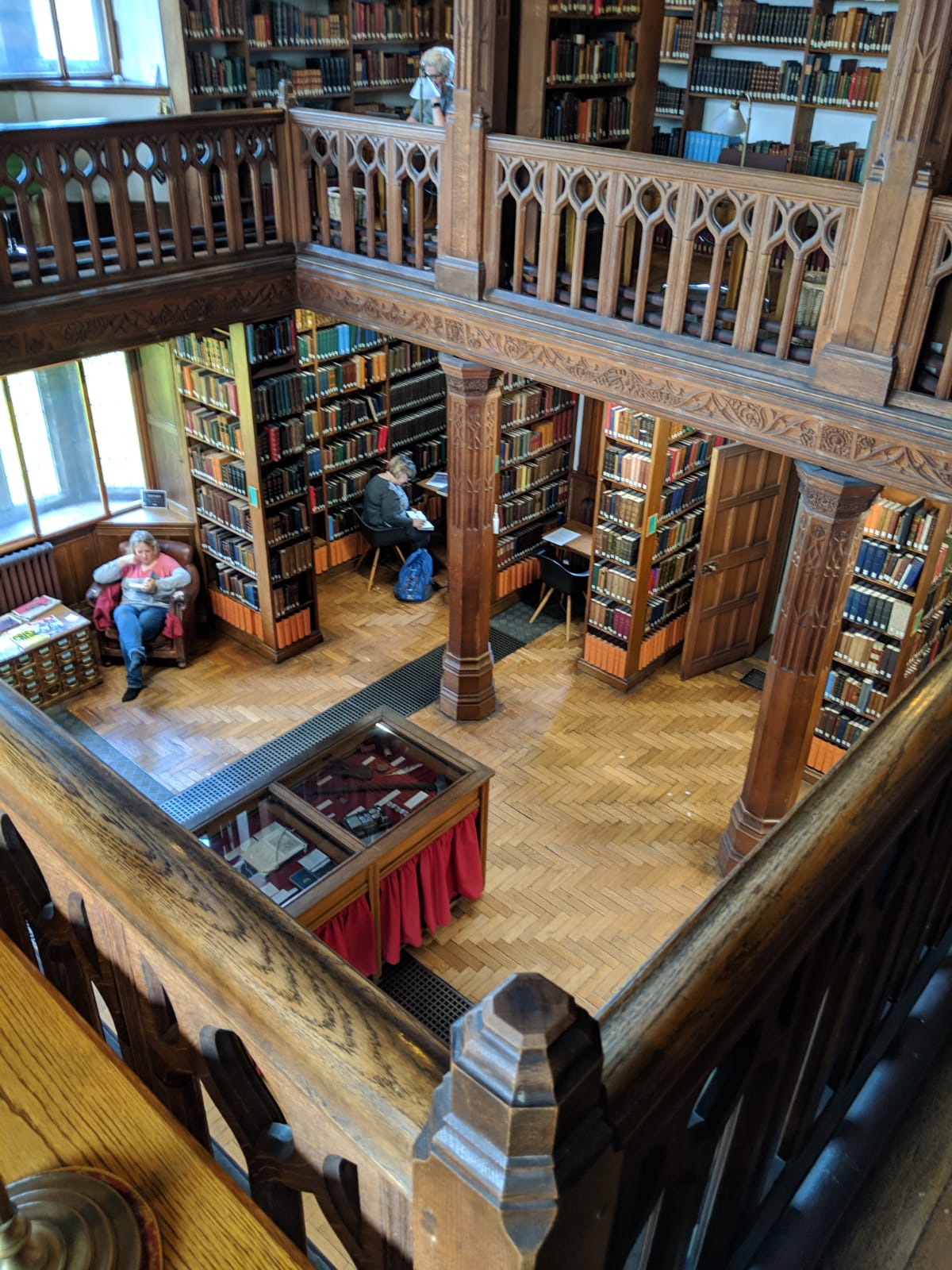 We started our first day of the retreat with a scrumptious Afternoon Tea in the library cafe and food somehow became a constant entity, either in the form of lovely pub lunches and dinners or as nibbles, cake and candy as reading accompaniment in front of the fire place in the cosy guest lounge. (Thank goodness, we walked some of it off on a brisk country walk on day two - haha.) And of course it was also the wonderful people who were with me on this retreat that made it such a success. It felt good to be surrounded by book people, people who are comfortable with sitting together in silence with their nose in a book but who also love to have inspiring conversations in-between.
Gladstone's Library is a truly stunning place and I didn't want to leave. The next retreat is already planned so I'm looking forward to coming back and staying a bit longer next time around. If you'd like more information, you'll find it all on their webpage: https://www.gladstoneslibrary.org/
© Copyright The Constant Reader
All texts and photographs are mine, unless indicated otherwise.