The Constant Reader's Book Blog
(Reviews, Bookish Stuff and all Things literary)


25TH November, 2020


I've recently signed up for a book group that is dedicated to reading one Victorian ghost story per week during the month of December. In fact, reading ghost stories at Christmas time is an old tradition that has been almost forgotten:
When we look at all the modern holiday traditions that we either borrowed from pagan winter rituals or that were invented by the English during the 1800s, it's interesting how little Christmas has changed during the past two centuries. We still send Christmas cards to friends and family, we decorate fir trees, and in some parts of the world people go caroling and stuff stockings with candy. All of this is actually - who would have thought - a product of Victorian England.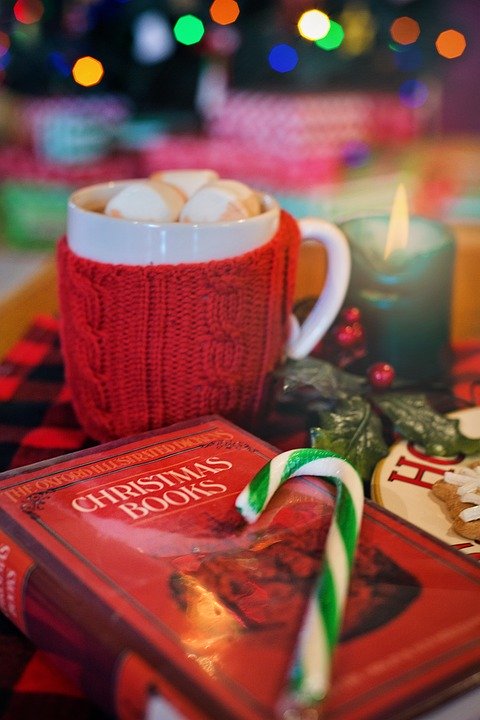 One of the most interesting Victorian Christmas traditions has been almost lost from memory, however. The practice of sitting together around a fire on Christmas Eve to tell ghost stories was as much a part of Christmas for the Victorian English as Santa Claus is for us. If you look closely you can find traces of this tradition in popular culture such as the line, "There'll be scary ghost stories and tales of the glories of Christmases long, long ago" in the popular song by Andy Williams.
Some historians claim that it was Charles Dickens' A Christmas Carol -with its ghosts of Christmas past, present and future - that prevented the holiday from dying out during the times of the Industrial Revolution. Dickens reintroduced many age-old traditions with his holiday classic. But why were ghosts so popular in the Victorian Age and why at Christmas? Nowadays we would probably say that ghosts belong with Halloween, but in Victorian England Christmas time and ghosts went together like hot chocolate and whipped cream. And this has to do with the country's history:
In the mid-17th century, Puritan leader Oliver Cromwell (the Lord Protector) tried to completely abolish the celebration of Christmas. He claimed that there is no passage in the Bible that asks us to celebrate Jesus' birth at this time of year, and it doesn't even mention any "holy day" other than the Sabbath. In addition, the 24th/25th was a date that was chosen due to its connection with pagan festivals like Yule and Sol Invictus, both of which celebrated the winter solstice or the longest night of the year. These festivals commemorated the death of light and its following rebirth. It was for their obvious symbolic connotations that early Christians adopted dates important to pagan Romans and Northern Europeans.
Winter solstice, however, was not only the longest night of the year, but was also traditionally considered to be the most haunted because of its association with the death of the sun. It was held the one night of the year when the barrier between the worlds of the living and the deceased was thinnest. On Christmas Eve, ghosts could walk the earth and take care of unfinished business, best known through the apparition of Marley in Dickens' Christmas story.
In short, the Victorian Christmas celebration, which drew heavily on pagan symbols like yule logs, holly berries and Father Christmas himself, also embraced the winter holiday's associations with the supernatural to create one of its most popular annual traditions. Unfortunately, of all the traditions and rituals that have survived through the generations, the Victorian custom of recounting blood-curdling ghost stories with friends and family around the fire on Christmas Eve has been almost completely forgotten.
Yet, there are a lot of readers out there who are trying to bring back that wonderful tradition. And who knows, maybe people will rediscover the joys of eerie stories during the longest nights of the year.
(Photo credit: Pinterest)
17th November, 2020



I'm pretty sure that we've all had enough by now of this pandemic and can all use a bit of cheer and joy. After basically everything was cancelled in 2020 - vacations, weekends away, celebrations such as Halloween, Bonfire Night or St Martin's Day - our family decided to decorate early this year. The kid was devastated that he couldn't walk around the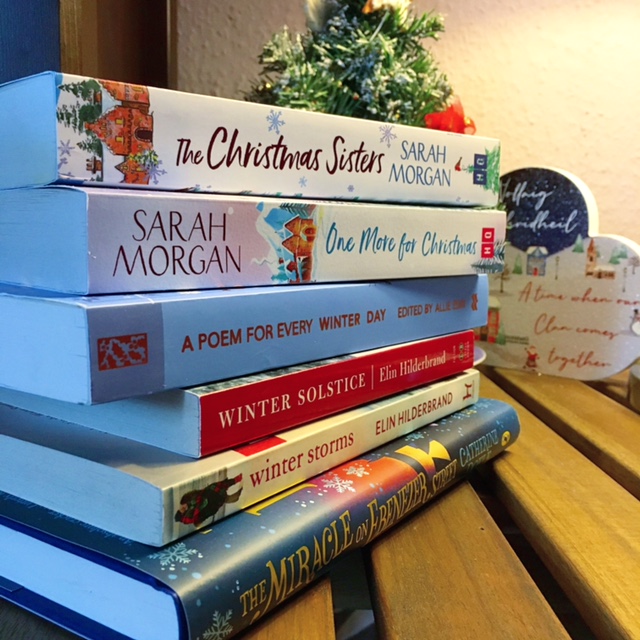 neighbourhood with his home-made lantern last week, singing for treats, as is tradition here in Germany on St Martin's Day. So we made up for all of this year's disappointments by bringing out all the Xmas stuff. And we already watched two Christmas movies as a family. It was the kid's first time to see Home Alone and he loved it. :)
I must say that I thoroughly enjoy sitting here at night, reading by all these cosy lights. I also stacked up significantly on typical holiday reads. I only got into seasonal reading last year and found it strangely soothing. This year, I believe, justifies splurging on cosy, Christmassy romcoms even more. I've recently finished Jenny Colgan's lastest instalment in the Mure series (review to come), and am about to dive into Sarah Morgan's books about which I have heard a lot of good things. Last year, I read the first two volumes of Elin Hilderbrand's Christmas series and saved the last two for this year. I'm looking forward to seeing what is happening with the Quinn family this time around.
The kid also bought quite a few Christmas books recently. After we read The Christmasaurus books last year, I think he's ready now for Matt Haig's A Boy called Christmas series. I'm also promised to read him Neil Gaiman's Odd and the Frost Giants this year. And we are both looking forward to The Miracle on Ebenezer Street.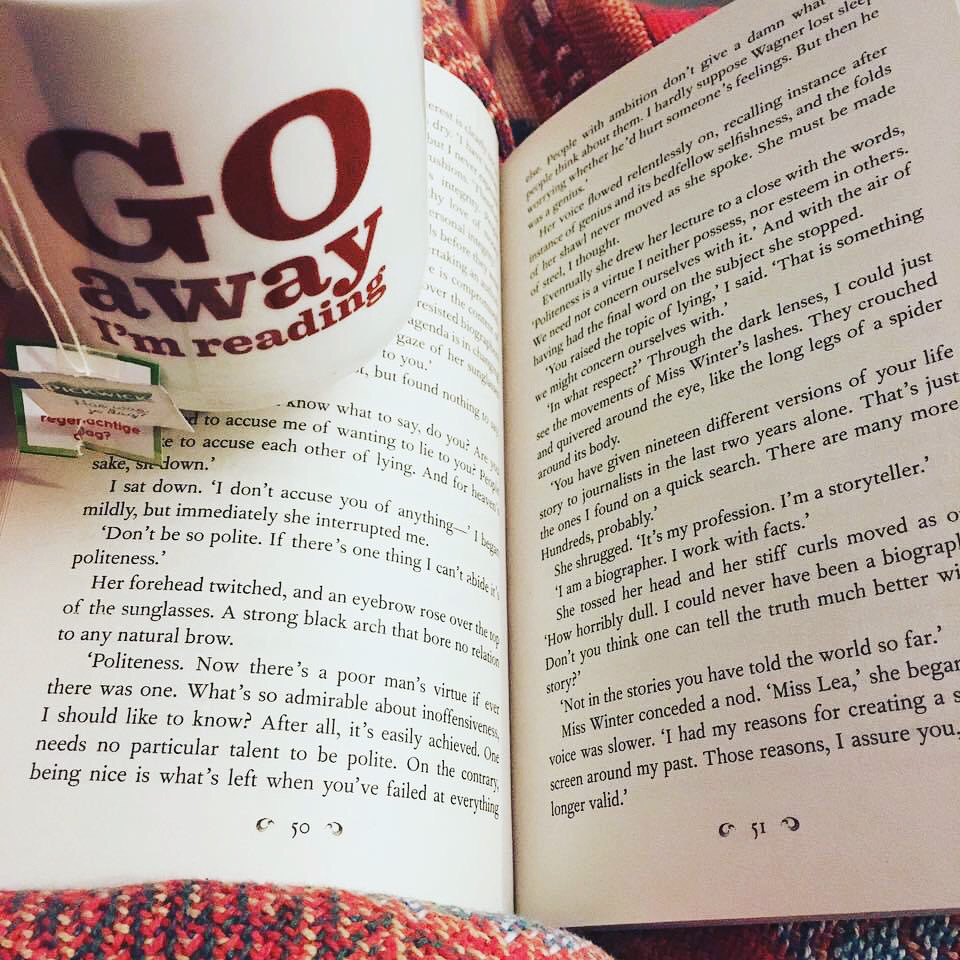 Christmas in general is a very bookish time at our house. In Germany we exchange presents on Christmas Eve and in our home we follow the Icelandic tradition of Jólabókaflód, meaning everyone gets a bunch of books as well as chocolate. There is a variety of hot drinks, and we then sit around the tree together with some soft Christmas music playing in the background, and we read. I know this is of course something highly subjective but I couldn't think of a more perfect way to spend the evening. :-)
What are your bookish Christmas traditions? Do you read ghost stories like people did in the Victorian Age? Are books your go-to Xmas present? I'd love to hear about it, so please feel free to leave something in the comments section.
5th November, 2020


Happy Bonfire Night to everyone in the UK! And happy publication day to Robert Dinsdale! As you probably can't go out to sit around a bonfire with your friends in a pandemic, why not light a few candles and snuggle up with this beauty of a book?
Every night on their long journey to Paris from their troubled homeland, Levon's grandmother has read to them from a very special book. Called The Nocturne, it is a book full of fairy stories and the heroic adventures of their people who generations before chose to live by starlight. And with every story that Levon's grandmother tells them in their new home, the desire to live as their ancestors did grows. And that is when the magic begins…

Nobody can explain why nocturnal water dogs start appearing at the heels of every citizen of Paris-by-Starlight like the loyal retainers they once were. There are suddenly night finches in the skies and the city is transforming: the Eiffel Tower lit up by strange ethereal flowers that drink in the light of the moon. But not everyone in Paris is won over by the spectacle of Paris-by-Starlight. There are always those that fear the other, the unexplained, the strangers in our midst. How long can the magic of night rub up against the ordinariness of day? How long can two worlds occupy the same streets and squares before there is an outright war?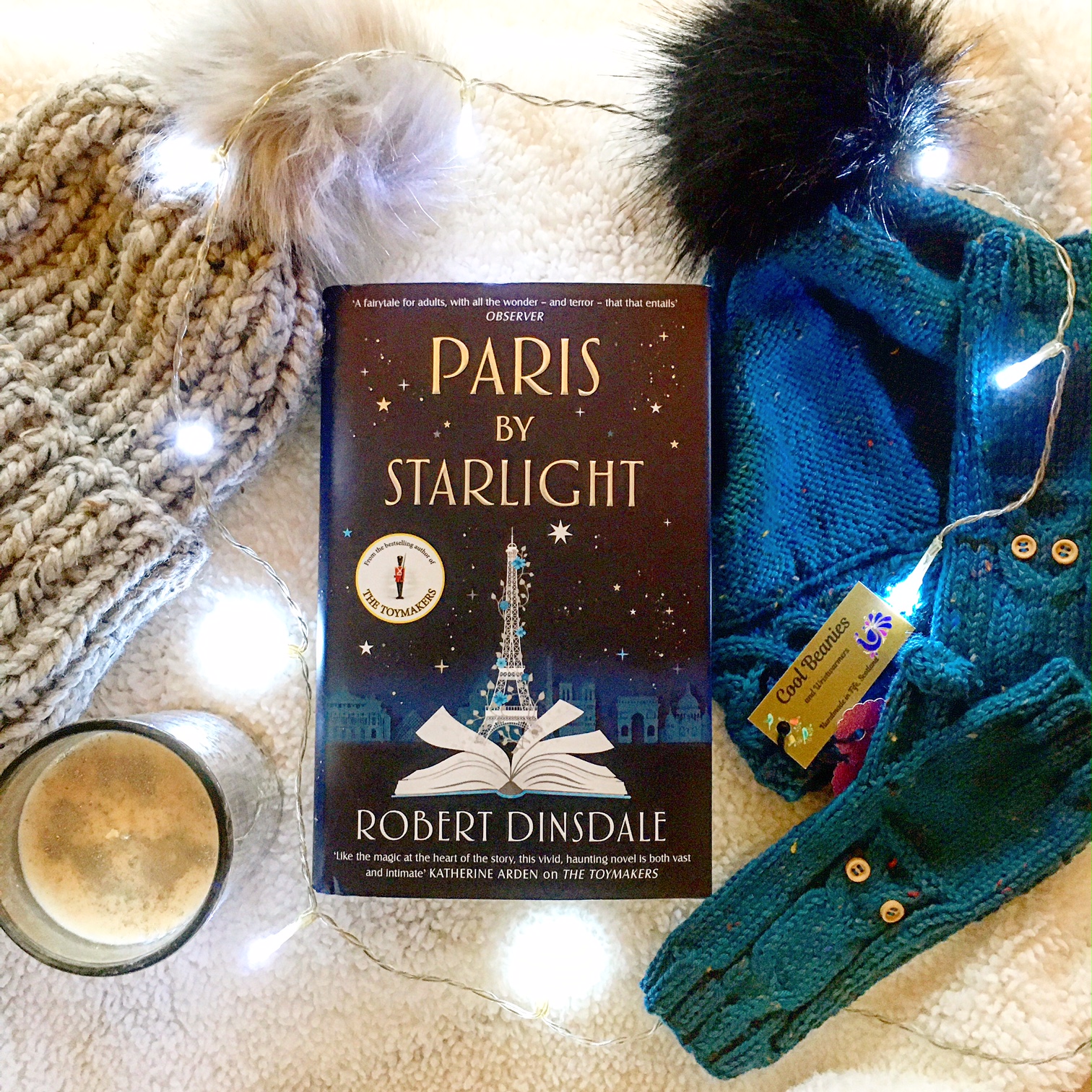 Let me say it straight away: This book is a real treat and just as enchanting as Dinsdale's The Toymakers (see my review for that title here). I loved the whimsy of Paris by Starlight which is full of magic as well as being a moving tale of displacement, longing and love. Levon and Isabelle but also Bebia are characters I immediately fell in love with, and the concept of 'The Nocturne' being a collection of ancestor stories had me mesmerised throughout.
However, this is also a novel about hate and about how darkness can obscure what is good. While we follow Isabelle's search for her lost father in one subplot, the story is in large parts also about Levon's family - the "People" who come from "the old country", a now nameless and obsolete place somewhere in the region of Russia. They have very little to call their own but they have a strong sense of belonging together and of looking out for each other. The tradition of living by night creates a spark of magic: stunning, luminous plants grow all over the city, and the magic grows as more people join Paris-by-Starlight. But where there is beauty, there are also always people who seek to destroy it. An issue that, I'm sure, we are all familiar with.

This book truly came at the right time. I read it in the middle of a pandemic that is growing out of control again and during the nerve-wracking days of the US election, and the book managed to alleviate a bit of my anxiety. It is a wonderful read for this time of year and I'll probably gift it to a few people come Christmas.
Rating: 5/5 stars
4TH NOVEMBER, 2020


It's a glorious autumn day today and I ... am anxious about what is happening in the US elections at the moment. Feeling nervous about the outcome which is obviously also going to influence world politics, however, has made me think about comfort reading. I mean, if you're like me any kind of reading will essentially be comfort reading. Reading is simply something I need in order to balance my life. Yet, there are some books that I put into the category of comfort reads.
I guess what a comfort read is is a highly subjective issue. Every reader will have their personal list of titles or genres that they come back to when times are going - well - not so great. For me, a comfort read could either be a well-written chick-lit-kind-of-novel, one that isn't too cheesy but warms the heart, or it could be a particular classic. For example, I have a few childhood reads that I love to come back to when I'm not feeling well.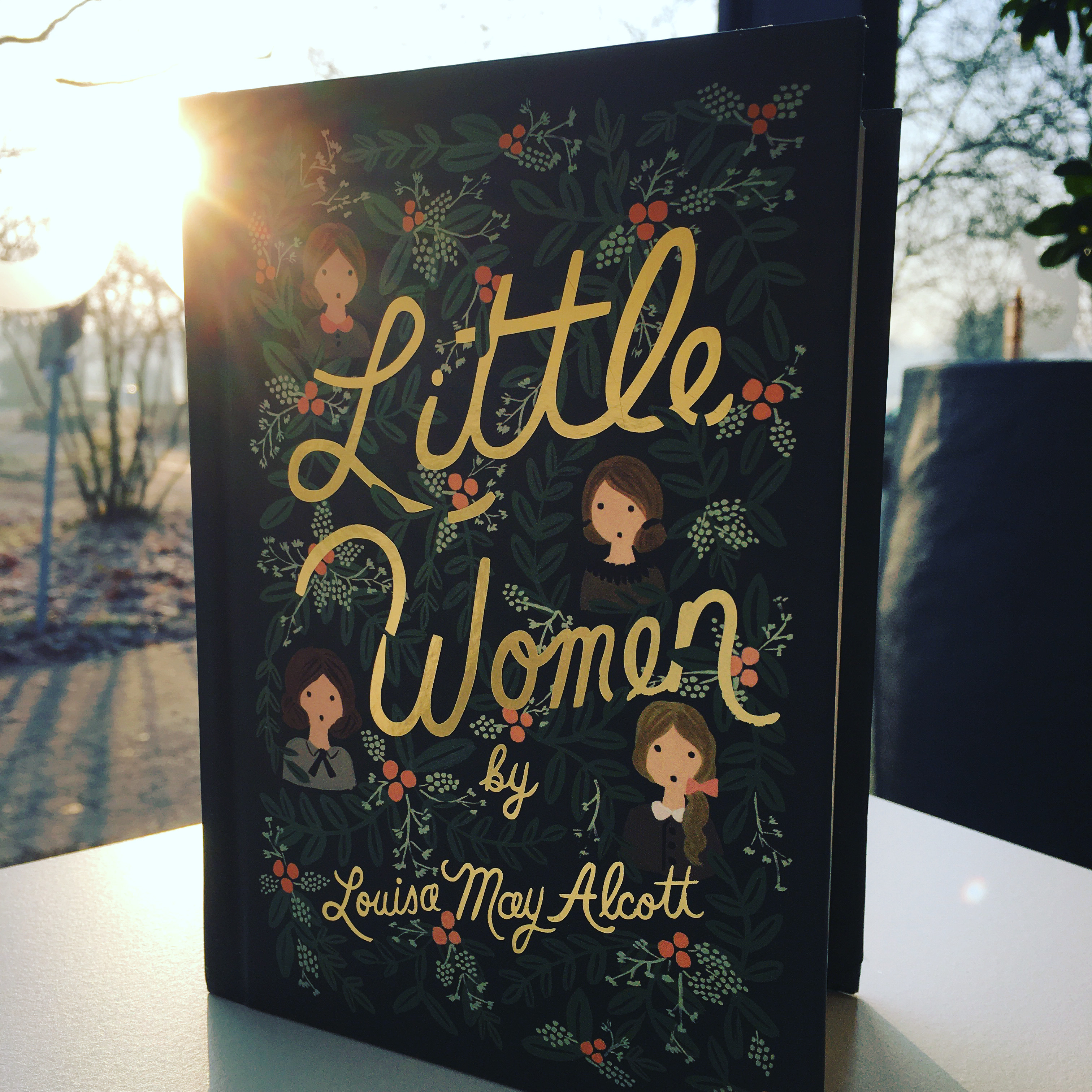 One of these is Louisa May Alcott's Little Women. I remember reading this in my teenage years and being utterly mesmerised by the character of Jo March. Back then I desperately wanted to become a writer. I was also clumsy and had a bit of a temper - just like my heroine from the book. Little Women meant so very much to me at that time and it still is the book I mention most often when people ask me what my favourite novel is. I know, it is far from perfect because it has a very preachy tone but it always lifts my mood and that's what counts.
Another all-time favourite is Frances Hogson Burnett's The Secret Garden. This is a story that I first experienced as a film. (Yeah, I know. Psst, don't tell anyone.) But that most certainly didn't take away any of the pleasure of reading the book afterwards. The mystery of that hidden garden and the lush imagery is just a perfect remedy for anything.
A book I only discovered about two years ago but one that has become a favourite comfort read is E. Nesbit's The Railway Children. Yes, it is a bit naive but that's exactly what I love about it. The quiet and peacefulness of the remote countryside even in horrible times of war always works for me. It reminds me of the carefreeness of childhood and of times when you could just roam free until dark fell without any obligations whatsoever.
Last but not least, as I'm sitting here with one eye checking the news ticker, I'm self-medicating with William Sieghart's The Poetry Pharmacy. This little gem of a collection I came across two years ago when I travelled to London with a group of people and we went to an event where Sieghart was interviewed by Jeanette Winterson. His poems were then read by four celebrities, among them the dashing Jason Isaacs and the marvellous Helena Bonham Carter. The book provides poetry for any situation in life and has emotionally helped me out in many tight spots. It also made me discover Wendell Berry, so I'll be forever grateful to Sieghart for that anyway. :-)
So this is my little list of comfort reads that I like to come back to over and over again. As I said before, this is highly subjective and obviously linked to certain moments in my past that made these books so important to me. But what are your go-to comfort reads?? I'd love to know so feel free to share in the comments!!
27th October, 2020



'Reading has saved my life, again and again, and has held my hand through every difficult time'

For as long as she can remember, Cathy Rentzenbrink has lost and found herself in stories. Growing up she was rarely seen without her nose in a book and read in secret long after lights out. When tragedy struck, books kept her afloat. Eventually they lit the way to a new path, first as a bookseller and then as a writer. No matter what the future holds, reading will always help.
The concept of this book immediately called to me. Starting with the obvious Jane Eyre reference of the title, continuing with the author saying that books have helped her through many a tragedy - I knew right away that I had to order this little treasure. And the cover - I mean, just look at how beautiful it is.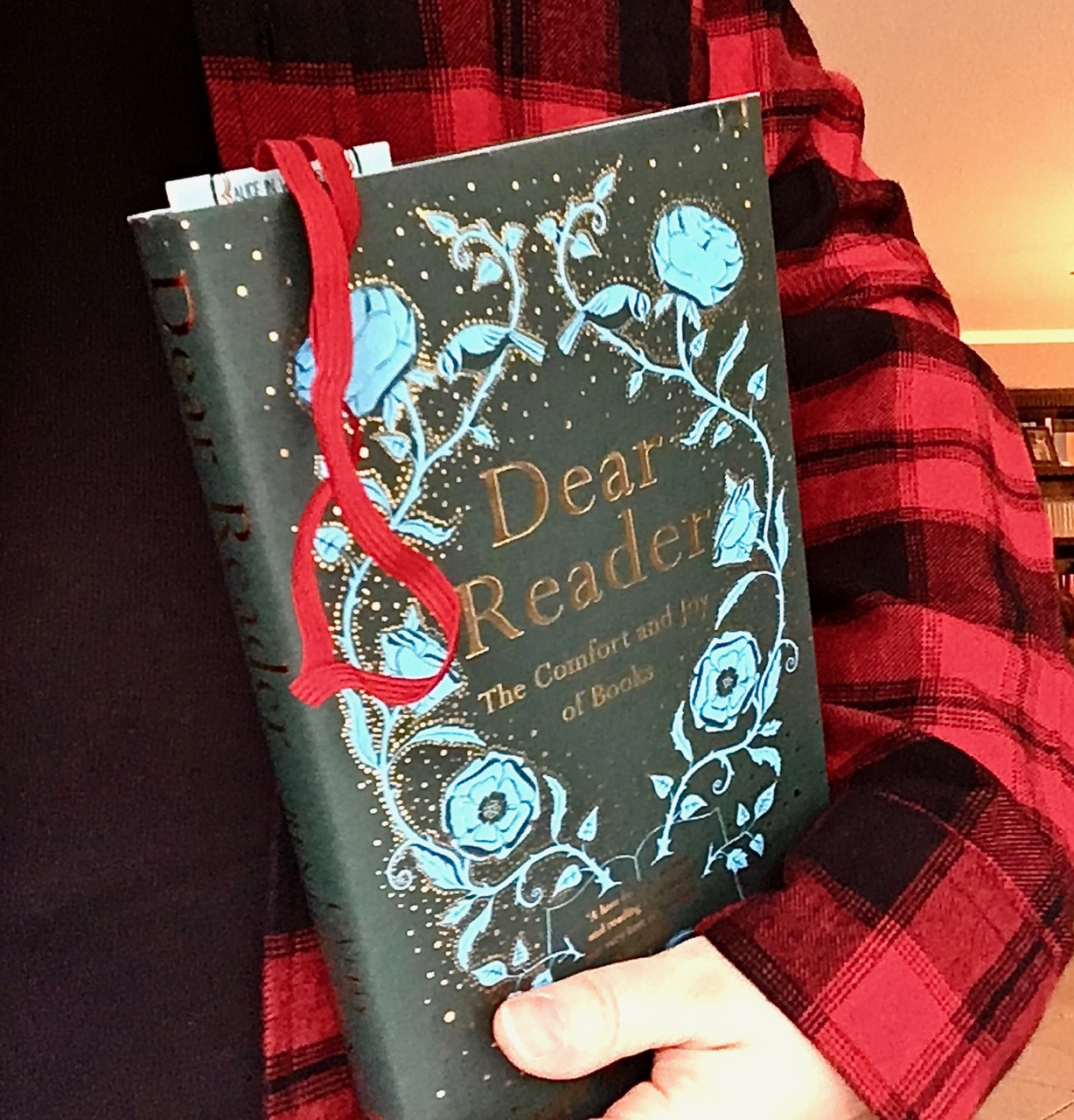 To say that I lapped this book up would be an understatement. I tremendously enjoyed Rentzenbrink's little anecdotes of being a bookseller and, eventually, a writer and certain scenes were so familiar that I could have easily inserted my name into those chapters. I loved getting a look at the "backstage" aspects of bookselling (how are stocked titles selected, how do you deal with idiosyncratic customers and authors, etc.). The author used to work in a number of bookshops that I have visited in the past so that behind the scenes glimpse was particularly wonderful.
At the same time, this book is a memoir and so we also get to know about the author's tragic moments in life. Her brother was horribly injured in a car accident and died after years of never regaining consciousness. It is particularly in heartbreaking and taxing times like these that stories were a solace to Rentzenbrink, especially the rereading of old favourites. Many of the books she mentions I had read before, but she also refers to a lot of titles that I hadn't come across yet so there will be some book shopping happening here in the near future. Thank you for the recommendations, Cathy! :-)
Dear Reader is a quick but utterly satisfying read and I highly recommend it if you want to know how books can shape and change your life, if you'd like a behind-the-scenes look at bookselling or if you simply want to dwell in the beauty of fictional worlds with someone who deeply understands your passion.
Rating: 5/5 stars
18th October, 2020



October and her dad live in the woods. They sleep in the house Dad built for them and eat the food they grow in the vegetable patches. They know the trees and the rocks and the lake and stars like best friends. They read the books they buy in town again and again until the pages are soft and yellow - until next year's town visit. They live in the woods and they are wild.
And that's the way it is.
Until the year October turns eleven. That's the year October rescues a baby owl. It's the year Dad falls out of the biggest tree in their woods. The year the woman who calls herself October's mother comes back. The year everything changes.

Let me say it straight away: I absolutely LOVED this book with my entire heart, and devoured it in a single rainy afternoon during half-term. The hubs had to entertain the kid for those few hours because I just couldn't put this story down. :-)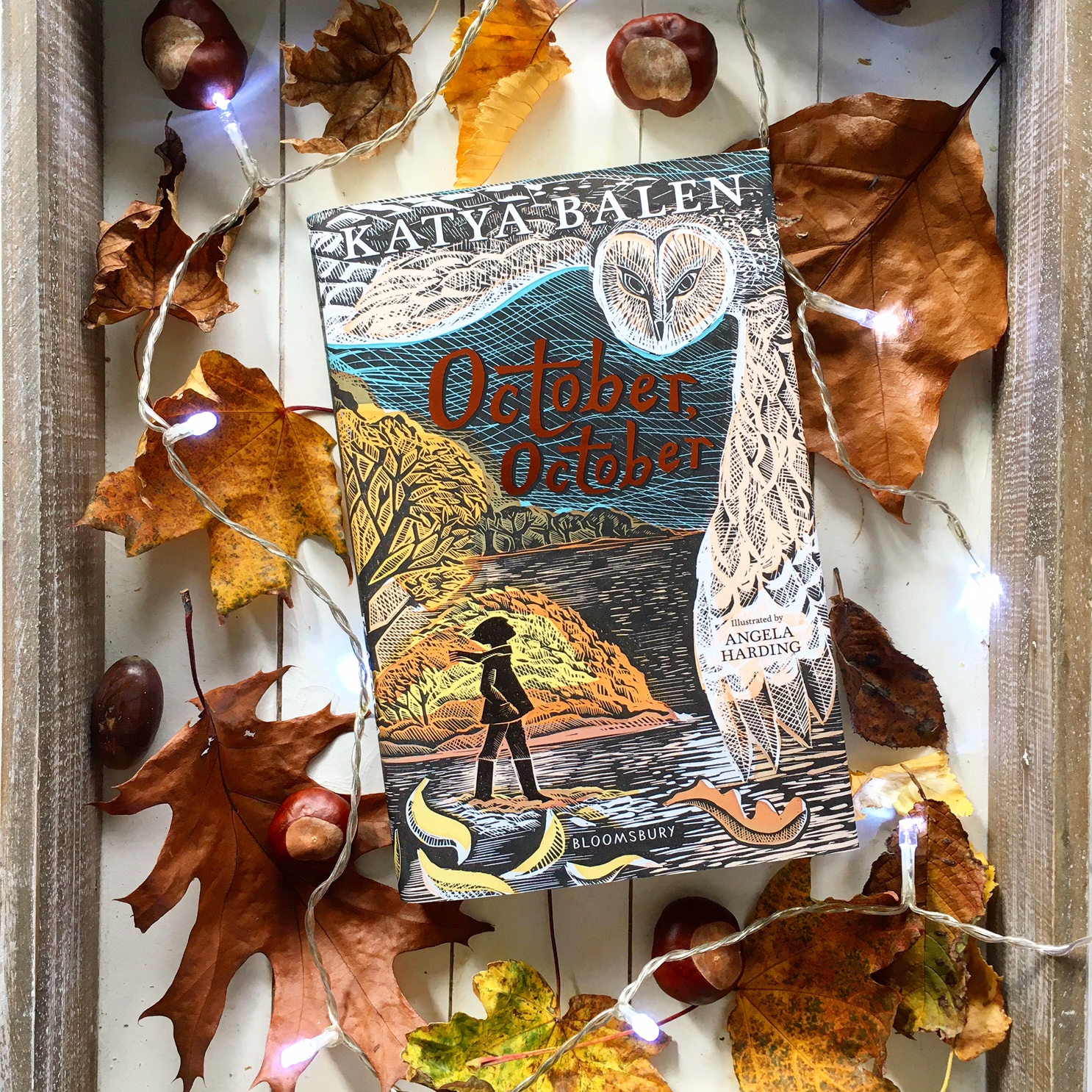 Balen is an extraordinary writer: Her words are beautifully lyrical, the atmosphere she creates is dazzling and, to borrow the words of one reviewer, "this book is a feast for the senses, filled with the woodsmoke smell of crisp autumn mornings and the sound of wellies squelching in river mud". Sounds good? It is! October, October basically excudes everything there is to love about autumn - truly magical.
If you loved stories like The Scent Keeper's Daughter or Echo Mountain you will very much enjoy this tale as well. Illustrated with the stunning drawings of Angela Harding, October, October is a novel you will want to keep reading until you're finished, and then you will regret that it is over and you can never read it for that very first, mesmerising time again. It made me think about how we live our modern lives and how we should sometimes refocus on the simple things. October and her Dad make do with very little but they are happy... and wild... and free. The contrast of life in the city is an important experience for October, and just like her it makes the reader begin to wonder about our everyday rules and about the supposed need to 'fit in' and adapt. And about what maybe really matters.
This is the perfect autumn read and a true delight from start to finish. Beautiful from the inside and outside it's a novel I highly recommend to anyone who sometimes longs to 'just break out' and to every single autumn and nature lover out there.
Rating: 5/5 stars
16th October, 2020



I came across this book because it was hyped on Instagram this autumn. The plot sounded like it was exactly right for my reading tastes around this time of year, so I decided to give it a go.
A gang of twelve-year-old boys are trick-or-treating in London. Off in the distance, they hear the discordant chimes of an ice-cream truck. It seems strange to hear on a cold autumnal night, but their thoughts of maximizing their candy haul soon dismissed its incongruous melody… until they saw the rusting hulk idling in the shadows at the end of the street, its driver a faceless shadow. That was the night he took one of them.

Years later, Halloween is fast approaching and Tom Craven is still haunted by the events of that dark night, especially the fact that their friend was never found. Increasingly plagued by horrific visions, Tom returns to the place where it all began, only to discover he's not the only one who can feel it. His friends have already arrived and are preparing for a battle which could get them all killed. The Ice Cream Man is back… and he's come for the ones that got away.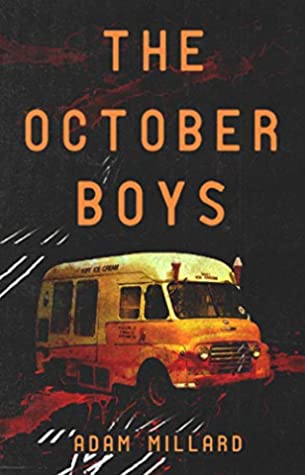 I really really really wanted to love this book. The first few pages had me hooked straight away with their spine tingling eerieness, and I was reminded of Stephen King's wonderfully creepy tales. Then, however, things went downhill very quickly and I found myself being increasingly annoyed with this book. Here are the main points of what irked me:
- Inconsistency/anachronisms: This story is set in England, yet the author jumps back and forth between British and American English. I would have wished for him to be consistent and settle on one. The thing that really threw me off, however, was the sloppy research and editing. A poster of Will Smith as Ali in 1988?? That movie came out in 2001 and, honestly, that is a mistake that could have been easily prevented but one that somehow completely diminished my joy in the story.
- Treading well-known paths: I normally enjoy books that work with intertextuality but The October Boys is basically a mixture of established Stephen King tropes. Supernatural entity haunting a bunch of kids? Check! Kids meet up again after several decades? Check! Now adults they finally have to confront that which scares and haunts them? Check! These are just some points where the story leans heavily on well-known plotlines... you get my drift.
- A rushed and unconvincing ending (Warning: mild spoilers ahead!): After all the build-up and tension I would have expected a somewhat more convincing ending. Instead, we get a total of six pages in which the monster is quicklydefeated. The way in which the demon is vanquished is - I'm sorry to say this - so lame that I wanted to throw the book across the room.
I feel bad for having to give this story such a bad review because it is clear that Millard is a wonderful author. He writes beautifully and knows how to chill his readers to the bone. With a lot more tweaking and editing, this could have been a really good book but unfortunately it falls short in so many aspects that I was deeply disappointed. I will check out other titles by the author, however, and hope that they work better for me.
Rating: 2/5 stars
9th October, 2020



Cadence Archer arrives on Harvard's campus desperate to understand why her brother, Eric, a genius who developed paranoid schizophrenia took his own life there the year before. Losing Eric has left a black hole in Cady's life, and while her decision to follow in her brother's footsteps threatens to break her family apart, she is haunted by questions of what she might have missed. And there's only one place to find answers. As Cady struggles under the enormous pressure at Harvard, she investigates her brother's final year, armed only with a blue notebook of Eric's cryptic scribblings. With her suspicions mounting, Cady herself begins to hear voices, seemingly belonging to three ghosts who walked the university's hallowed halls—or huddled in its slave quarters. Among them is a person whose name has been buried for centuries, and another whose name mankind will never forget.
I must admit that I approached this book with certain expectations and was surprised to find that it didn't really fit the genre categories I had thought it would. However, I found myself tremendously enjoying Serritella's novel, despite it NOT being a typical ghost story. I would categorise the book as something like a paranormal mystery/thriller which also tells us a lot about Harvard's history, the academic world, mental illness, physics, family life and relationship dynamics. Sounds like a lot? It is, and the novel does have a few flaws, but it is still a great story that I read almost compulsively. The pacing is perfect, the descriptions of Harvard campus are magnificent and the main character is both relatable and utterly annoying. :-)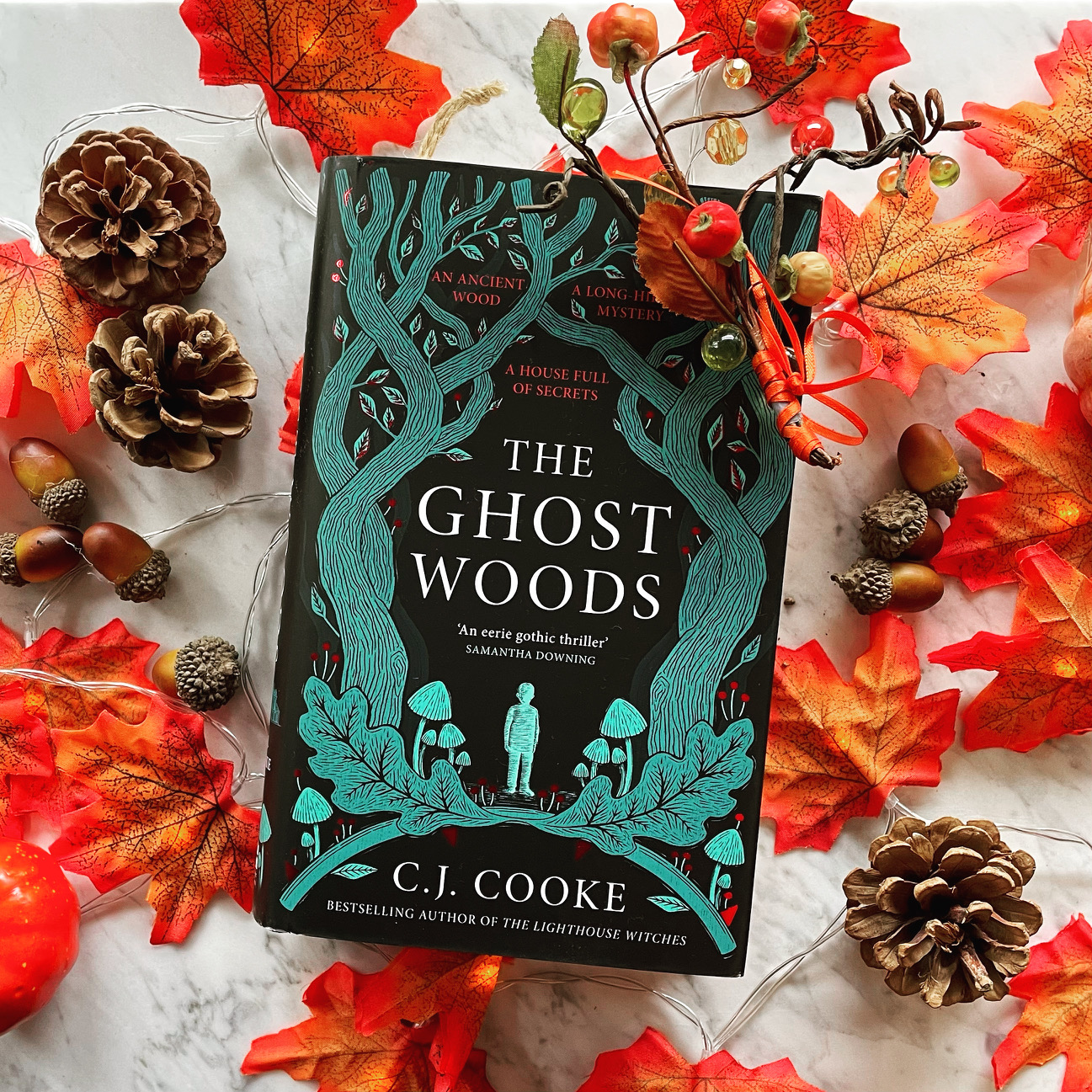 I did mention some flaws above and would briefly like to go into what irked me a little. On one hand, this was Cady's seemingly very sudden obsession that immediately blotted out everything else and also her naivety. I sometimes felt like shouting at her to finally get a grip and to pay attention to the damn clues that were being waved in her face! I was appeased a little towards the end by the author's putting in some interesting plot twists, but still.... On the other hand, the ghosts encounters sometimes became a bit cheesy (That scene with Nikos/Whit? Please! *eyeroll*) and I was really struggling with some of these scenes.
What the author does wonderfully, however, is to show how mental illness affects a family. Serritella shows well how families fall apart when suicide is added to an already almost unbearable situation. The emotions in this book are manifold. They are raw and real, so be prepared to get on a rollercoaster of ups and downs (with increasingly more of the latter) and a look into an obsessive mind. This book is not for the faint of heart.
Despite this novel being marketed all wrongly (I repeat: it is NOT a ghost story per se) and despite its few minor flaws, Ghosts of Harvard is a brilliant story that you will not be able to put down. Perfect autumn reading.
Rating: 4/5 stars
30th September, 2020


Addie LaRue – the name itself already makes you curious about this story. If you are also interested in sweeping, historical novels that have a strong personal focus: Voilà, V.E. Schwab's latest novel is the right book for you.
"Never pray to the gods that answer in the dark."
France, 1714: in a moment of desperation, a young woman makes a Faustian bargain to live forever and is cursed to be forgotten by everyone she meets.

Thus begins the extraordinary life of Addie LaRue, and a dazzling adventure that will play out across centuries and continents, across history and art, as a young woman learns how far she will go to leave her mark on the world.

But everything changes when, after nearly 300 years, Addie stumbles across a young man in a hidden bookstore and he remembers her name.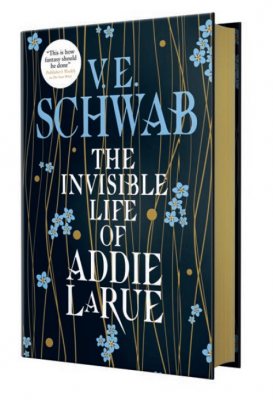 Schwab's novel is full of nods to other writers as the intertextual connections range from Shakespeare to Goethe to the classic folk tale to contemporary fiction. What the author does fabulously is connect these more or less subtle references with a loveable protagonist and a tour through European (and a bit of American) history. The story of Addie LaRue is told in two different timelines. Timeline one takes us to 17th and 18th Century France, while timeline two is centred in 2014 New York City. Addie has lived for several hundred years and she is both alone and extremely lonely. Due to a curse after striking a bargain with the devil(?), people forget her the moment she leaves their sight, so Addie is walking through cityscapes and history like an invisible flaneur.
What captured my attention here right away was Addie's incredibly depressing isolation. That really got to me! She is a fleeting character, she leaves no trace, she lives like a ghost, she is lost and wandering, but yet she has so much depth, and you find yourself rooting for her to finally find someone who remembers her. When Henry appears he seems to be the only one who is able to anchor her, and the reader immediately realises that his showing up is working towards a climax without knowing what it will turn out to be. In a way, this topos reminded me of Audrey Niffenegger's wonderful novel The Time Traveler's Wife which is also about somebody lost in time who finds that one person working as a sort of fixture (also the two characters are sharing a name).
Schwab tells Addie's life in the form of palimpsest: Life overwrites life but never fully erases anything. History keeps popping back up (see the speakeasy scene) as does the devilish creature a.k.a. Luc who initially tempted Addie to forge a pact. And this is another aspect that makes the novel so interesting: The dynamic between Addie and Luc is simply mesmerising. It is a love/hate kind of relationship, and it is particularly Luc's simultaneous cunning and caring that captures the reader.
There is one little point of contention, however, a mistake in the ARC which I hope has been corrected for the final published version: There are some historical inaccuracies, the one about Paris' basilica Sacré Coeur being mentioned in scenes set centuries before it was actually built being the gravest. This is something that simply mustn't happen in a novel with such historical scope. All in all though, The Invisible Life of Addie LaRue is a great novel and I highly recommend to everyone.
Rating: 4.5/5 stars
For older entries, please refer to the ARCHIVE. Thank you!
check out Some of
our READERS' FAVOURITE blog entries:
20th March, 2019
I know I've let drop comments about this shop before, both here and on Instagram and Litsy, but today I think it's time that this wonderful place gets its own "Bookshop Spotlight".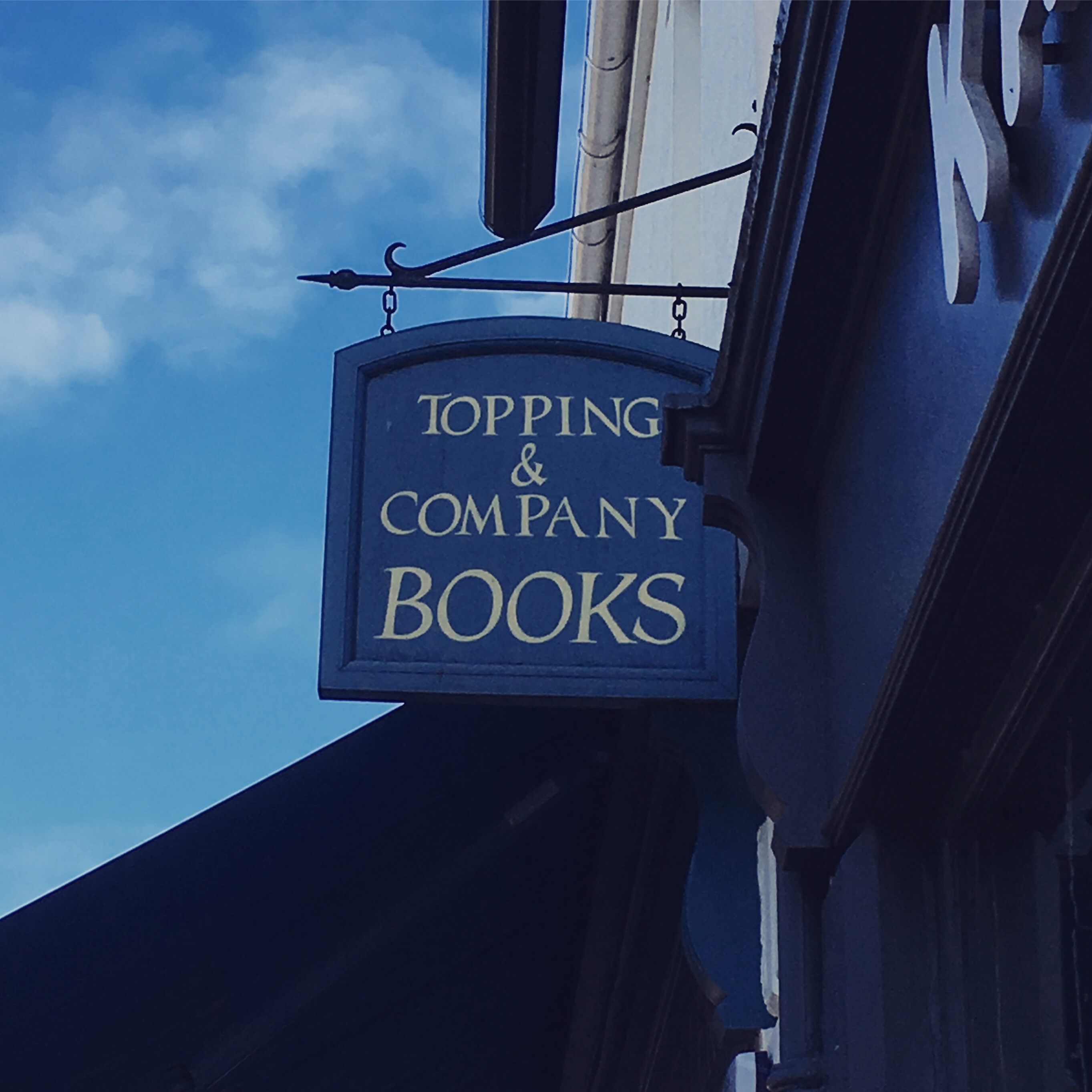 The independent bookshop Topping & Co. in St Andrews opened in 2015 after branches in Bath and Ely had already been highly successful. The first shop (in Ely) was founded by Robert and Louise Topping in 2003. A fourth branch is going to open its doors in Edinburgh in the summer/early autumn. And who knows what more is to come in the future?
What makes me love Topping & Co. so much is its atmosphere: It's a bibliophile's heaven with honey-coloured bookshelves from floor to ceiling and sliding library ladders that help you reach the upper shelves. Also, it's clear quite quickly that the people who work here love books and I mean: LOVE books - in capital letters and with an exclamation mark. Almost every time I visit, I find myself having a wee chat with one of them. They are not just employees but true booksellers who know their wares and are passionate about their job.
Another quirky benefit is that you are offered free tea or coffee while you are browsing the more than 50,000 titles. And I mean: what goes better together than a good brew and literature? Exactly! Nothing. Well, maybe chocolate, but that always poses the danger of nasty stains on the pages. The horror, the horror! So yes, better have a cuppa instead while you're perusing the shelves for your next read. And if you are looking for people to talk books with, the shop offers several book groups, such as "The Literary Odyssey Book Group" or the "Galley Book Club" (the latter of which is geared towards children between 7 and 11). There are also numerous literary events throughout the year. Just a few names that are lined up for the next few months: Ian McEwan, Ali Smith, Shaun Bythell, John Connolly, Mary Beard, etc.
What you will find a lot of at Topping & Co. is signed editions. There is a "Signed Editions" subscription service but while that is of course great for people who live further away, it's even more fun to hunt for treasures on the shelves directly. I've amassed quite a number of signed books this way without exactly meaning to, but hey - if I have the choice between a signed first edition and the regular one, the decision isn't such a tough one.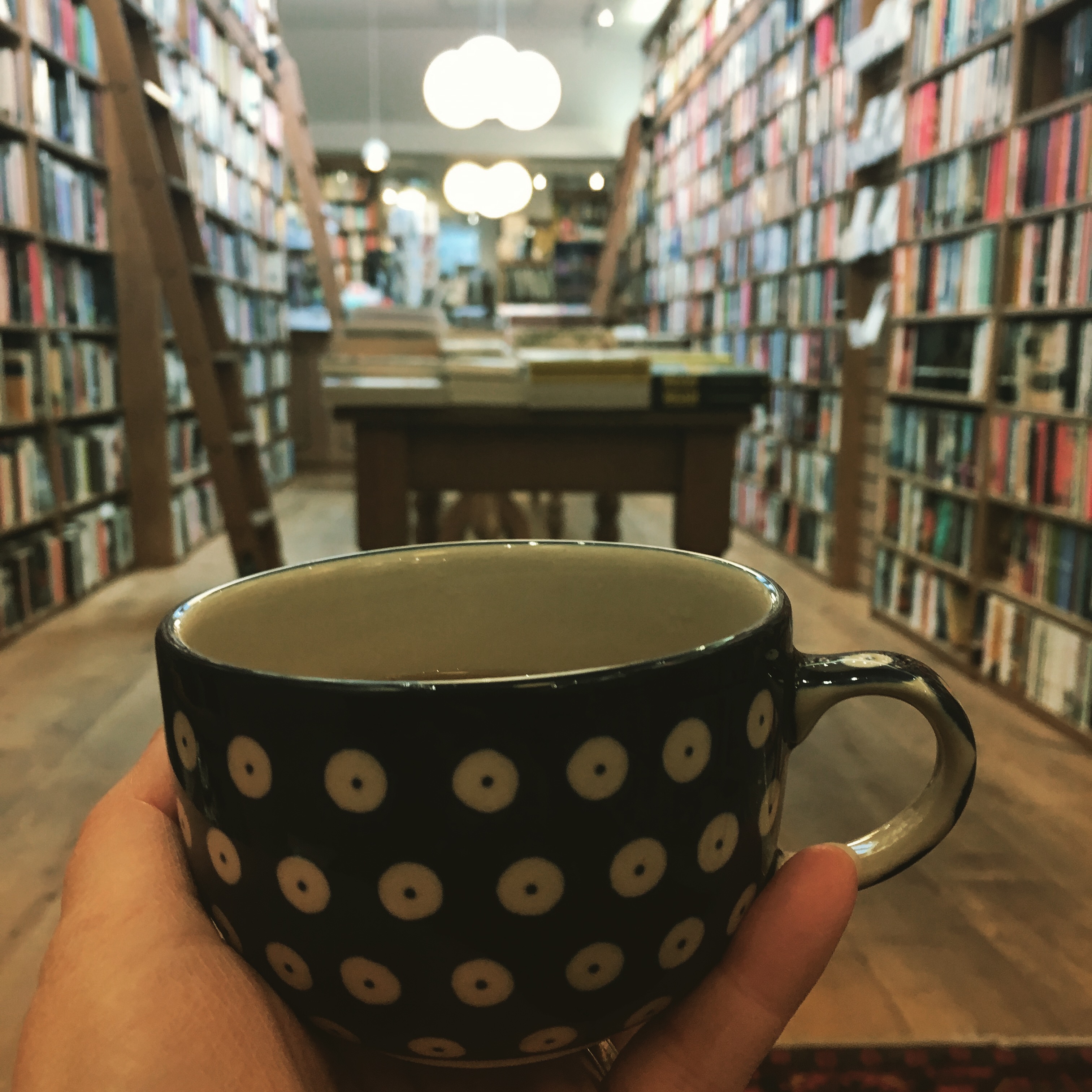 And in general, I have found that Toppings seems to have pretty much everything in stock. I don't remember ever having to order in a title as one of the booksellers has always managed to somehow conjure up what I was looking for.
One more aspect that I adore about the shop is its "Blind Date with a Book" shelf. I'm a total sucker for these kinds of things so, lo and behold, I find myself buying at least one of these wrapped mystery packages every time I visit. So far, I have never been disappointed. There was one book last year that wasn't really my cup of tea but this time I was very lucky and scored an edition of Jeannette Winterson's wonderfully atmospheric Lighthousekeeping and one of Vladimir Nabokov's ingenious Pale Fire. Sure, I already owned the latter but while I could have easily exchanged the book for something else, I'm just going to give it away as a present.
This is a bookshop that any true bookworm will immediately want to move into. Especially in the colder months the mix of books, tea or coffee and a cosy wood fire will make you want to while away an hour... or two or three. It makes me extremely happy to see that independent bookshops seem to be thriving again and Topping & Co. is definitely one of places that make people fall in love with bookshops over and over again.
9th April, 2019

So, imagine you could simply step through a mirror or wardrobe (or insert any other mysterious portal of your choice) and you are in a stunningly beautiful library full of impressive leather-bound tomes. And now imagine someone telling you that you can actually live there for a while. Sounds like a dream come true, doesn't it? Well, no need for magic as this place is only a good thirty-minute bus ride away from the city of Chester, situated in the wonderfully quaint village of Hawarden in North Wales (UK).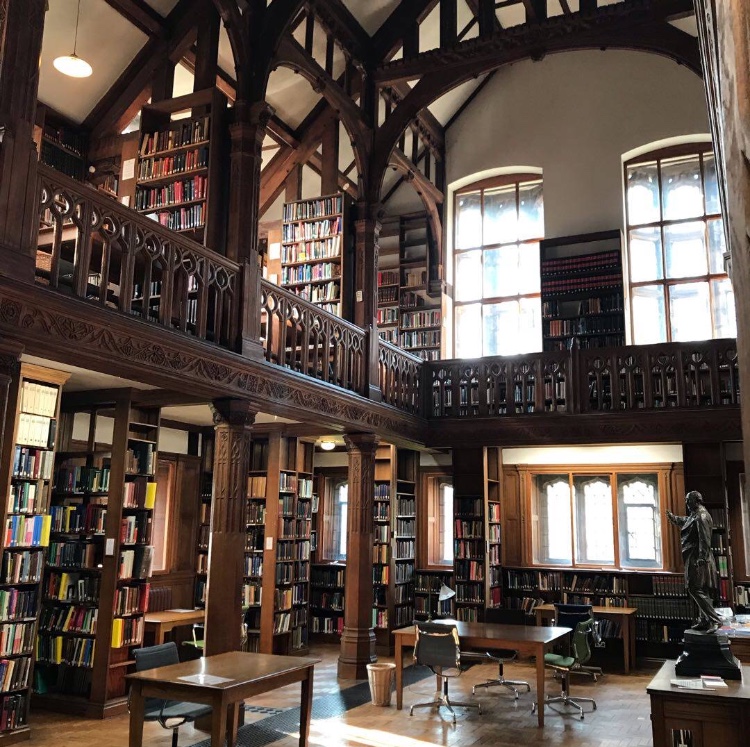 Gladstone's Library is a magnificent grade 1 listed building which pays tribute to William Gladstone, a four-time prime minister of Great Britain in the later half of the 19th century, who founded the library himself. After his death in 1898 it became a memorial to his life and work. Gladstone's is a residential library, a place for study and contemplation and a meeting place for bibliophiles from around the world. So when a friend who I had met through Litsy (a social media platform for bookworms) asked if anyone was up for a weekend reading retreat in this marvellous locationI didn't think twice and booked my room and flight within minutes.
When we arrived at the library we were all kind of giddy with excitement, on the one hand because of meeting a bunch of people you'd only so far talked to online and, on the other hand, because of the sheer beauty of the place. The reading rooms themselves are absolutely magnificent - think Disney's Beauty and the Beast and you'll get an understanding of what I mean. They are indeed a place of silence with absolutely no talking allowed. I felt that merely sitting in one of the comfortable leather armchairs with my book and enjoying the tranquility had an amazing soul-cleansing and centreing effect, because it is so far removed from the stress of our everyday lives.
The rest of the building is certainly just as attractive as the library proper. Many of the rooms come with beautiful book wallpaper and all of them have old-timey Roberts radios and mullioned windows. Something they explicitly do not have are TVs because of Gladstone's Library seeing itself as a place for research, study and debate. And this is precisely what I appreciate about it: Three days of peaceful tranquility, hours of reading, good food and bookish conversations in the lounge or over meals left me so incredibly refreshed and regrounded that it actually surprised me how relaxed I felt afterwards. It is the perfect sanctuary in a time where distraction is everywhere, and I found myself thinking that this must surely be what the characters in Thomas Mann's famous novel The Magic Mountain must have felt.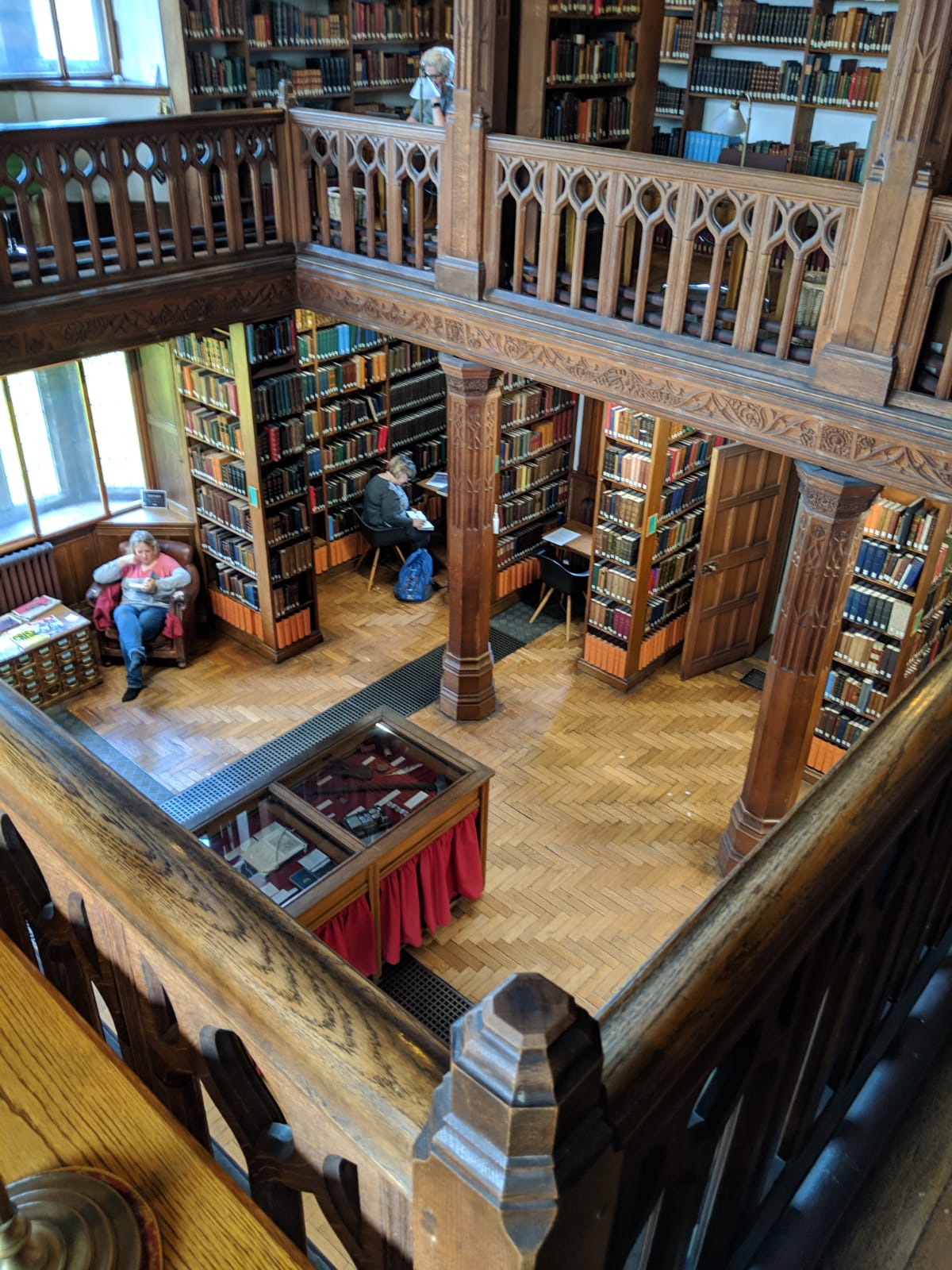 We started our first day of the retreat with a scrumptious Afternoon Tea in the library cafe and food somehow became a constant entity, either in the form of lovely pub lunches and dinners or as nibbles, cake and candy as reading accompaniment in front of the fire place in the cosy guest lounge. (Thank goodness, we walked some of it off on a brisk country walk on day two - haha.) And of course it was also the wonderful people who were with me on this retreat that made it such a success. It felt good to be surrounded by book people, people who are comfortable with sitting together in silence with their nose in a book but who also love to have inspiring conversations in-between.
Gladstone's Library is a truly stunning place and I didn't want to leave. The next retreat is already planned so I'm looking forward to coming back and staying a bit longer next time around. If you'd like more information, you'll find it all on their webpage: https://www.gladstoneslibrary.org/
© Copyright The Constant Reader
All texts and photographs are mine, unless indicated otherwise.
Header Background Picture Credit: Janko Felic