4th February 2020


Bookish Stuff: Second-Hand and Antiquarian Bookshops


I think it's obvious that I am part of the large endearing group of booknerds and that certainly also includes bookshops. I simply can't, and I really mean it: I cannot, walk past a bookshop without at least nipping in for a few minutes. Those minutes can easily turn into hours which means you really have to mean business if you agree on going bookshopping with me. ;-) For a long time, I didn't care very much for second-hand bookshops. While I did like the feel and smell of old books I somehow felt I had to have only brand new ones on my shelves. Don't worry, I now know better.
It was already a while ago that I began to frequent second-hand or antiquarian bookshops more often, but it only really started when I began collecting a certain luxury edition of books. The publisher of this collection has recently changed their pricing policy to one I can no longer agree with, i.e. I've basically stopped buying directly from them and now hunt for older but fine/like new editions. And I have found that this actually adds a lot to the pleasure of collecting these books because I never really know what I will find and many copies have interesting inscriptions, dedications, etc. It's lovely to trace the history of a book and its former owner(s) through these. I recently acquired an old copy of Virginia Woolf's To the Lighthouse which was previously gifted to a lady called Marge for her 75th birthday. I wonder what happened to Marge, if she simply got bored of the book and sold it on or if (probably more likely) she passed away and the copy ended as part of her inheritance and was sold to the bookshop by her family.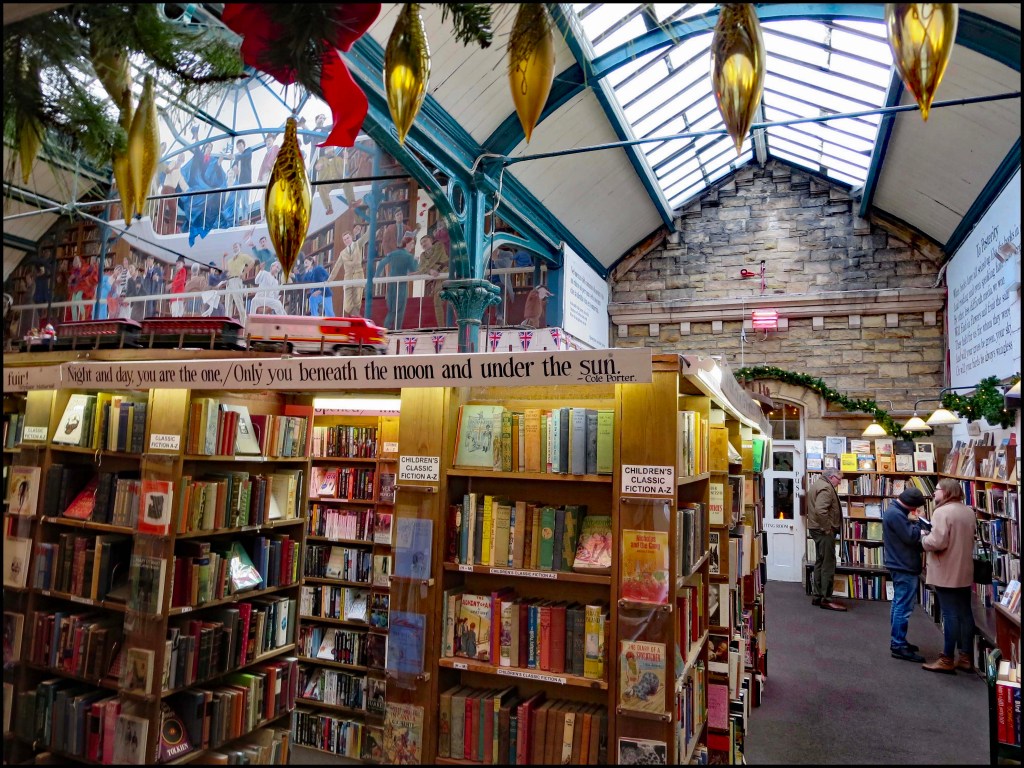 There are of course thousands of wonderful second-hand and antiquarian bookshops out there and some of these are definite bullet points on my bucket list, such as Shaun Bythell's The Bookshop in Wigtown, Scotland. Others have become favourites for when I'm travelling and I make it a priority to at least stop for a quick browse. Here I introduce two of them - both located in the UK:
One of these shops is Barter Books in Alnwick (England) which is located in an old Victorian railway station and run by Mary and Stuart Manley. The shop feels like a booklover's version of falling into Wonderland. And between all the bookshelves stacked with treasures and wonderful murals on the wall there are little toy trains making their rounds above the customers' heads. There is a warm fire, an honesty coffee bar and a small cafe, and you can even barter for credit for future purchases. My son adores this place just as much as I do, though I believe it is more the trains for him but hey, whatever buys me a few minutes to buy some books.
Another favourite is Bouquiniste in St Andrews (Scotland) - a lovely tiny shop tucked away at the end of Market Street. It has a small but wonderful collection and chatting with the owner is always a delight. The shop opened in 1982 and trades in all kinds of printed material. Rumour has it though that you won't find anything on mathematics here, but I haven't checked. :-) Books fill all four sides of the shop from floor to ceiling while beautiful sketches of scenes from the town decorate the wall behind the cashier's desk. If you ever find yourself in Scotland's "little grey toon" make sure to nip in here. Make sure to check for their opening hourse beforehand though.
(Photo Credit: Beate Felten-Leidel)
© Copyright The Constant Reader
All texts and photographs are mine, unless indicated otherwise.