15th November, 2019


bookish stuff: holiday season OR WHAt am I reading this December


Christmas is one of my favourite times of the year, coming in at a close second after Halloween. What I like about it is that it's not just a time to snuggle up at home but also one when everything looks festive and particularly pretty. The Christmas markets here are world-famous and all the yummy seasonal treats always make me have to be careful not to gain ten pounds within four weeks. Oh my.
Being a bookworm, Christmas also means extra reading time. Especially during the days between Christmas and New Year's but also on Christmas Eve itself, which is when everyone opens their presents here in Germany. Before I ever heard about the Icelandic tradition of jolabokaflod (which basically means giving each other books and chocolate on Christmas Eve and spending the rest of the evening in bed with both), our house has always been one where books are sort of a go-to present. So once the hussle and bussle is over and the kid is eventually tucked in, we adults always sit together browsing our new reads. It's super cosy and always makes me feel all warm and fuzzy inside. With the tree in the background and soft music playing it truly makes Christmas Eve a magical night for me.
But of course it is still more than a month till Christmas itself, which means that I've spruced up my office a bit like I do every year in order to get in the mood. My office book tree seems to be growing with every holiday season and it's lovely to have students and colleagues come in saying that they've been waiting to see this year's tree. :-)
I've also begun to compile a (tentative because it's bound to still change) rest-of-the-year TBR. These are the books I plan to read before the year ends. There will probably be a few more additions on Christmas Eve but all of these books kind of say "festive season" to me for various reasons. It's a rather eclectic selection but that's perfectly fine as I'm a big mood reader.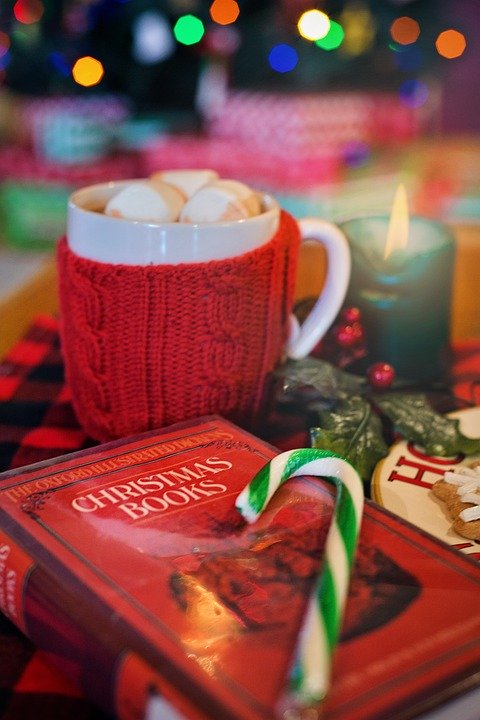 I am particularly looking forward to Christmas Shopaholic because Kinsella's series has followed me for more than a decade now and I'm dying to know what havoc Becky is going to cause this time. On my shelf I also have a slim volume of holiday themed short stories by Kate Atkinson which will be perfect for those few minutes of reading time between running errands, driving the kid to kindergarten or other chores. I think it's also high time that I finally pick up the Erin Hilderbrand Xmas series. Everyone has been raving about these books for years and I've never gotten to them, so I'll at least have a look at the first one this holiday season. A quite different genre is Kealan Patrick Burke's Dead Winter, a collection of chilling horror short stories. I've read some of Burke's stories before and they were perfect so I'm really looking forward to that book. Also, I have to admit that I've never watched A Nightmare Before Christmas before. Yes, I know, I'm super late to the party. I've read the book but never actually see the movie so I will remedy that this year. And who knows? Watching this film might become a new family Christmas tradition. If I'm not distracted by too many newer books, I might also give Krampus a reread - it's full of eerie myth and perfect for when you've had enough of somewhat cheesy holiday reads.
What about you? Do you have any bookish holiday traditions? Which books are you looking forward to reading this season?
(Photo credits: Book Tree - The Constant Reader; Mug and Book - maxpixel.com)
© Copyright The Constant Reader
All texts and photographs are mine, unless indicated otherwise.