25th February, 2020


Review: Creatures by Crissy van Meter (Algonquin)


Crissy van Meter's Creatures is one of these books that you embrace for their beautiful, heartbreaking prose but that are still lacking an almost undefinable tiny "something". It is still a wonderful debut and a stunningly poetic exploration of life, love and loss.
On the eve of her wedding, when Evangeline's groom may be lost at sea, her estranged mother suddenly appears on Eve's doorstep and a dead whale is blocking the entrance to the Harbour. This is Winter Island, a place steeped in myths and mystery. The story evolves through flashbacks to Eve's childhood, telling about the present alongside these jaunts into the protagonist's memories, so that the reader seamlessly drifts back and forth between both, a process that cleverly resembles the pull and push of the sea.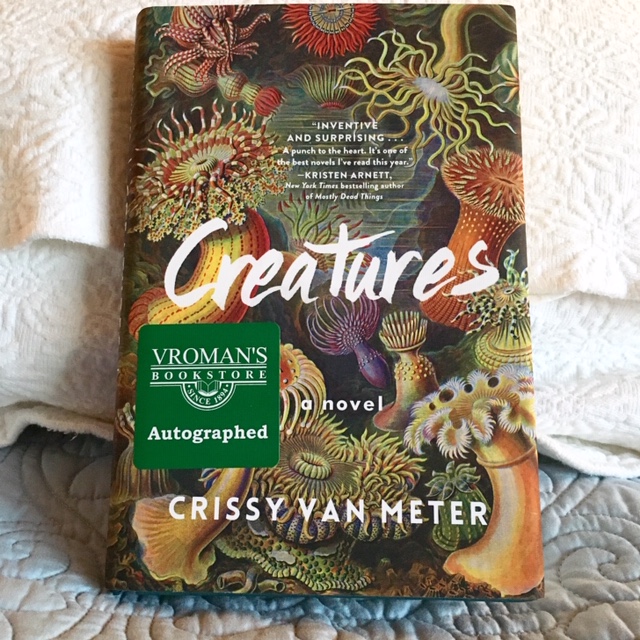 What I loved about this book were van Meter's excellent descriptions of nature and island life. She draws an atmospheric picture of this fictional place just off the coast of Southern California, and the reader can't help but be pulled into the ebb and flow of Eve's narrative.
All of this could have made Creatures an outstanding novel as these elements are sometimes raw but always utterly mesmerizing. Yet, the story was lacking something for me and it's hard to clearly put a finger on what exactly it was. The book was captivating - yes - but I somehow had trouble connecting with the characters. I assume this is due to the narrative structure, so in fact it is a bit of a dilemma as that is exactly what makes Creatures work so well on other levels. Still, I would have wished for a bit more depth in the individuals populating this tale.
However, even though I had a few issues with the story, Creatures is a promising debut that wonderfully details how our presents and futures are haunted by our pasts. I'm looking forward to seeing where this young author will go next.
Rating: 3.5/5 stars
© Copyright The Constant Reader
All texts and photographs are mine, unless indicated otherwise.