11th May, 2020


Review: Gargantis by Thomas Taylor (Walker Books)


After reading Thomas Taylor's first book Malamander during our pre-Covid seaside holiday in March, I was over the moon when I heard that a sequel was coming out in May. Needless to say I preordered it straight away and - most wonderfully - it arrived on my doorstep via contactless delivery on publication day.
Gargantis is the second book in Taylor's Eerie-on-Sea series in which Herbert and Violet team up again to solve the mystery of the Gargantis — an ancient creature of the sea with the power to create life-threatening storms:
Someone has woken the ancient monster, who sleeps in the watery caves beneath Eerie. Legends have a habit of coming to life here, and it seems the Gargantis is looking for something: a treasure stolen from her underwater lair. And it just might be in the Lost-and-Foundery at the Grand Nautilus Hotel, in the care of one Herbert Lemon, Lost-and-Founder. With the help of the daring Violet Parma, ever-reliable Herbie will do his best to figure out what the Gargantis wants and who stole her treasure in the first place. In a town full of suspicious, secretive characters, it could be anyone!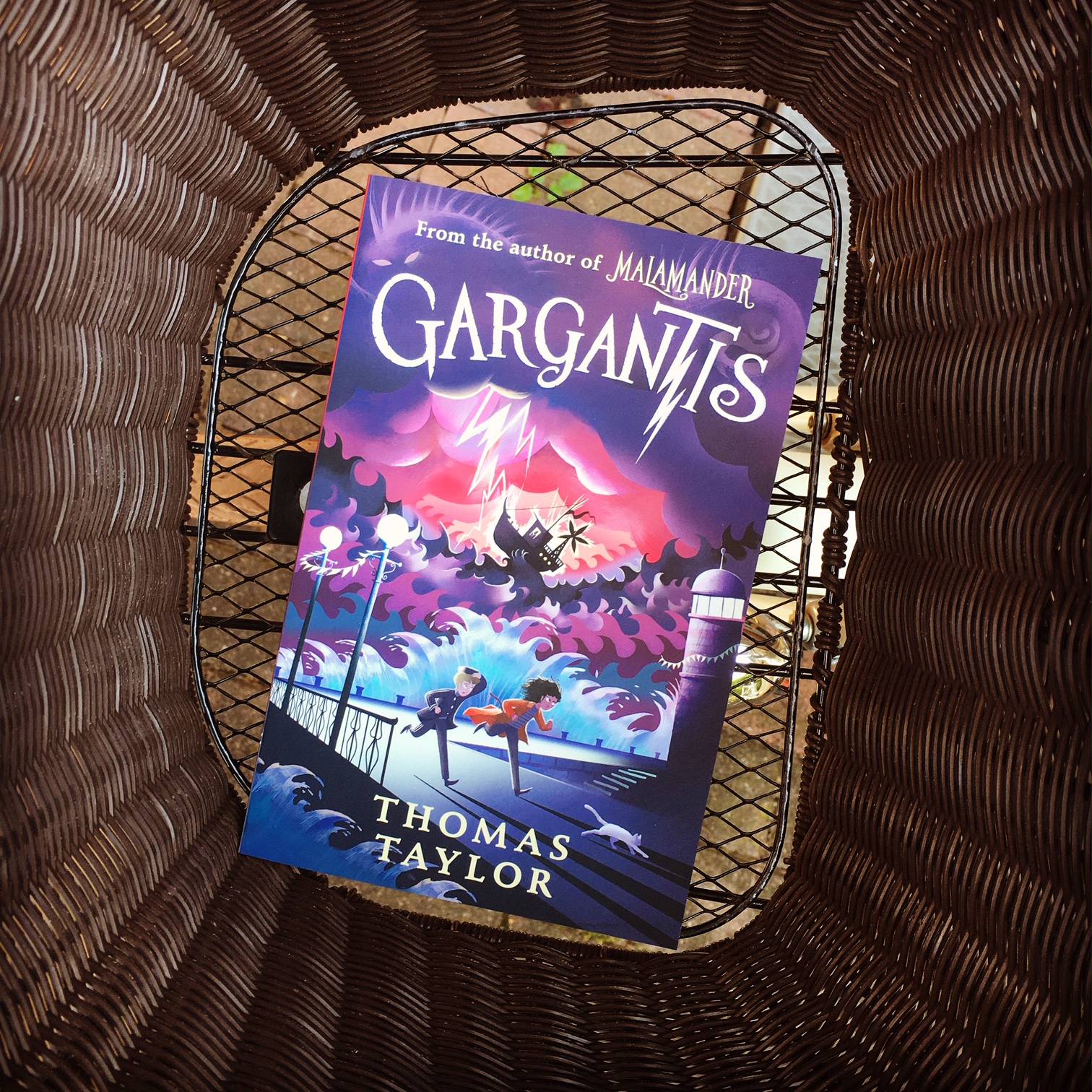 What a treat! This is the kind of book you wish you'd read as a kid. It's the type of story that, back then, I would have devoured within a few hours on a rainy Sunday afternoon (well, as a matter of fact I still did, even though I'm most certainly not a kid anymore, but the story brings back that wonderful feeling of easily getting lost in a book). The writing is straight out amazing, and Taylor packs his stories full of such quirky, weird and engaging characters that you can't but love them. In this book, he introduces more locals of the town which gives the story additional depth. I particularly liked the "fisherfolk" with their tight-knit community because they give us more insight into the history of the town and its traditions and legends.
Taylor excels at creating atmosphere. His descriptions of Eerie-on-Sea during the raging storm inspire a feeling of constant dread and unease. Everything just screams 'Danger!' and as a reader you simply have to rush on because you are dying to know what sinister mysteries are lurking "on the cold, dark bottom of the sea" and in the storm clouds over the town. If you can, I suggest reading this book during stormy or, at least, rainy weather as it will add perfectly to the atmosphere of the story itself.
I love the mythical aspect in Gargantis, just like I'd adored it in its predecessor and I'm hoping that the author has a few more myths up his sleeve for future instalments in the series. We also get a few hints about Herbie's past and about what may have happened to his parents. There is definitely a lot more potential in that particular mystery as well. Please, Mr Taylor, keep writing (and please do it fast) because this reader here desperately needs to know how the story continues!
Rating: 5/5 stars
© Copyright The Constant Reader
All texts and photographs are mine, unless indicated otherwise.