22nd June, 2021


Review: Monster, She Wrote - The Women Who Pioneered Horror & Speculative Fiction by Lisa Kröger and Melanie R. Anderson (Quirk Books)

It's only the beginning of summer but maybe you're like me: already looking forward to autumn and mentally compiling your gothic/spooky Halloween season reading list. :-) Do you crave more horror by women authors in a genre that is mostly dominated by male authors? If that's the case, Monster, She Wrote is the perfect starting point for you. Trust me, your TBR will grow quickly.
Meet the women writers who defied convention to craft some of literature's strangest tales, from Frankenstein to The Haunting of Hill House and beyond.

Frankenstein was just the beginning: horror stories and other weird fiction wouldn't exist without the women who created it. From Gothic ghost stories to psychological horror to science fiction, women have been primary architects of speculative literature of all sorts. And their own life stories are as intriguing as their fiction. Everyone knows about Mary Shelley, creator of Frankenstein, who was rumored to keep her late husband's heart in her desk drawer. But have you heard of Margaret "Mad Madge" Cavendish, who wrote a science-fiction epic 150 years earlier (and liked to wear topless gowns to the theater)? If you know the astounding work of Shirley Jackson, whose novel The Haunting of Hill House was reinvented as a Netflix series, then try the psychological hauntings of Violet Paget, who was openly involved in long-term romantic relationships with women in the Victorian era. You'll meet celebrated icons (Ann Radcliffe, V. C. Andrews), forgotten wordsmiths (Eli Colter, Ruby Jean Jensen), and today's vanguard (Helen Oyeyemi). Curated reading lists point you to their most spine-chilling tales.

Part biography, part reader's guide, the engaging write-ups and detailed reading lists will introduce you to more than a hundred authors and over two hundred of their mysterious and spooky novels, novellas, and stories.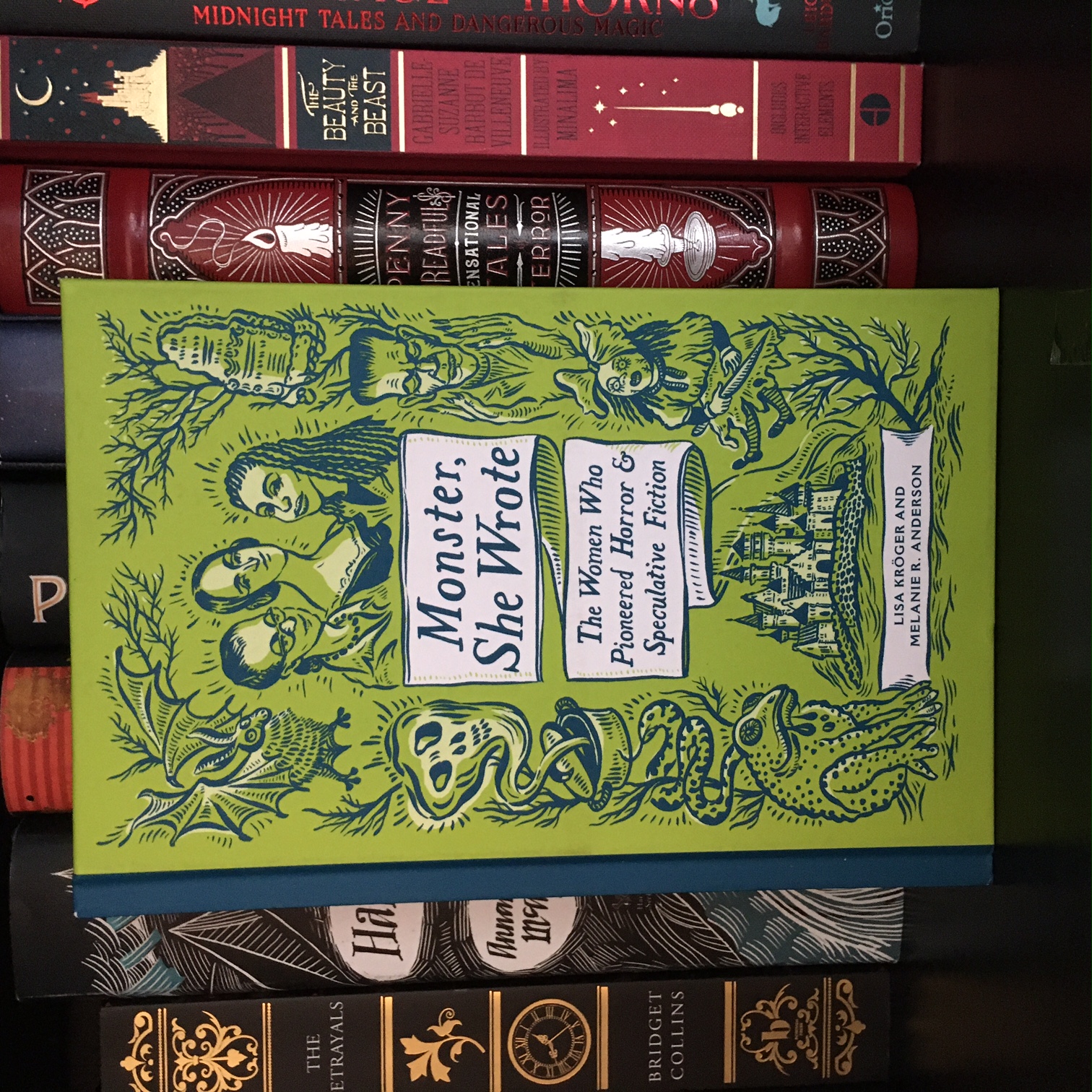 This book is in some ways a tribute to the "Founding Mothers" of horror and speculative fiction but also an introduction to the works of lesser known or obscure writers. We meet the usual trailblazers like Mary Shelley and Ann Radcliffe but also learn about Regina Maria Roche. We read about Angela Carter, Sarah Waters and Shirley Jackson, but also about women authors like Eli Colter or Jewelle Gomez.
I loved the diversity of different women voices in this book. As a literary scholar and avid reader of gothic and horror fiction, I was familiar with many of the names but definitely not all of them. Let me just say: my reading list has grown significantly since I've read this little gem of a book - I'm doomed! :-)
Monster She Wrote is broken up into eight sections that group authors together based on when or what kind of stories they wrote. Each of the sections comes with a short introduction detailing the importance of these women's contributions to literature, while also addressing the political and social climates in which they wrote, as well as their literary-historical impact as writers. There are sections on the pioneers of Gothic fiction, the women who published typical paperback horror, the women who wrote "the pulps", etc. Each of these provides recommended readings at the end that include both books written by the discussed authors but also by those writers who were influenced by her.

Highly recommend this fascinating introduction!
Rating: 5/5 stars
© Copyright The Constant Reader
All texts and photographs are mine, unless indicated otherwise.