26th May, 2021


Review: Mrs Death Misses Death by Salena Godden (Canongate Books)

Mrs Death Misses Death is Salena Godden's first prose publication which I awaited impatiently, because - I mean - just look at the wonderful title. The novel is told both in poetry and prose, following Mrs Death who is a Black Woman tired of doing the "job" she's been working in since the beginning of time. Here is the rest of the synopsis:


Mrs Death has had enough. She is exhausted from spending eternity doing her job and now she seeks someone to unburden her conscience to. Wolf Willeford, a troubled young writer, is well acquainted with death, but until now hadn't met Death in person – a black, working-class woman who shape-shifts and does her work unseen.

Enthralled by her stories, Wolf becomes Mrs Death's scribe, and begins to write her memoirs. Using their desk as a vessel and conduit, Wolf travels across time and place with Mrs Death to witness deaths of past and present and discuss what the future holds for humanity. As the two reflect on the losses they have experienced – or, in the case of Mrs Death, facilitated – their friendship grows into a surprising affirmation of hope, resilience and love. All the while, despite her world-weariness, Death must continue to hold humans' fates in her hands, appearing in our lives when we least expect her . . .
When I first came across this title on Canongate's blogger newsletter I thought "Wow, this sounds extraordinary!" Godden's novel is original, brimming with powerful imagination and lots and lots of feelings. It's a tour-de-force through time touching on individual destinies as well as political issues (e.g. there is a strong parallel to the Grenfell Tower fire in Wolf's past). I loved how the author weaves in these political and social statements effortlessly so that they are clearly there and make you think, but they don't seem forced. Mrs Death as the "invisible, old, Black woman" is but one example for this.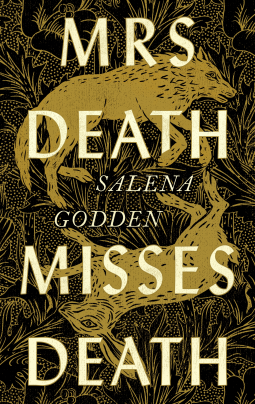 I extremely enjoyed the first half of the book, even though the subject matter was tough at times. This is not a book for the faint-hearted as it has references to children dying, massacres, racist attacks, traffic accidents, terrorism and all kinds of other more or less violent forms of death. Even though these were hard to stomach, I found that the book helps to make you appreciate the little things in life. We all know that the only thing certain is death, but we tend to push these thoughts away because they are uncomfortable or downright scary. Here, the character of Mrs Death makes you wonder about whether life would actually be as enjoyable if there was no end to it. I liked this philosophical aspect at lot and find that I'm still contemplating some passages of the book.

Salena Godden is an amazing writer, and therefore it's a pity that in the second half of the book the disjointed narrative style somehow stopped working for me and suddenly became somewhat annoying instead. I can't fully explain what actually happened there and only assume that at this point I eventually craved a more cohesive plot, which the novel couldn't provide. That, however, was just my personal experience because I know a lot of readers who adored this novel from start to finish. So if you are looking for a very creative, beautifully written, unique book about the fundamental questions of life (and death), give Mrs Death Misses Death a go.
Rating: 4/5 stars
© Copyright The Constant Reader
All texts and photographs are mine, unless indicated otherwise.