28th September, 2022


Review: Pages & Co 5 - The Treehouse Library by Anna James (Harper Collins)

Those of you who've been following this blog for a while now, know that I'm a huge fan of the Pages & Co series. Every year I can hardly wait for September to arrive so I can get my hands on the latest instalment and this year was no different. The Treehouse Library is the penultimate novel in the bookwanderer series: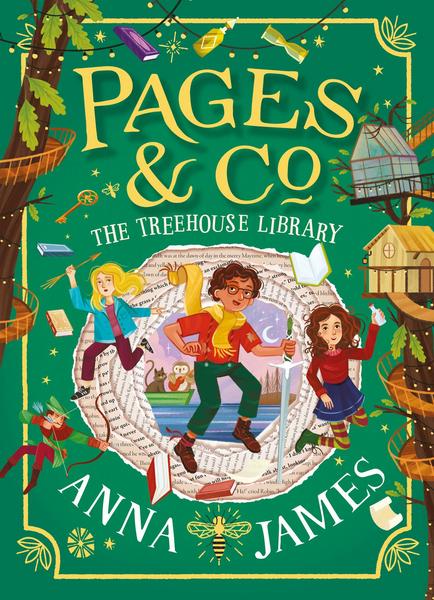 Milo Bolt is ready to be the hero of his own story. With Uncle Horatio trapped in an enchanted sleep by the power-hungry Alchemist, he sets off with his new friend Alessia to find a cure and save them all. Their journey leads them to the magical treehouse - home of the Botanist, the Alchemist's sworn enemy. Against the clock, they hunt for the cure: foraging in the Secret Garden, challenging Robin Hood and confronting the mighty Jabberwock.

But the Alchemist will stop at nothing to unlock the powerful secrets of The Book of Books, and Tilly, Pages & Co. and the whole world of imagination are under threat as a battle for the fate of bookwandering is set in motion . . .
As its predecessors, this instalment is full of whimsy and loving nods to some of the most popular works in childrens literature. I adored the treehouse library - what a fabulous setting and so imaginative!
At the same time, this felt a little like an "in-between book" for me, sharing the fate of so many other "middle" books in a trilogy. (Don't get confused - it's called Pages & Co 5 but is in fact the second book in a spin off trilogy.) Throughout the story I was hoping for a bit more action which eventually came, but only after a lot of discussions amongst the characters and towards the end of the novel, i.e. as a transition to the final instalment. But this is okay as I'm sure that the last book in the series will be fabulous and make up for the somewhat slow pace of this one.
One character I'm not sure about is Rosa - she seems too perfect for me, too all goody goody and I'm looking forward to finding out if my gut feeling is right that there is something going on with her that we are not aware of yet. So here's to 2023 when we'll find out how bookwandering can be saved.
Rating: 3.5/5 stars
© Copyright The Constant Reader
All texts and photographs are mine, unless indicated otherwise.