13th December, 2019

Review: The Christmasaurus by Tom Fletcher (Penguin)

I don't review children's books very often, but this one just had to go in here. We bought this novel on a whim last weekend with me thinking "Ah well, we'll see if this isn't too long for a 5yo. If it is, we'll keep it for next year." Little did I know that I could have stuffed those thoughts right where the sun doesn't shine. Four words: The kid ADORED it!
The Christmasaurus is a story about a boy named William Trundle, and a dinosaur, the Christmasaurus. It's about how they meet one Christmas Eve and have a magical adventure. It's about friendship and families, sleigh bells and Santa, singing elves and flying reindeer, music and magic. It's about discovering your heart's true desire, and learning that the impossible might just be possible. (Goodreads)

This is a story that will warm your hearts this winter. It will mesmerise and fascinate you, even if you're what people consider to be an adult (the age recommendation is for 7-99, so I guess everyone will be save -- you can also read it if you're 103 though, I won't tell). ;-) So what is so amazing about Fletcher's book?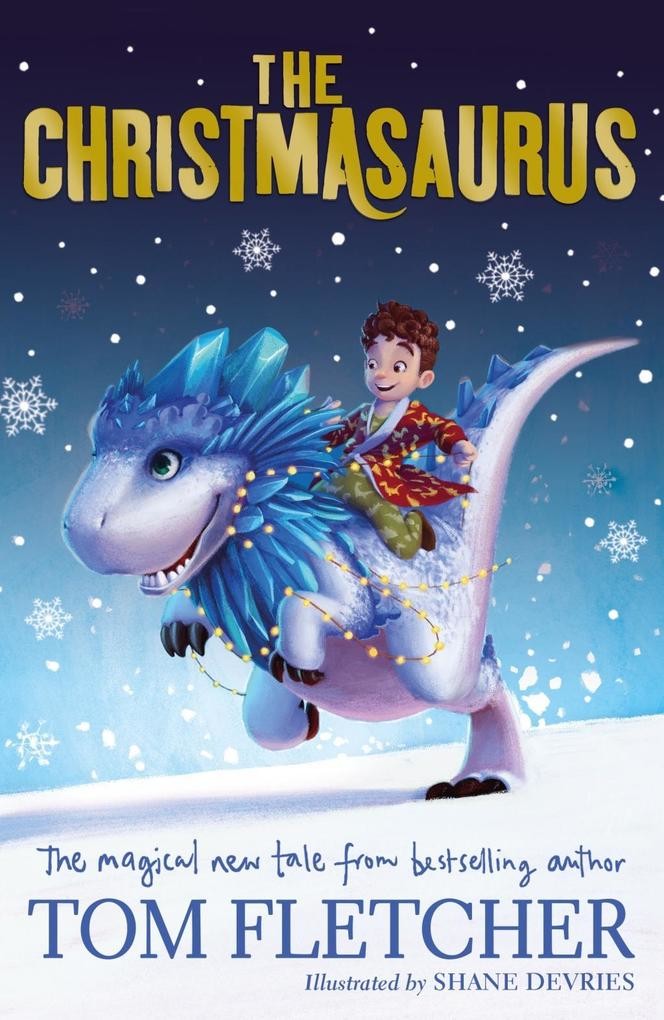 It's diverse without any visible effort. William is in a wheelchair after an accident, a fact that is mentioned about a third into the book with the narrator saying "Oh, sorry, didn't I tell you before? Well, anyway, that's just the way it is." The kid loved this as it introduces disability as something completely normal, and while the story still obviously points out problems that William is facing in everyday situations, such as stairs, it never seems strained. The book has families in which one parent has died, it has families in which parents have split up and it has characters who develop from nasty meanies into better persons. So yes, it does touch on some sad topics but in that way it depicts life like it is, and I think children will appreciate that. Ours surely did.
The imagery and whimsical ideas are just lovely. Fletcher puts his own individual spin on the story of Santa and his elves, so kids will recognize a lot while also finding many new ideas about how Christmas presents are actually created (no spoilers here). The Christmasaurus as a character is too cute, and the relationship between him and William is touching. We also enjoyed the narrator's tone of voice with his questions and little side comments and, of course, the illustrations were a huge hit. They are absolutely stunning and go perfectly with the story.
This is a story about the power of belief. As William's father says, if noone believes then things can't become true. That seems a perfect message for this time of year. The Christmasaurus comes highly recommended by 5yo Noah (and me, of course) with whom I devoured these 400 pages within four days. We'll be picking up the sequel The Christmasaurus and the Winter Witch from our local indie tomorrow.
Rating: 5/5 stars
© Copyright The Constant Reader
All texts and photographs are mine, unless indicated otherwise.