15th March, 2021


Review: The Great Alone by Kristin Hannah (St Martins's Press)

This is the second novel by Kristin Hannah I have read (the first was Firefly Lane) and it has quickly turned me into a fan of her work. If you are looking for a sweepingly epic family story set in the wilds of Alaska, look no further:
Ernt Allbright, a former POW, comes home from the Vietnam war a changed and volatile man. When he loses yet another job, he makes an impulsive decision: he will move his family north, to Alaska, where they will live off the grid in America's last true frontier.

Thirteen-year-old Leni, a girl coming of age in a tumultuous time, caught in the riptide of her parents' passionate, stormy relationship, dares to hope that a new land will lead to a better future for her family. She is desperate for a place to belong. Her mother, Cora, will do anything and go anywhere for the man she loves, even if it means following him into the unknown.

At first, Alaska seems to be the answer to their prayers. In a wild, remote corner of the state, they find a fiercely independent community of strong men and even stronger women. The long, sunlit days and the generosity of the locals make up for the Allbrights' lack of preparation and dwindling resources. But as winter approaches and darkness descends on Alaska, Ernt's fragile mental state deteriorates and the family begins to fracture. Soon the perils outside pale in comparison to threats from within. In their small cabin, covered in snow, blanketed in eighteen hours of night, Leni and her mother learn the terrible truth: they are on their own. In the wild, there is no one to save them but themselves.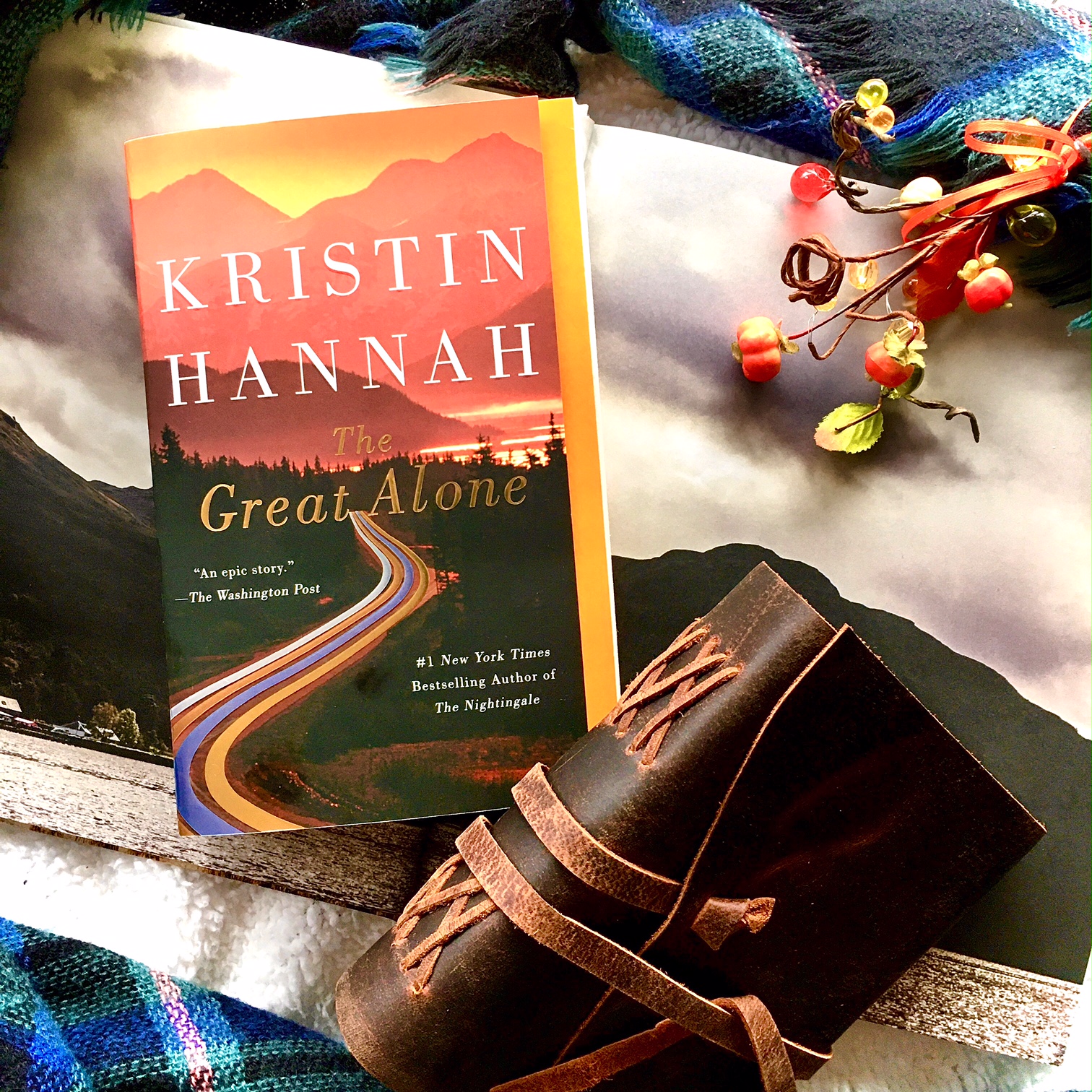 It is nothing new that Kristin Hannah is the Queen of creating emotional havoc in her readers. This novel is no exception. It left me gutted, it stole my heart and sometimes left me in wide-eyed awe. There were moments when I was crying with the characters and moments when I was rooting for them. One time I even shouted a very inappropriate "You go, girl" out loud, startling my family. :-)
Kristin Hannah has quickly become one of my favourite authors, and nobody could have torn this book from my hands while I was reading it. I was so engrossed in her wonderful descriptions of the Alaskan landscape, her vividly drawn characters and the dynamics between them. In some ways this story brought back fond childhood memories of watching The Adventures of the Wilderness Family on TV (yes, I know that the movie is set in the Rocky Mountain but especially the survival aspect in The Great Alone reminded me of it). But it goes beyond that. Cora and Leni don't just have to battle the dangers of nature but must deal with a life full of domestic violence on top of that.
As is typical for Hannah, do expect quite a few (emotional) twists and turns in the story. The moment you think everything will be fine, she'll ruin your expectations and send the story in another direction. This is one thing I love about her writing: it keeps you guessing.
I absolutely loved this book. The Great Alone emotional and entertaining read with a captivating plot and powerful characters. It was almost like I could feel the bitter cold and desolation during the long and lonely winters. But I could also easily picture the other side of Alaska: its majestic beauty with its gorgeous mountains, blue skies, never-ending summer days, and the fascinating variety of people who make it their home.
Rating: 5/5 stars
© Copyright The Constant Reader
All texts and photographs are mine, unless indicated otherwise.