13th February, 2021


Review: The Library of the Dead by T.L. Huchu (Tor Books)



When a child goes missing in Edinburgh's darkest streets, young Ropa investigates. She'll need to call on Zimbabwean magic as well as her Scottish pragmatism to hunt down clues. But as shadows lengthen, will the hunter become the hunted? When ghosts talk, she will listen...

Ropa dropped out of school to become a ghostalker. Now she speaks to Edinburgh's dead, carrying messages to the living. A girl's gotta earn a living, and it seems harmless enough. Until, that is, the dead whisper that someone's bewitching children--leaving them husks, empty of joy and life. It's on Ropa's patch, so she feels honor-bound to investigate. But what she learns will change her world.

She'll dice with death (not part of her life plan...), discovering an occult library and a taste for hidden magic. She'll also experience dark times. For Edinburgh hides a wealth of secrets, and Ropa's gonna hunt them all down.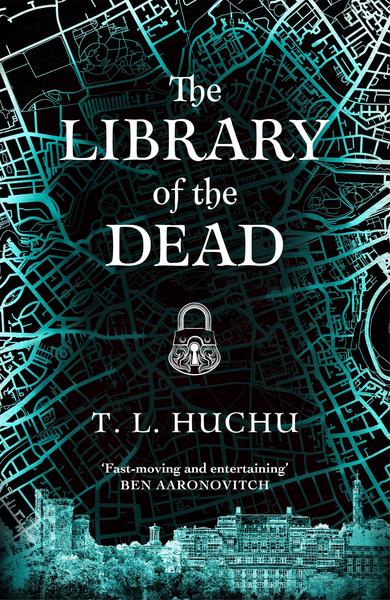 This is a novel the release date of which I could hardly wait for. I counted down the days and kept checking if maybe they'd release it a bit early (stupid, I know ;o)). When I finally got my hands on it, I began reading immediately, and I was not disappointed. In fact, even though I first thought I'd finish the story in one or two sittings, I found myself dividing it into little "helpings" and savouring it. When I got towards the end, I simply didn't want the book to end, so I read the last fifty pages over a period of three days, trying to make it last as long as possible.
The Library of the Dead definitely has echoes of Ben Aaronovitch's Rivers of London series. At first, I was a bit worried that the parallels would be too strong, but it soon turned out that this is not the case. Huchu's portrayal of an alternative or post-apocalyptic Edinburgh is mesmerising. We never really learn what has actually happened, only that it was an event commonly known as "the catastrophe". Since then, Edinburgh's city centre has become a dodgy place full of criminals, prostitutes and... an occult library. World building = A+!
I very much enjoyed the characters and their unique voices: Ropa is tough but caring, Gran is the quintessential grandmother figure radiating warmth and love, Priya has both brains and a certain level of spunk, Jomo is kind of dorky but loveable. And Ropa has a pet fox called River - two thumbs up for that wonderful idea. The characters all work brilliantly together and, combined with the similarly fascinating villains of the story, make this a fast-paced read full of little surprises.
You'll get most out of the story if you're at least slightly familiar with Edinburgh, so in case you're not, it might help to have a map next to you while reading. The book is full of little nods to the Auld Reekie's history (e.g. there is a new Loch covering Princes Street Gardens which used to be a lake in the olden days - history repeating itself, eh?) and when Ropa walks the streets between Haymarket and Arthur's Seat, she takes the reader along on her journeys through this recognisable but still different urban space. In parts, her descriptions reminded me a bit of those of a flaneur, only that she has a purpose when she's navigating the city and its ghostly planes. There are other references made to popular culture (e.g. The Martian, Game of Thrones, Stranger Things, etc.) which I enjoyed just as much as the general plot and the characters.
I full-heartedly recommend this wonderful book to anyone who is looking for an exciting and clever read. It will be extremely hard to wait for book 2 in the series. I'm already looking forward to seeing how Ropa's story will continue.
Rating: 5/5 stars
© Copyright The Constant Reader
All texts and photographs are mine, unless indicated otherwise.