17th May, 2018


Review: The Priory of the Orange Tree by Samantha Shannon (Bloomsbury Publishing)

Phew, this was epic! This book is a real chunkster coming in at 849 pages but if you are into sprawling fantasy, this will probably end up as one of your favourite reads of 2019.
But what is the book actually about? Here is a synopsis:
"A world divided.
A queendom without an heir.
An ancient enemy awakens.

The House of Berethnet has ruled Inys for a thousand years. Still unwed, Queen Sabran the Ninth must conceive a daughter to protect her realm from destruction—but assassins are getting closer to her door. Ead Duryan is an outsider at court. Though she has risen to the position of lady-in-waiting, she is loyal to a hidden society of mages. Ead keeps a watchful eye on Sabran, secretly protecting her with forbidden magic.

Across the dark sea, Tané has trained all her life to be a dragonrider, but is forced to make a choice that could see her life unravel.

Meanwhile, the divided East and West refuse to parley, and forces of chaos are rising from their sleep."
The scope of Shannon's novel is truly impressive: The Priory of the Orange Tree is teeming with wonderful details and full of characters you will immediately root for. It makes use of ancient folklore, a variety of myths, different languages and cultural perspectives. It felt good to read a standalone novel again (after all, especially in the genre of fantasy series have become the thing and I'm always loath of the commitment) but this book is so dense that it feels like a whole canon of texts channeled into a single volume. And I mean that in a good way. The author manages to keep tabs on all her plotstrands and her overwhelmingly sprawling web of characters, trailing storylines are always picked up again and it's particularly the shifting perspectives that make this book so mesmerising. Shannon uses different narrative voices in order to cover what is going on in the various regions of her fictional world and even though the cast is huge (thank you SO much for the list of characters at the end of the book and the map at the beginning, Ms Shannon, those truly helped a lot) it never seems out of control.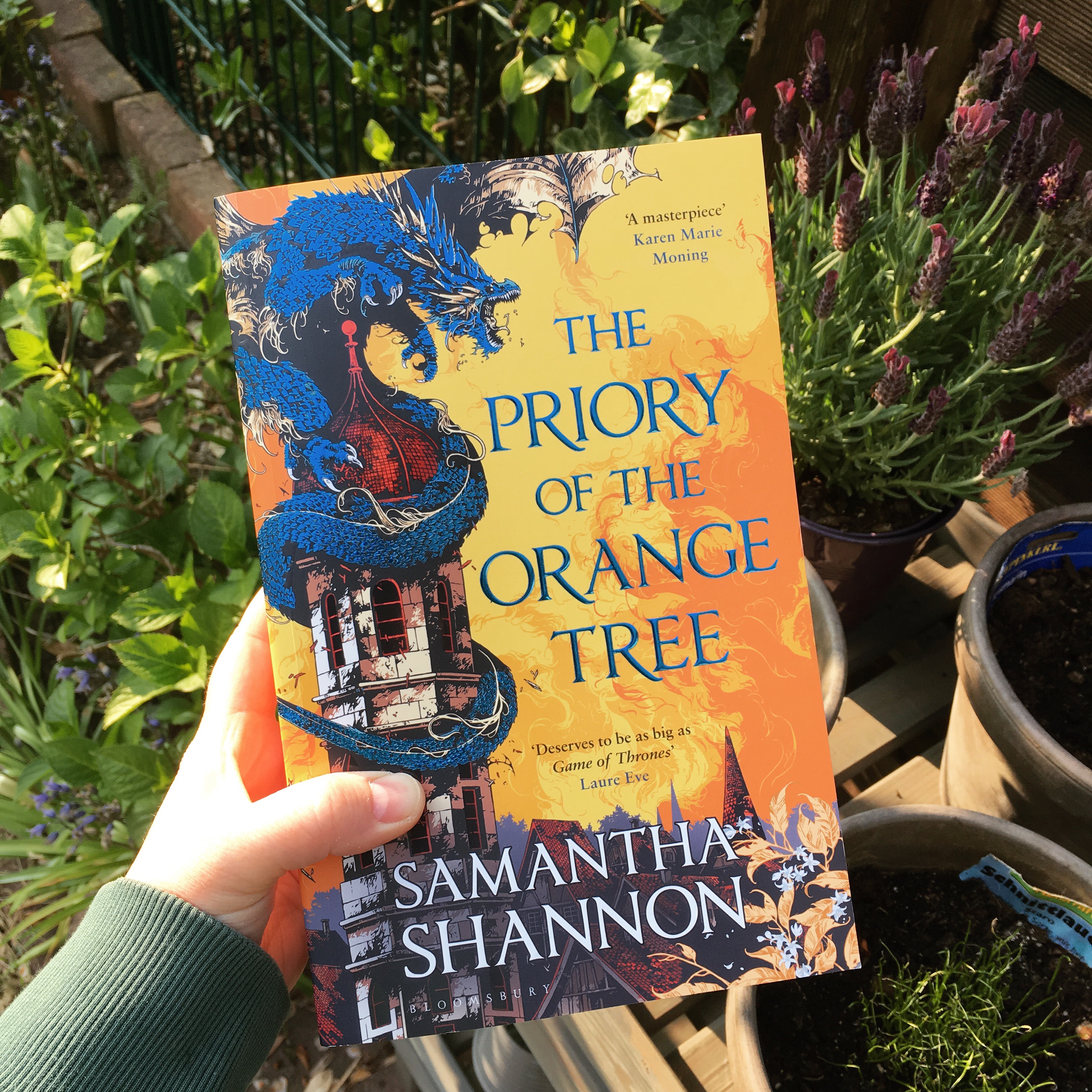 Even though Shannon obviously uses established tropes (dragons, queens in danger, fierce warriors, etc.), she twists them into something of her own. Some reviewers have said that the story begins as a bit of a slow burn but I felt that the reader gets drawn in quickly, simply because the characters are so intriguing. What I adored about the story was the way gender and sexual relationships are depicted. Men love men, women love women, men love women and women love men - it is all the same and never explicitly addressed, so exactly how it should be. Women here are shown as strong and powerful: they are pirates, queens, smugglers, and warrior priestesses, and they are all utterly convincingly drawn throughout the story.

And then the best thing: the dragons!!!! This is something I would have loved a bit more of, to be honest. The author's depiction of human relationships and power struggles is wonderful but the passages that truly took my breath away were those in which dragons, wyverns or other draconic creatures appeared. That first scene with Fyredel? Mind-blowing! The water dragons? Stunning! Here is a quotation that shows what I mean: "An enormous head towered over the fence of Orisima. It belonged to a creature born of jewel and sea. Cloud steamed from its scales-scales of moonstone, so bright they seemed to glow from within. A crust of gemlike droplets glistened on each one. Each eye was a burning star, and each horn was quicksilver, agleam under the pallid moon. The creature flowed with the grace of a ribbon past the bridge and took to the skies, light and quiet as a paper kite. A dragon. Even as it rose over Cape Hisan, others were ascending from the water, leaving a chill mist in their wake." Isn't it just wonderful? For me, Shannon is now the true mother of dragons. Can I call her Khaleesi*, please??

This is also why I found the ending to be a bit lagging in comparison to the first three quarters of the book. It was a bit like the first seven seasons of Game of Thrones versus the eighth, if you get my drift (sorry for making another GOT reference ;-)). It was not as drastic as there. However, it is just that in the beginning everything seemed so intricately and carefully developed that the comparatively quick solution seemed a tad swift. But this might be only my opinion.

If you are looking for an epic, sprawling fantasy with strong characters, take courage and dive into this admittedly very long but amazing story.
Rating: 4.5/5 stars
*Yes, I am aware that the title has nothing to do with dragons but obviously she is the ultimate dragon mother as well.
© Copyright The Constant Reader
All texts and photographs are mine, unless indicated otherwise.