16th February, 2023


Review: The Republic of Motherhood by Liz Berry (Chatto Windus)



I crossed the border into the Republic of Motherhood
and found it a queendom, a wild queendom.
I handed over my clothes and took its uniform,
its dressing gown and undergarments, a cardigan
soft as a creature, smelling of birth and milk,
and I lay down in Motherhood's bed, the bed I had made
but could not sleep in, for I was called at once to work
in the factory of Motherhood. The owl shift,
the graveyard shift. Feedingcleaninglovingfeeding.
Liz Berry herself describes this slim pamphlet a "gathering of poems". The Republic of Motherhood is a collection of strong and highly relatable poems about pregnancy and new motherhood. It is about how motherhood affects a woman's identity and how it changes your life more than you ever expected it to.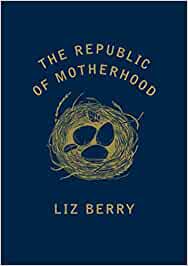 As with all poetry, this little book needs to be read slowly, needs to be savoured, needs contemplation. Some of the poems may seem very "raw" at first, at least that was my experience in that I found several of the texts very much focused on the meaningfulness of nature, e.g. as in Mother Nature, women being natural vessels of life, etc. It was these poems that I honestly had a little trouble connecting with. Their imagery is wonderful and in some you can almost hear the mothers' moaning during labour and picture the sheer strenght of women, but somehow I found myself more drawn to the texts that addressed the issues of new motherhood. Some of these really hit home, such as those that talked about how reality is different from expectation and how a child's bright smile somehow makes up for every hour of sleep lost, of every shirt vomited on and any preconceived notion bashed.
Berry's poems are both fragile and clever, they have depth and they resonate deeply. Her smart use of language to convey emotions astonishingly captures what these most tender of times are actually like. It almost feels revelatory as Berry's texts let us look at the realities of the female body and they stunninglyillustrate the beauty but also the ferocity of childbirth.

This is a book I'd recommend to all expectant or new mothers and, yes, actually to any woman in general. It's a tiny book, easy to carry around in a diaper bag, but it makes you feel connected to something greater.
Rating: 4.5/5 stars
© Copyright The Constant Reader
All texts and photographs are mine, unless indicated otherwise.