27th May, 2020


Review: The Southern Book Club's Guide to Slaying Vampires by Grady Hendrix (Quirk Books)

Whoa, that was one helluva book! I loved it! It was gory, smart, sarcastic and critical towards certain social structures. A win on all accounts. But let me start over and say what the novel is actually about. Here is a synopsis from Goodreads:
Patricia Campbell had always planned for a big life, but after giving up her career as a nurse to marry an ambitious doctor and become a mother, Patricia's life has never felt smaller. The days are long, her kids are ungrateful, her husband is distant, and her to-do list is never really done. The one thing she has to look forward to is her book club, a group of Charleston mothers united only by their love for true-crime and suspenseful fiction. In these meetings, they're more likely to discuss the FBI's recent siege of Waco as much as the ups and downs of marriage and motherhood.

But when an artistic and sensitive stranger moves into the neighborhood, the book club's meetings turn into speculation about the newcomer. Patricia is initially attracted to him, but when some local children go missing, she starts to suspect the newcomer is involved. She begins her own investigation, assuming that he's a Jeffrey Dahmer or Ted Bundy. What she uncovers is far more terrifying, and soon she--and her book club--are the only people standing between the monster they've invited into their homes and their unsuspecting community.
This book has been described as a mix of Fried Green Tomatoes, Dracula and Steel Magnolias. However, I would say it's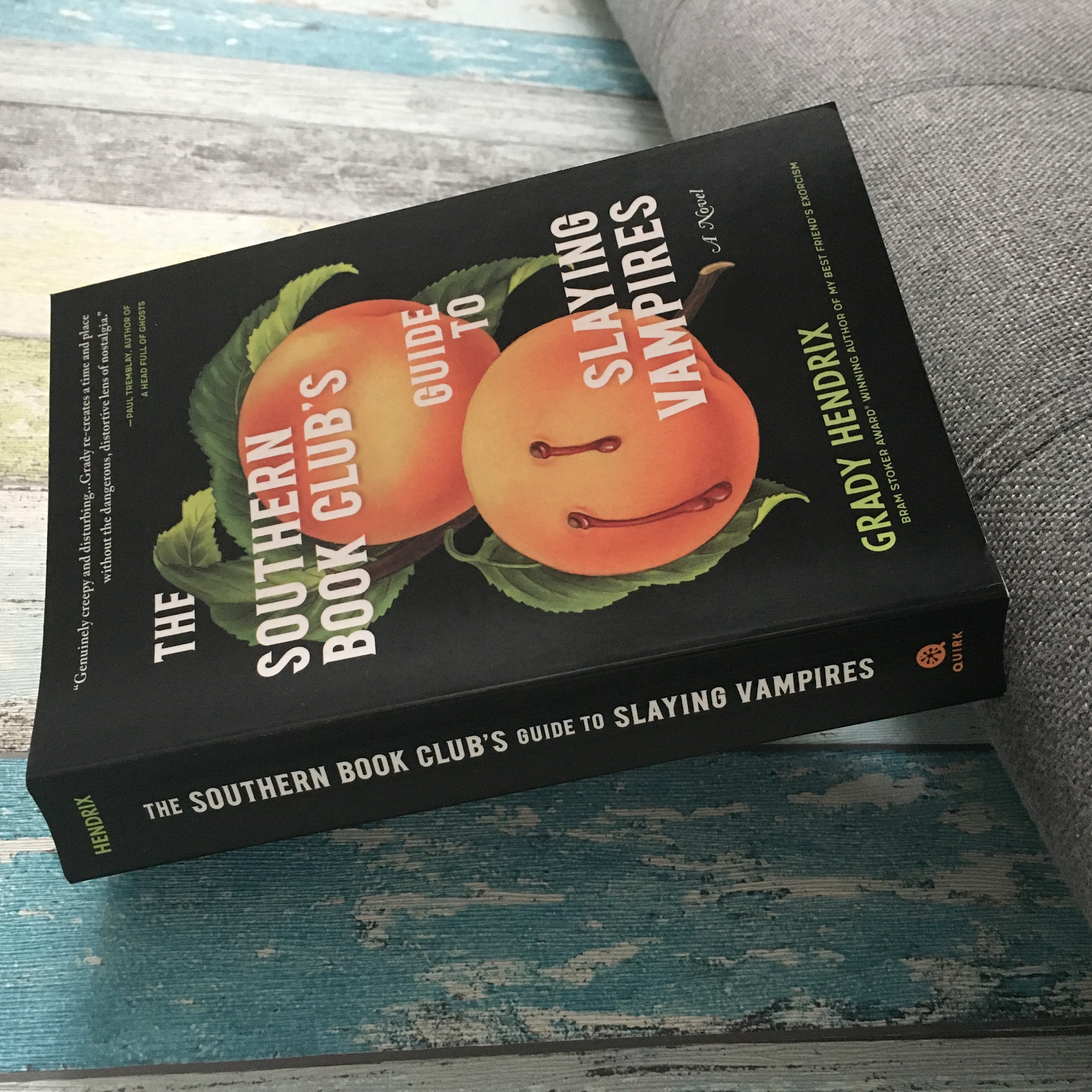 more like Pleasantville meets The Stepford Wives meets all of Anne Rice's novels. Hendrix draws on the classical vampire topos, moves it into a late 1980s/early 90s setting and throws in a critical perspective on the role of housewives and (abusive) marriages. The Southern Book Club's Guide to Slaying Vampires appears like an easy read at first, but it is clearly not. A lot of the things happening to the women in this book are quite gruesome and I felt myself ready to rip off their idiot husbands' heads, but it is also a novel that is very much consoling in its focus on female friendships. In the end, the women's bond and their loyaly are what makes them strong.
In parts, this read like a Stephen King novel and it was the little new ideas surrounding the whole traditional vampire theme that made the story so great and so uncanny: There is a scene with rats - lots of them - which reads like something straight out of a nightmare. The physiology of James' blood sucking is - to say it mildly - more than creepy. Also, Hendrix does a terrific job in making the reader feel the despair of the women trying to stop the monster and to save the lives of their children. There were so many passages where I thought "Yes, Patricia, you've got this!" just for her seemingly good strategy to be ruined by James' eerily clairvoyant interference. The novel builds a constantly increasing sense of suspense, and you will be dying to know whether or not (and, if yes, how) Pat, Slick, Kitty, Grace and Maryellen manage to defeat their nemesis.
The Southern Book Club's Guide to Slaying Vampires is the perfect read if you are looking for an entertaining, bad ass story. It's one of my favourite books of 2020 so far, and I cannot recommend it enough.
Rating: 5/5 stars
© Copyright The Constant Reader
All texts and photographs are mine, unless indicated otherwise.