19th November, 2019


Review: The Starless Sea by Erin Morgenstern (Doubleday)


This book will definitely be among my Top 5 reads of the year, and it may even become my number one for 2019. I absolutely adored every single page and tried to make it last as long as possible. It is a masterpiece and if you haven't done so yet, you should read it. Now. :-)
Zachary Ezra Rawlins is a graduate student in Vermont when he discovers a mysterious book hidden in the stacks. As he turns the pages, entranced by tales of lovelorn prisoners, key collectors, and nameless acolytes, he reads something strange: a story from his own childhood. Bewildered by this inexplicable book and desperate to make sense of how his own life came to be recorded, Zachary uncovers a series of clues--a bee, a key, and a sword--that lead him to a masquerade party in New York, to a secret club, and through a doorway to an ancient library, hidden far below the surface of the earth.

What Zachary finds in this curious place is more than just a buried home for books and their guardians--it is a place of lost cities and seas, lovers who pass notes under doors and across time, and of stories whispered by the dead. Zachary learns of those who have sacrificed much to protect this realm, relinquishing their sight and their tongues to preserve this archive, and also those who are intent on its destruction.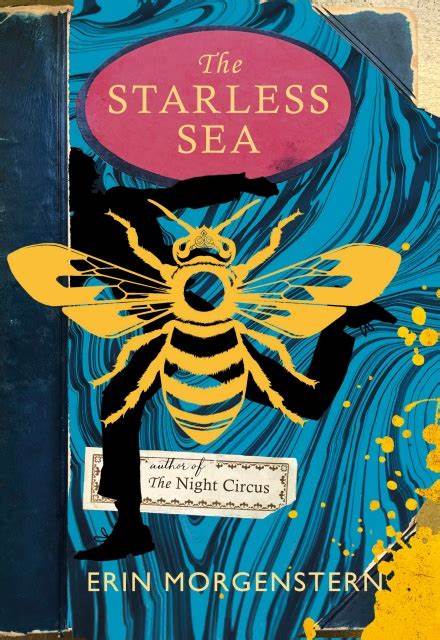 When I first saw the synopsis of this novel I felt like somebody had read my mind and distilled everything I could ever possibly have wanted from a story onto the pages of one book. Still, I was a bit loathe to becoming too excited as I did not really enjoy Morgenstern's first novel. The synopsis of that one was amazing as well but I did have trouble with the author's writing. Needless to say I was simultanously hopeful and anxious for The Starless Sea.
I shouldn't have worried too much though as I was immediately drawn into the story and fell head over heels in love with its lyrical prose. Morgenstern's words are meandering over the pages, dragging you along in their wake and leaving you with a feeling of awe.

The setting itself is already worth five stars and it is everything any bookworm could possibly ever desire. It reminded me a lof of Walter Moers' City of Dreaming Books with its labyrinthine tunnels full of shelves and books. And then there are the interwoven stories which present a multitude of layers, all of which are somehow connected and eventually contribute to the greater whole of the plot. I loved the individual tales and how they were picked up again in the main plotstrand. Time and Fate's love story gave me all the feels, and Zachary is such a wonderful protagonist that you can't but feel and suffer for and with him.
The Starless Sea is about metaphors in various forms whether they be pirates or the Moon, owls or bees, or beginnings and endings. It consists of an abundance of different voices and perspectives, and it will probably need one or two rereadings to fully grasp this gem of a book in all its marvelous complexities. At least I can't wait to read it again. I actually loved it so much that I bought it in different formats: paperback to carry around, hardback to display on my shelf as well as audio so I can listen to it when I'm travelling (yes, I know: I'm weird :-)).
If you are looking for a perfect winter read, this is the book for you. It is extremely clever and wonderfully dreamy.

Rating: 5/5 stars
© Copyright The Constant Reader
All texts and photographs are mine, unless indicated otherwise.